Haunted houses in St. Augustine Florida: Uncovering the Spooky Secrets With Tours
This article may contain affiliate links. Whenever you buy something through one of these links, I may earn a small commission without any cost to you. I really appreciate it as it supports this site and my family. Thank you!
One of the most haunted places in the United States is in the country's oldest city. There are several haunted houses in St. Augustine Florida as well as other spots where paranormal activity has supposedly occurred.
That makes this historic city a great destination not only for Halloween but all year long. From the St. Augustine Lighthouse to the Huguenot Cemetery, the ghost stories are enough to make young girls and old folks alike not want to step foot into the spooky side of St. Augustine.
But in this article, we will step right in. Are you ready? At the bottom, there are links to help you plan the perfectly spooky vacation in St. Augustine.
Uncovering the Spooky Secrets of The Mot Haunted Houses In St. Augustine Floridas
Are you a fan of ghost stories and the paranormal? If so, today's article is what you will want to read before heading to haunted houses in St. Augustine Florida.
Thank you for reading this post. Don't forget to subscribe! This way you never miss an update, travel deals, discounts and more!! Subscribe to the right------>
St. Augustine, Florida, occasionally spelled Saint Augustine, may hold the title of the oldest city, but it is equally known for its rich history, charming streets, and St. Augustine Beach. The Travel Channel has delved into the history of this town many times over.
Once you get away from the charm, you will find that the city also boasts a spookier side with a long and haunting history. You will hear tales of murder and tragedy to sightings of ghostly apparitions.
St. Augustine is home to some of the most haunted houses in the country. As a travel writer, I have visited this city many times and have had opportunities to explore and uncover the spooky secrets of the haunted houses in St. Augustine Florida.
I've thoroughly enjoyed learning more and more about St. Augustine's history, and I'm sure you will too. Are you ready to join me on a scary journey through the cobblestone streets and mysterious mansions?
How about as we dive into the chilling history and eerie encounters that make St. Augustine a must-visit destination for thrill-seekers and ghost hunters alike?
Would you like to enjoy a St. Augustine Halloween? Get ready to feel the hair on the back of your neck stand up as we uncover the truth behind the legends of the most haunted houses in one of the most haunted cities in the country.
History of Haunted Houses In St. Augustine Florida
St. Augustine's haunted houses have a long and fascinating history. The ancient city was founded in 1565 by Spanish explorer Pedro Menendez de Aviles, making it the oldest continuously inhabited city in the United States.
Over the centuries, St. Augustine has seen its fair share of tragedy, including wars, fires, hurricanes, and plagues. Many of these events definitely left a mark on the city and its buildings.
As a result, it is no surprise to find numerous reports of paranormal activity and ghost sightings. From the Castillo De San Marcos Fort to the haunted houses in St. Augustine and over to the Old Jail there is plenty to explore of the spooky side of St. Augustine.
History buffs love to explore the very spooky side of St. Augustine. And there is plenty for them to explore also!
The jail, built in 1891, housed some of the city's most dangerous criminals, including women and children. The conditions in the jail were terrible and notoriously harsh, with inmates subjected to overcrowding, extreme heat, and unsanitary and inhumane conditions.
Today, visitors to St. Augustine's Old Jail can take a guided tour and see the cells and gallows where prisoners were held and executed. Many visitors have reported feeling cold spots, hearing strange noises, and even seeing ghostly apparitions.
Another haunted location with a dark history is the Huguenot Cemetery. Located in the heart of St. Augustine's historic district near the St. George Street shopping area, the cemetery is the final resting place of many of the city's earliest settlers.
The cemetery is also rumored to be haunted by the ghosts of those who were buried in unmarked graves or who died under mysterious circumstances. Visitors to the cemetery have reported hearing voices, feeling a cold breeze, and seeing ghostly figures.
One of these figures is the honorable Judge John B. Stickney, a Yankee who arrived in this town after the Civil War. He was also at times a district attorney as well as state attorney.
During a visit to Washington DC, Stickney became ill and subsequently died from Typhoid Fever and a brain hemorrhage. He was buried on November 5, 1882, in Huguenot Cemetery.
His family had him dug up to be moved to a cemetery in Washington DC. When they opened his casket, he was perfectly preserved. But there were two drunks who messed with the remains and actually stole the Judge's gold teeth.
His remains were still sent to Washington DC, but supposedly he continues to haunt the city looking for his gold teeth.
Me? I make sure I am not near this cemetery at night. The old city ghosts can haunt someone else, but that doesn't stop me from exploring during the day.
Before we leave cemeteries, we need to talk about Tolomato Cemetery which is near Hugeuenot Cemetery. This cemetery is the oldest planned cemetery in the country.
About 1,000 of St. Augustine's folks are buried in this Catholic cemetery. One of these buried was Bishop Verot.
The bishop was buried on a very hot day and extra care was taken to preserve the body with sawdust and ice lining a pit where the body and casket were to be laid.
When the heat started penetrating the casket, the whole thing started to shake. You guessed it! The coffin exploded, and the body was sprayed all over the mourners.
I do not know what I would have done in that circumstance. Can you imagine? Today it is said that the Bishop haunts the old cemetery.
Next, we have the ghosts of the Old City Gates. Not only the original guard to the city but there have also been reported sightings dating back centuries through today of noises and figures near the gates.
The most haunted destination in St. Augustine, however, is the famous St. Augustine Lighthouse. The lighthouse that was built in 1874 actually has a tragic history, with several keepers and their families dying on the property as it is thought to be one of the most haunted buildings.
Over the years, many visitors to the lighthouse have reported seeing ghostly figures, hearing strange noises, and feeling an eerie presence. Some have even claimed to see the ghost of a young girl, believed to be the daughter of a former lighthouse keeper.
Haunted Houses in St. Augustine Florida
St. Augustine is home to many haunted houses, each with its own unique history and paranormal activity. In addition to the Old Jail, Huguenot Cemetery, and St. Augustine Lighthouse, there are several other haunted houses worth visiting.
As your tour guide, I am going to start with Henry Flagler and the Ponce De Leon Hotel, now Flagler College. When this hotel first opened, which today is on the national register, it was one of the most beautiful buildings built in St. Augustine's history.
This historic building today in America's oldest city may host college students but is reported to have many ghost sightings including the Gray Lady. She was supposedly Flagler's wife and is said to be seen haunting the towers at night.
But it doesn't stop with wife number one. Wife number two Ida Alicia Flagler as well as Flagler's mistress known as the woman in black are also said to haunt the college.
Plenty of paranormal activity is to be found at this historic landmark on all levels of the college including the second floor, classrooms and towers.
Next, we have the Casa de Suenos Bed and Breakfast, which is said to be haunted by the ghost of a woman named Lily. Lily was a former owner of the house and is believed to have died on the property. Additional Information Casa de Suenos Bed & Breakfast
Guests at the bed and breakfast have reported hearing footsteps, seeing ghostly apparitions, and feeling a cold breeze.
Casablanca Inn on the Bay, formerly the Matanzas Hotel, is also said to be one of the most haunted locations in the city. Today you can stay in this hotel and learn about its long history during prohibition. Information below and here: Casablanca Inn On The Bay.
Once a location for illegal activities during prohibition, this was the area where rum smugglers kept the city flowing with liquor.
Today there are stories of real-life haunting by an elderly woman, Mrs. Bradshaw, a child, and maybe even the hotel's architect, Mr. Butler.
Mrs. Bradshaw would wave a lantern to let the smugglers know the police were in the city. She may be buried at St. Augustine's Huguenot Cemetery, but she still haunts the hotel today. Be alert when you visit or stay in this real haunted house!
This brings us to the St. Francis Inn which is still operating today. This inn dates back to 1791, and you can actually request to have a room that is haunted. Information below and here: St. Francis Inn
Supposedly the most haunted room is Lily's room. There are reports of many sightings of Lily and her lover as they flick lights on and off or knock things off shelves. She has never left the inn and is seen in white walking the hallways.
The Segui-Kirby Smith House is one of 36 Spanish Colonial houses still standing in the ancient city. It is not certain who haunts this house but lights are often seen flickering on and off.
The next haunted destination in St. Augustine is the Spanish Military Hospital Museum. The hospital was in operation from the late 1700s to the early 1800s and treated soldiers and civilians alike.
Visitors to the museum have reported seeing ghostly apparitions and hearing strange noises, including the sound of footsteps and whispers.
The Potter's Wax Museum is another haunted house in St. Augustine, though its paranormal activity is of a different kind. The museum is home to a collection of lifelike wax figures, including celebrities, historical figures, and even monsters.
Some visitors have reported feeling uncomfortable or even afraid to be around the figures, leading to rumors that they are cursed or haunted.
Haunted Tours
The best way to see all the haunted locations? A tour with a ghost host that knows all the history of these creepy homes, cemeteries and even the lighthouse.
If you truly want a unique experience, these are the Haunted Tours I recommend:
Old Town Trolley Tour is what I go to time after time when in the city. They have a hop-on and off trolley where you can simply park your car and enjoy the day exploring.
They also offer Ghost Tours where they go into detail about the various hauntings from research as well as personal experience. The guides on the trolleys are amazing and it's my number one recommendation. Get information here: Old Town Trolley Ghost Tours
Interested in afterlife tours of the cemeteries? You will want to book the Beyond The Grave Tour. This tour takes you to a number of locations of interest to the Savannah Ghost Research Society. Get information here: Beyond The Grave Tour
My next top pick? The Original Haunted Pub Crawl. What's better than pub crawls where you can get liquid courage to explore the shadows of this quaint Florida town? Get information here: Original Haunted Pub Crawl
For families, I recommend St. Augustine Ghost Tour: A Ghostly Encounter. It is great for families as it combines humor with spooky stories making it a little less scary for kids. Register in advance as this tour is limited to small groups. Get information here: St. Augustine Ghost Tour: A Ghostly Encounter
If you prefer a private tour, I recommend The Last Ride Private Golf Cart Ghost Tour. Your guide will take you to all the haunted locations including the cemeteries, mansions and streets. Get more information here: The Last Ride Private Golf Cart Ghost Tour
One more I definitely want to include is the West Gate Paranormal Haunted Wanderings Tour. This tour is led by a lead by a paranormal investigator and takes you to the most haunted sights in the city.
Unlike other ghost tours, this paranormal tour is historically accurate and your guide debunks stories that are not true during the tour which is really cool. Get more information here: West Gate Paranormal Haunted Wanderings Tour.
Helpful Links To Plan Your Haunted St. Augustine Vacation
Upcoming Trip?
I like to use Booking for booking not only my hotels, but my tickets and rental cars as well. Makes life so much easier with only having to log into one location for my information.
Be sure to grab my travel tips to save you time and money. You'll also be entered into the weekly drawings.
Register here: Get 100 Travel Tips EVERY traveler should know PLUS entered into the weekly drawing.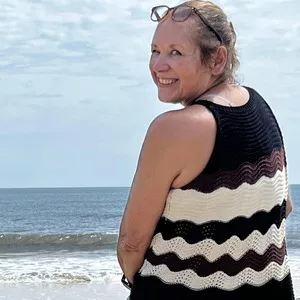 About Denise
Denise Sanger lives a life split between her love for fitness and her passion for travel particularly to the BEACH. Denise also has a love of marketing and lives in beautiful Suwannee County, Florida. You can find out more about Denise here: About Denise