Weird things found on the beach.
This article may contain affiliate links. Whenever you buy something through one of these links, I may earn a small commission without any cost to you. I really appreciate it as it supports this site and my family. Thank you!
We always think of sand and surf when we think of the beach. Matter of fact, the first thing I always do when I get to any beach is take my flip flops off and get my feet in the sand. But there are also weird things found on the beach every year and this year is no exception.
I know myself as a shell collector, there have been times when I've picked something up and thought to myself what in the world is this? Then not knowing what the heck it was, quickly drop it!
The football fish pictured above was found on a California Beach earlier this year. How prehistoric it looks! The ocean is home to many amazing creatures – some we will never see in our lifetimes as they dwell on the bottom. This is one of those creatures that resides thousands of feet underwater.
Airplane Wing
A few years back I remember reading about a piece of an airplane that washed up on the beach in Florida. Quick Google search led me to the article.  
Thank you for reading this post. Don't forget to subscribe! This way you never miss an update, travel deals, discounts and more!! Subscribe to the right------>
The airplane wing washed up on the shore south of Normandy Beach on Monday, Feb. 11, 2019, in St. Lucie County. Could you imagine taking your normal morning walk and seeing an airplane wing! What would you think?
Coffee
Coffee anyone? Literally thousands of vacuumed packs and cans of Cafe Bustelo washed ashore on the beaches of Indialantic. Where's my shopping bags? I love Cafe Bustello!
Most likely what happened is a freight container fell off a container ship and eventually opened spilling all the marvelous espresso cans and bricks.
Space Shuttle
Do you remember when the Space Shuttle exploded? I do. Was very shocking at least to me. We've gotten to the point where we are so used to seeing rockets go into space that when the shuttle exploded, it was a shock to many of us.
The Challenger exploded on January 28, 1986, killing everyone on the shuttle. 10 years after that explosion, a piece of that space shuttle washed up on Cocoa Beach, Florida.
Cross
This huge barnacle-covered wooden cross washed ashore on the Galt Ocean Mile behind the Ocean Manor Beach Resort, in Fort Lauderdale on Tuesday, Feb. 5, 2019.  Locals and tourists alike found it fascinating. I know I would too.
Whenever we see a cross we take it as a sign. At least I do. A sign that we are protected. We are loved. Imagine seeing a huge barnacle covered cross on the beach. What would you think?
Water covers almost 3/4 of Earth. Can you only imagine what is yet to be discovered? Too many weird things found on the beach for you? Not me. I love exploring whether I find normal shells or weird things like a football fish.
Upcoming Trip?
I like to use Booking for booking not only my hotels, but my tickets and rental cars as well. Makes life so much easier with only having to log into one location for my information.
Be sure to grab my travel tips to save you time and money. You'll also be entered into the weekly drawings.
Register here: Get 100 Travel Tips EVERY traveler should know PLUS entered into the weekly drawing.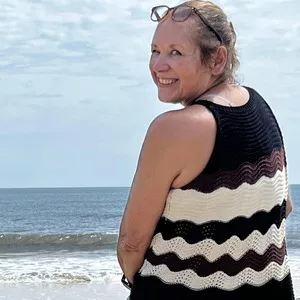 About Denise
Denise Sanger lives a life split between her love for fitness and her passion for travel particularly to the BEACH. Denise also has a love of marketing and lives in beautiful Suwannee County, Florida. You can find out more about Denise here: About Denise