Do Walkie Talkies Work On A Cruise Ship? Best Options
This article may contain affiliate links. Whenever you buy something through one of these links, I may earn a small commission without any cost to you. I really appreciate it as it supports this site and my family. Thank you!
Every few weeks or so, I get the question do walkie talkies work on a cruise ship? I really didn't think too much about it because after all we have cell phones and don't people use those when on a cruise ship?
But I got the question again several times this week, so I decided to dig into it a bit and research to see why you would want to use those as well as do they really work.
What are the best walk-talkies to take? Is this the best way to stay in contact with those you are traveling with?
You may be going on a cruise and want to stay connected with your family and/or travel companions especially if you are in large groups.
Thank you for reading this post. Don't forget to subscribe! This way you never miss an update, travel deals, discounts and more!! Subscribe to the right------>
After all, a cruise allows you to see many destinations and beaches, my favorite, in an easy-to-access way. So let's explore whether walkie-talkies are permitted and do they make sense for you to take on your cruise vacation.
Do Walkie-talkies Work On A Cruise Ship?
First, before we get into any other details, we need to know do walkie-talkies really work while on a cruise. The answer? Yes.
If you look at the crew members, you may notice they often have walkie-talkies. One of the reasons is that you may not have a great internet connection and walkie-talkies do not require Wi-Fi to work.
If you are trying to stay in contact with family members, this may be the way to do that because of the ease of use for them. Press a button and talk.
Check the Cruise Line's Policy on Walkie Talkies.
Before packing or buying your walkie-talkies, it's a good idea to check the cruise line's policy regarding their use. Most major cruise lines allow walkie-talkies, but others may have restrictions or specific guidelines in place. 
The more you know, the better your trip will be. Contact the cruise line directly or visit their website to find out their policy on walkie talkies.
Why use walkie-talkies on a cruise?
The main reason is that you do not have cell service while on your cruise. On the cruises I have taken, there have been times when I did not have service and was not able to reach the rest of my family.
We were all adults, so this didn't really make a difference to me one way or another. I did have internet access so just waited until the signal returned.
But if you are traveling with kids that may be out doing different activities, and you are not with them, you may want to be certain you can reach them.
Walkie-talkies will do that depending on the type of walkie-talkie, where you are located on the ship as well as the maximum range you can get with what you are using.
On the largest cruise ships, if you are at opposite ends of the ship and not in public areas or are in the dining room, or have an interior cabin and other areas of the ship, they may not work.
Also depending on weather conditions, you may find you do not have good radio signal strength.
A two-way radio specifically designed to work on a ship on the water is the best option to use on a cruise. We will discuss types of walkie-talkies shortly but for now, let's go over a few things you need to know.
Do cell phones work on cruise ships?
Most of the time, yes, as mentioned above. But there will be times when they will not. It is best to check these few things with your service provider:
Will using your phone on the ship be considered roaming? If so, will that increase your cell service costs?
Should you talk to your company about an international plan while on vacation? Some cell providers do have international plans you can use while on a cruise ship for about $20/month. Check first.
Can you send and receive texts? This is the same scenario as calls. It may or may not work depending on your cell provider's coverage. If you do have an increased cell cost while on the ship, texts generally will cost you less.
What about data? In general, it is quite expensive to use data while on a cruise. Check to see if your cruise ship provides Wi-Fi you can use. If not, the best thing to do? Turn off your phone and take a break from the world, so you do not come home to a super high phone bill.
Can I connect my phone to the ship's Wi-Fi? Yes. Be sure to check if this is included with the cruise or if you will need to purchase an internet package.
Can you use the ship's phone to call home? Yes, but it's quite spendy to do so. For example, Royal Caribbean will charge you about $8/minute to make that call.
Best practices for using walkie talkies on a cruise ship
Before we get into the different types of walkie-talkies to choose from, let's talk about actually using those.
Have you ever sat down to a nice dinner, when you hear a loud ring from a cell phone across the room? 
On top of that jarring ring, the guy picks up the phone and sounds like he's screaming, and the whole restaurant can hear every bit of his conversation. How annoying is that?
Every time this happens, I think to myself when did we become such a rude society? Use your phone but be respectful of those nearby.
The same thing goes when using walkie talkies on a cruise ship.  Be considerate and respectful of others.
Keep in mind that there may be other passengers who are trying to relax or enjoy their vacation and really do not want to hear about your drama no matter how important it may be to you. 
Try to keep your conversations brief and avoid using the walkie-talkie in public areas such as dining rooms where it may disturb others.
Additionally, be mindful of the volume of your walkie-talkie and adjust it to a level that is not annoying to those nearby. 
Use Of Walkie Talkies with Privacy Codes.
If walkie-talkies are allowed on your cruise ship, it's important to use them with privacy codes. Privacy codes are a feature that allows you to have private conversations without interference from other nearby users.
This can be especially useful on a crowded cruise ship where there may be multiple people using walkie-talkies. By using privacy codes, you can ensure that your communication remains private and secure.
Check the user manuals for the best use of walkie-talkies before heading off for your trip.
What are the best walkie-talkies to use on a cruise?
Now that we have covered most of the questions, the next one is what are the best walkie-talkies to use on a cruise?
You want to be sure what you are using has a good range especially if it is important that you always have contact with folks you are traveling with.
The walkie-talkies that work best on a cruise ship are:
FRS (Family Radio Service)
FRS walkie-talkies use radio frequencies of FM waves and have 14 different channels to operate from. FRS radios are also less expensive and easy to use. They do not require a license and is a great way to keep in touch with kids.
GMRS (General Mobile Radio Service)
The next option is GMRS Radios are stronger and has longer ranges. Also, GMRS walkie-talkies radio signals offer wider coverage of about 2 miles but in optimal conditions may reach up to 5 miles.
A GMRS two-way radio is more expensive than FRS but worth it with the greater range. You may be required though to have a license to operate GMRS walkie-talkies depending on local laws. 
UHF (Ultra High Frequency)
UHF radios are the strongest for the use of two-way radios. The signal can get through blockages like steel doors and interior rooms. The frequency range is also much wider.
Best Walkie Talkie to use on a cruise
We have covered a lot and if you think a walkie-talkie is what you need to stay in contact, below are the best options by price range to consider. Take a look at battery life and if they have rechargeable batteries to use while on the ship.
Other options to consider are LCD screen, indoor uses, different frequencies, belt clip options, hands-free operation, and the best performance for your needs. Some even include a built-in led flashlight that would be great to use while camping.
Least Expensive Topsung Walkie Talkies
The use of walkie-talkies needs to be simple not only for you but kids as well as seniors. Topsung Walkie Talkies delivers the best results for both at a reasonable price. 
These handheld radios have a coverage range of 1 mile near your house but up to 5 miles on water. Get more information here:
My top Pick: Arcshell Rechargeable Long Range Two-Way Radios
The next one to consider would be Arcshell Rechargeable Long Range Two-Way Radios.
They offer a longer range for a 2-way radio, have a small size but again keep in mind range is dependent on having few obstructions.
If you are on an open deck, you will be able to communicate easily. In addition, they are also less expensive than other options. 
Midland GXT1000VP4 50 Channel GMRS Two-Way Radio – Up to 36 Mile Range Walkie Talkie
These are the most expensive of the three, but also the best. Their range is up to 36 miles and these 2 way radios are waterproof. 
As far as a real-world test, many construction companies as well as other companies that need to be in instant contact rave about these radios.
Perfect for couples or families traveling. A little more pricey but they include everything you could possibly need including the following:
Radios (x4)
Rechargeable battery packs (x4)
Boom mic headsets (x4)
Belt clips (x4)
120V dual desktop charger
AC adapter
DC adapter
Owner's manual.
When it comes to making a decision on whether to use walkie-talkies or not, first be sure to check with the cruise line to see if you can in fact use them.
They are fantastic when on a large cruise ship such as the newest Royal Caribbean vessel, Wonder of the Seas.
Norwegian Cruise Line, however, has a ban on using those on their ships while Disney Cruise Line which caters more to families as well as Carnival Cruise and Princess Cruise Lines allow them.
The best way to determine if a cruise ship does or does not is to check the individual cruise line policies.
If they are allowed, they are a great addition and makes communication between those traveling with you much easier. 
These links will help you in planning the perfect getaway for you:
Upcoming Trip?
I like to use Booking for booking not only my hotels, but my tickets and rental cars as well. Makes life so much easier with only having to log into one location for my information.
Be sure to grab my travel tips to save you time and money. You'll also be entered into the weekly drawings.
Register here: Get 100 Travel Tips EVERY traveler should know PLUS entered into the weekly drawing.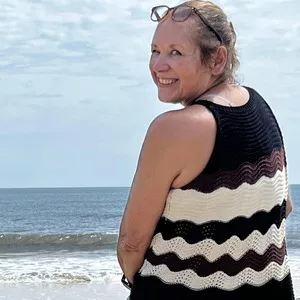 About Denise
Denise Sanger lives a life split between her love for fitness and her passion for travel particularly to the BEACH. Denise also has a love of marketing and lives in beautiful Suwannee County, Florida. You can find out more about Denise here: About Denise