5 Reasons To Take A Beach Vacation In The Winter
This article may contain affiliate links. Whenever you buy something through one of these links, I may earn a small commission without any cost to you. I really appreciate it as it supports this site and my family. Thank you!
Should you plan to take a beach vacation in winter vacation? You should! Here are 5 reasons to take a beach vacation in the winter.
Take a beach vacation in the winter? The first time I went to the beach in the winter it was in Atlantic City. I was there for a trade show and the hotel I stayed at was beachfront.
I'm pretty sure it was the Tropicana, but the boardwalk was literally out the back of the hotel. (I think it's time to schedule a trip back to Atlantic City.)
Stepped through the sliding doors onto the boardwalk over to the beach and what do I see? Snow! Now I'm a born beach lover and spent many days on the beach of Lake Erie in Cleveland, but I was not prepared to see snow on the sand at the ocean. But you know what? It was absolutely gorgeous.
Thank you for reading this post. Don't forget to subscribe! This way you never miss an update, travel deals, discounts and more!! Subscribe to the right------>
From that moment on, I have made it a point to hit the beach in the winter. There is something absolutely breathtaking and awe-inspiring when you step on the beach, and you are the only person.
You can truly appreciate the beauty of the ocean. And you know what? Doesn't matter if it's summer or winter, the waves continue to hit the shore. That for me always puts things in perspective.
Not persuaded yet? Here are a few more reasons to book your winter trip to the beach:
Reasons to book your winter trip to the beach.
As mentioned above, the beaches are deserted. While it may be too cold to go in the water without a wetsuit, but when you visit beaches south of Virginia or North Carolina, there are plenty of days when it's warm enough to walk on the beach or grab a chair and read while listening to the waves.
Quiet. If you're like me, one of the main reasons I'm at the beach as often as I am is it's where I relax and recharge. Nothing is as calming to be as spending downtime on the beach.
Cheap! Because it's off season, you can get some AMAZING deals. Before you book, I recommend you check Booking Buddy. I've gotten some fantastic deals that didn't show up on other sites.
Find out the secret places to visit. Things are too crazy and hectic to get to know the locals during the busy season. Off season, you'll find locals more relaxed and able to chat. The prettiest beach I've ever visited was recommended to me by a local in Panama City Beach in February.
No waiting lines! How many times have you wanted to try a new restaurant only to walk in and find an hour plus wait? Not off season. Ditto museums and other local attractions. As a result, I have been able to do more in a weekend during a winter beach trip than I have ever been able to do during the summer.
Don't let the time of year deter you from visiting your happy place. I'm glad I haven't. Matter of fact, I'm ready to book my next winter beach vacation.
Now that you have committed to that winter beach vacation, here is a list of where you should go: Best Beaches To Visit In The Winter
Upcoming Trip?
I like to use Booking for booking not only my hotels, but my tickets and rental cars as well. Makes life so much easier with only having to log into one location for my information.
Be sure to grab my travel tips to save you time and money. You'll also be entered into the weekly drawings.
Register here: Get 100 Travel Tips EVERY traveler should know PLUS entered into the weekly drawing.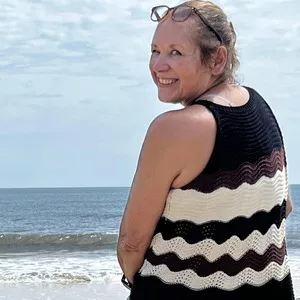 About Denise
Denise Sanger lives a life split between her love for fitness and her passion for travel particularly to the BEACH. Denise also has a love of marketing and lives in beautiful Suwannee County, Florida. You can find out more about Denise here: About Denise