Best beaches to visit in winter 2024
This article may contain affiliate links. Whenever you buy something through one of these links, I may earn a small commission without any cost to you. I really appreciate it as it supports this site and my family. Thank you!
UPDATED: October 2023. Go to the beach during winter? Of course! The best beaches to visit in winter are below, but I have to tell you, the first time I stepped on the beach and saw snow, my mind did not compute.
It was at a trade show in January in Atlantic City. I couldn't quite wrap my brain around snow on the beach.
That first glimpse of the beach during winter may have been a shock to my system, but it was absolutely beautiful. The white snow against the angry blue gray surf of the Atlantic was mesmerizing.
Since that January visit to the beach many years ago, I make it a point to hit the beach every winter. Below is this year's top list of beaches for a getaway when it's cold.
Thank you for reading this post. Don't forget to subscribe! This way you never miss an update, travel deals, discounts and more!! Subscribe to the right------>
I have limited the picks to the United States and Caribbean. Yes, I'm sure the Maldives is a beautiful place for a vacation, and it's on my list, but this list is for a more practical weekend getaway.
These are the best beaches to visit in winter:
Atlantic City, NJ. That's right. The Jersey Shore. That was where I got my first glimpse of the beauty of a winter beach.
I was in AC for a trade show and when I walked onto that boardwalk toward the ocean, I was amazed at the beauty of the ocean as it hit the snowy shores.
It tops my list of reasons to go to the beach when it's cold here: 5 Reasons To Take A Beach Vacation In The Winter
Switching now to warm beaches to visit during the winter and number one is Siesta Key. I don't think it matters what time of year you visit, you will quickly see why Siesta Key has been voted as the number one beach to visit.
Moving to the Southeast part of the Sunshine State brings us to South Beach, Miami Beach. Known for its night entertainment, atmosphere, art deco architecture, and beautiful people, South Beach is a vibrant destination to get out of the cold. Enjoy the warm winter sun, soft sands, and the bustling Ocean Drive.
Key West, Florida. I can't think of a better way to wrap up this list than with Key West. Talk about funky! I have had a blast every single time I've visited this unique city. The beaches on the Atlantic with its rocky charm to the soft sands on the Gulf Side. Plenty of food, fun and attractions to choose from.
Clearwater Beach, Florida. Beautiful white sandy beaches and clear, emerald-green waters, Clearwater Beach is a family-friendly destination on Florida's Gulf Coast. Be sure to visit the nearby Clearwater Marine Aquarium and enjoy water sports while the rest of the country digging out of the snow.
Hawaii. Of course, you had to expect beautiful Hawaii to be on this list. Again with daytime temps in the 80s, it's pretty hard to go wrong with visiting Hawaii during the winter months. Take a helicopter of boat tour to really see the islands. Explore the many waterfalls and hiking trails. Or simply relax on one of the many beautiful beaches Hawaii has to offer on all its islands.
Galveston, Texas. That's right! Don't overlook Texas for a wonderful winter vacation. Right on the beautiful Gulf of Mexico, Galveston offers a wonderful winter respite. Hotels are affordable. Many places to explore including the beautiful historic district and Pleasure Pier. And don't forget the fantastic food!
Caribbean Islands Best Beaches To Visit In Winter
St. John, US Virgin Islands: Trunk Bay in St. John is considered one of the most beautiful beaches in the Caribbean. It features an underwater snorkeling trail and lush surroundings in Virgin Islands National Park.
Puerto Rico. Love Puerto Rico! Island life but part of the USA which makes it easier to fly in and out of. Water sports. 270 miles of beaches to explore. And the weather is a balmy 80 degrees pretty much all year long.
Punta Cana, Dominican Republic: Punta Cana is known for its palm-fringed beaches, all-inclusive resorts, and a wide range of water and land-based activities. Bavaro Beach is one of the most popular spots in the area.
Negril, Jamaica: Negril is renowned for its long stretch of golden sands and the iconic Seven-Mile Beach. It's a laid-back destination with reggae music, beachfront bars, and the famous Rick's Café for cliff diving.
There you have it. The USA and Caribbean best beaches to visit in winter this year. Below are links to help you plan your winter getaway.
Upcoming Trip?
I like to use Booking for booking not only my hotels, but my tickets and rental cars as well. Makes life so much easier with only having to log into one location for my information.
Be sure to grab my travel tips to save you time and money. You'll also be entered into the weekly drawings.
Register here: Get 100 Travel Tips EVERY traveler should know PLUS entered into the weekly drawing.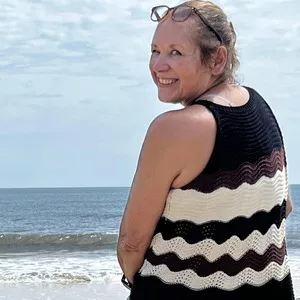 About Denise
Denise Sanger lives a life split between her love for fitness and her passion for travel particularly to the BEACH. Denise also has a love of marketing and lives in beautiful Suwannee County, Florida. You can find out more about Denise here: About Denise