Best Cape Coral Florida Beaches To Visit
This article may contain affiliate links. Whenever you buy something through one of these links, I may earn a small commission without any cost to you. I really appreciate it as it supports this site and my family. Thank you!
NOTE: This article was originally written several years ago then updated ago BEFORE the last hurricane hit this area. Be sure to check for updates before booking a vacation to this area as they continue to rebuild.
Looking for the Best Cape Coral Florida Beaches To Visit? Like many beaches located on the Gulf of Mexico, you will find pretty beaches also in the city of Cape Coral Florida. Whether you are looking for a fun action packed day or a quiet beach vacation, you will find some of the best beaches to explore in this area.
I am going to start by answering a few of the most popular questions I get when people are planning a Cape Coral beach vacation:
Does Cape Coral have clear water?
Yes. Cape Coral is located in the southwestern part of Florida. In this area, you will find Sanibel Island, Captiva Island, Ft. Myers Beach, Bonita Springs Beach and many other beautiful beaches known for clear, turquoise waters.
Thank you for reading this post. Don't forget to subscribe! This way you never miss an update, travel deals, discounts and more!! Subscribe to the right------>
Is Cape Coral Florida a nice area?
It sure is! Cape Coral is one of the most affordable locations on the Gulf. Cape Coral has been named the third most affordable city in Florida.
Can you swim in Cape Coral?
Nestled on the coast near some of the most well known beaches in the world. Cape Coral is fantastic for shelling, swimming, sunbathing, surfing, kayaking, or another kind of beach activity.
What is the nicest part of Cape Coral?
In Southeast Cape Coral, you will find a nice mix of families, couples and retirees. When visiting, be sure to check out waterfront neighborhoods like Cornwallis, Beach Parkway, and Savona.
What is Cape Coral best known for?
Many refer to Cape Coral as a Waterfront Wonderland. Why? 400 miles of canals. Almost as if its claim to fame is as the Venice of Florida.
Cape Coral has more miles of canals than anywhere else in the world. Love to kayak? Most of the canals are navigable and will take you to the Caloosahatchee River, Matlacha Pass and the Gulf of Mexico.
How far is Cape Coral FL from the airport?
Cape Coral is roughly 13 miles away from Ft. Myers Airport.
Are alligators in the Cape Coral canals?
Of course. You can expect to find alligators in most bodies of water in Florida including the Cape Coral canals. But don't worry. If you do not bother them, they will not bother you. Keep your distance.
Does Cape Coral have a boardwalk?
Yes. Cape Coral has a boardwalk for you to walk on. It is definitely one of the best things to visit when you are there. You will be able to enjoy the local wildlife as well as watch the boats come and go
Now let's talk about the Best Cape Coral Florida Beaches To Visit! Our favorite subject. Well at least it is my favorite.
Yacht Club Beach. Also see Yacht Club Community Park Below.
It may be a small beach but it is there. Yankee Club Beach is a nice, quiet beach to get sun and relax. Beautiful clear water and the beach is very clean. Playground equipment and picnic tables.
Enjoy the fishing pier that is nearby to watch the sunset over the water or to enjoy some fishing. I have been told, however, that the beach will be closed soon for renovation. But don't worry. There are other gorgeous beaches nearby.
Yacht Club Community Park
Not only will you find a public beach, there is a junior olympic size swimming pool too! Yacht Club Community Park is Cape Coral's original water landmark.
So many amenities! At this community park, you will find picnic tables, playground equipment, fishing pier, public beach, public restrooms and more.
The Yacht Club Community Park originally opened in 1962 and is one of the few public beaches in Cape Coral.
Four Freedoms Park Beach
Many say Four Freedoms Beach is not really a beach. Operated by the City of Cape Coral, you will find a white sand beach, picnic shelters and playground equipment for the kids.
Four Freedoms Park is located on Bimini Basin and has a boat ramp for easy access to the Gulf of Mexico. You will find this pretty, uncrowded beach the perfect place for families at 4818 Tarpon Court.
After you visit the above three beaches, you will need to travel a bit for the rest of the sandy beaches in the area.
Sanibel Island.
Definitely one of the best beaches in the area and on my top 10 list for Florida. Very easy drive from Cape Coral. Roughly 30 minutes.
A very popular spot, Sanibel Island is GORGEOUS. Last time I was there was with my mom and she was bent over picking up shells more than she was walking with me. Yes, there are that many.
Sanibel beaches are known for white sand and shallow water making this the great place for a getaway.
Pine Island.
If you want quiet and seclusion, you will find it at Pine Island. This island is the largest island on the Gulf Coast of peninsular Florida in the United States.
Pine Island is located in Lee County in Southwest Florida very close to Cape Coral. It is also the 118th largest island in the United States.
Interesting fact. Even though Pine Island is an island it does not have Gulf of Mexico beaches like others located in this area.
A short 20 minute drive from Cape Coral will quickly have you at Pine Island. Kayak and canoe through the mangroves or take a boat trip around all the islands.
A nature lover's paradise. For those that like to hike there are several walking trails including an easy out and back trail.
Barrier Islands in Cape Coral
The barrier islands in Southwestern Florida make up more than 700 miles of coastline. Fun fact? Florida has more barrier islands than any other state.
One of the best ways to visit all of these barrier islands is by boat. Boat tours exploring the islands offer you a great way to view the abundant wildlife.
Nature lover? You will definitely want to make time to explore the largest mangrove ecosystem in the U.S. when you visit the J.N. "Ding" Darling National Wildlife Refuge located on the Sanibel barrier island. A kayak tour will show you all the best places in these islands.
Cayo Costa State Park
While exploring the barrier islands, be sure to include Cayo Costa State Park. One of the largest barrier islands yet very unspoiled. The only way to get to Cayo Costa is by boat or kayak.
9 miles of beautiful white sand beaches to explore. On this island you will find swimming, snorkeling, shelling, fishing, and birdwatching.
Beautiful walking and bicycling trails are also available in the interior of the island. Keep your binoculars nearby as shorebirds are numerous, you might spot manatees, porpoises and sea turtles offshore.
North Fort Myers Beach.
Rounding out the list of beaches to visit is North Fort Myers. North Fort Myers looks out over Sanibel. What a view!
For those that like a little more entertainment, this is the area to visit. Plenty of shops, restaurants and bars. Parking spaces are relatively easy to find.
Tennis? There are several tennis courts available in this area for public play. North Fort Myers is a good place for families, couples, girls trips and more.
Don't miss out! Sign up for my weekly drawings for beach gear, hotel vouchers and more. Twice a week, we select a lucky winner for a gift card, beach wear, Boho Beach Chic outfit and more. It's FREE. No purchase necessary. Register here: Enter to Win then keep an eye on your emails!
The BEST way to enjoy any of these beaches? Rent a home or condo. Get more info here: Vacation Rentals Florida My favorite by far in this part of Florida is Sanibel Island. Get more info here: Sanibel Island Vacations
Upcoming Trip?
I like to use Booking for booking not only my hotels, but my tickets and rental cars as well. Makes life so much easier with only having to log into one location for my information.
Be sure to grab my travel tips to save you time and money. You'll also be entered into the weekly drawings.
Register here: Get 100 Travel Tips EVERY traveler should know PLUS entered into the weekly drawing.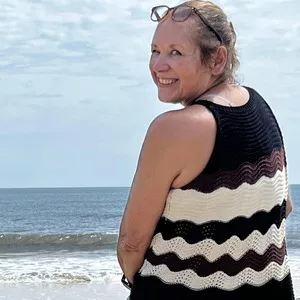 About Denise
Denise Sanger lives a life split between her love for fitness and her passion for travel particularly to the BEACH. Denise also has a love of marketing and lives in beautiful Suwannee County, Florida. You can find out more about Denise here: About Denise