Bonita Springs Florida Beaches: Your Guide To A Great Vacation
This article may contain affiliate links. Whenever you buy something through one of these links, I may earn a small commission without any cost to you. I really appreciate it as it supports this site and my family. Thank you!
The Bonita Springs Florida Beaches are some of the most picturesque and relaxing beaches in the region. Miles of pristine beaches, shallow water and a great place to truly getaway from it all.
A Coastal Paradise Guide
The beaches of Bonita Springs are some of the most picturesque and relaxing beaches in the region. The county has been reopening beaches but not all are open at this time.
Visitors can indulge in a variety of outdoor activities, making it the perfect place for nature lovers and beach enthusiasts alike.
Don't have time to read the article? Check rates and availability here: Bonita Springs Beachfront Hotels
Thank you for reading this post. Don't forget to subscribe! This way you never miss an update, travel deals, discounts and more!! Subscribe to the right------>
I have also listed at the bottom of this article nearby beaches, attractions and events to help you plan your vacation.
Where is Bonita Springs?
The city of Bonita Springs, nestled between Fort Myers Beach and just north of Naples on Florida's Gulf Coast, offers miles of pristine beaches, shallow water and a great place to truly getaway from it all in Southwest Florida.
Other nearby beach towns include Marco Island, Sanibel Island and Captiva Island.
Very easy to get to this beach town. It is right off I-75 if you are driving. The nearest airports are Southwest Florida International in Fort Myers or Sarasota-Bradenton Airport in Sarasota.
Top Beaches in Bonita Springs
The Bonita Springs Beaches are definitely a place to visit if you want to experience the best of what Florida has to offer. With the white sand beaches, warm weather and the beautiful Gulf of Mexico as your backdrop, you're bound to have an enjoyable experience.
Check rates and availability here: Bonita Springs Beachfront Hotels
Very welcoming beach community for outdoor recreation as well as some of the best beaches in the United States.
Whether you're looking to relax on the sand, take a swim, or even just walk along the shore, you will find the perfect beach in this part of the Sunshine State.
Choices for top beaches in the area, the Bonita Springs Public Beach provides a quiet and convenient spot to enjoy sunbathing, jet skiing, and parasailing.
For those seeking a more untouched environment, Barefoot Beach is an unspoiled barrier island known for its natural beauty and tranquility.
Families, friends, and individuals can all find the perfect beach experience within Bonita Springs' diverse coastal offerings. These are the top picks:
Barefoot Beach Preserve
NOTE: As of this writing and according to the Collier's Park website, this beach is currently closed due to Hurricane Ian. Please check before booking a trip to this area.
Barefoot Beach Preserve County Park is located on one of the last undeveloped barrier islands on Florida's southwest coast. The preserve protects more than a mile of sandy beach, an upland maritime hammock, and a mangrove-fringed tidal lagoon.
Check rates and availability here: Bonita Springs Beachfront Hotels
The variety of habitats found here supports a rich assemblage of plant and animal life as well as protecting numerous animal species. Over 280 species of birds have been recorded at the preserve, including several that are threatened or endangered.
Keep your eyes open, and you just might spot gopher tortoises coming out of their holes. Dr. Beach, named it to his top 10 beaches in America list for several years. Luckily for us, it remains unspoiled.
Visitors can enjoy the beach, go canoeing or kayaking in the lagoon, or take a nature hike through the upland hammock. Other fun things to do are swimming, sunbathing, and beachcombing.
Check rates and availability here: Bonita Springs Beachfront Hotels
The preserve also offers a variety of nature trails on 342 acres of natural land for those interested in exploring the local wildlife.
Picnic tables, picnic shelters, Learning Center With Natural History Exhibits, Butterfly Garden & Cactus Botanical Garden, one-mile nature trail that will take you between the sand dunes over to the beach.
The Learning Center is in its temporary location at North Collier County Regional Park.
One of many public beach access points, Barefoot Beach Access is located 20 feet off Bonita Beach Road. This is a great spot to relax and simply enjoy nature.
A large parking lot with plenty of parking spaces makes it convenient and gives you only a short distance to walk to the beach.
Bonita Beach Park
Bonita Beach Park is a public beach that features a white sand beach, pavilions, grills, picnic tables, showers, and restrooms. It is also the most popular beach, so you will want to time your visit to be sure you get a parking spot.
Check rates and availability here: Bonita Springs Beachfront Hotels
Visitors can enjoy swimming, sunbathing, fishing, and picnicking at the park. One of the best places for families.
Bonita Beach Park is a family-friendly beach, complete with picnic areas, playgrounds, and a boardwalk. The soft white sands and clear waters make this beach a favorite among locals and tourists alike.
This beach is perfect for those who want to spend a day swimming, sunbathing, or playing beach volleyball.
Little Hickory Beach Park
This beautiful beach is also known as access #10. Little Hickory Island Park is in an isolated location just off Little Hickory Island. This beach is currently showing open on the Lee County Parks website.
Short walk to the beach from the parking areas. Beautiful clear water and many seashells to add to your collection.
Dog Beach Park
Dog Beach Park is a unique, off-leash beach where dogs can run, play, and swim. Dog owners and their pets can take in the beautiful surroundings while enjoying quality time together.
This beach has garnered attention for its canine-friendly environment and is a must-visit for pet owners in the Bonita Springs area.
Check rates and availability here: Bonita Springs Beachfront Hotels
It is fantastic because it's inland a bit which protects it from large waves. Public parking and fresh water makes this one of the best dog friendly beaches in Florida.
Other nearby beaches
Vanderbilt Beach.
This one of the most beautiful Naples Beaches a short drive away. This area is a good place to enjoy most of the year, but can get quite crowded during tourist season.
Lover's Key State Park.
Located in Fort Myers, Lover's Key State Park offers a picturesque 2.5-mile stretch of Gulf beach.
This park has gained recognition as one of Florida's top beaches because of its peaceful surroundings and natural beauty.
Visitors can enjoy a variety of activities at Lover's Key State Park, including kayaking, fishing, and hiking.
Delnor-Wiggins Pass State Park
One of the most breathtakingly beautiful beaches on the Gulf Coast. This state park also offers some of the best shelling on the southwest portion of the state. Enjoy lunch or a snack in a picnic area near the beach while you visit.
Water Activities
Bonita Springs offers a variety of water activities suited for both locals and visitors alike.
With its beautiful coastline and numerous attractions, you can easily find something to suit your interests and abilities.
Check rates and availability here: Bonita Springs Beachfront Hotels
Boating and Kayaking
If you are looking to explore the waters of Bonita Springs via boat or kayak, there are several options available. There are several outfitters and guides that offer boat tours and eco-tours, around Estero Bay Estuary.
Lovers Key State Park also offers rafting and kayaking options for those interested in beachside adventures. Be sure to check for low tide and high tide times.
Fishing
Bonita Springs is a popular destination for both novice and experienced anglers. Enjoy fishing charters and tours that allow you to try to catch local species.
Paddleboarding and Windsurfing
For those looking for a more active water experience, Bonita Springs offers paddleboarding and windsurfing opportunities. Bonita Jet ski & Parasail provides both paddleboarding and jet ski rental services.
Check rates and availability here: Bonita Springs Beachfront Hotels
The calm waters of the Gulf of Mexico make it an ideal spot for paddleboarders and windsurfers of all skill levels to enjoy.
Snorkeling and Diving
The coastal waters surrounding Bonita Springs are home to diverse marine life, making it an attractive location for snorkeling and diving enthusiasts.
Although there are no specific companies dedicated to snorkeling and diving in the area, many local beaches and parks offer excellent snorkeling opportunities.
You can also consider nearby diving locations, such as those found in Naples or Fort Myers, for more guided experiences.
Beach Amenities and Accessibility
Parking and Facilities
When it comes to parking at Bonita Springs beaches, you will be happy to know that Lee County Parks & Recreation is currently not charging for parking at beach park locations.
Check rates and availability here: Bonita Springs Beachfront Hotels
Beach goers can enjoy some of the amenities at Bonita Beach Park, a 2.5-acre beachfront park which features a boardwalk and swimming area.
Other facilities provided at Bonita Springs beaches include beach showers, toilets, and ample beach access.
Beach Wheelchair Access
Ensuring that everyone can enjoy the beautiful beaches of Bonita Springs is important.
Though specific wheelchair accommodations are not mentioned in the provided search results for Bonita Beach, many Florida beaches do have wheelchair accessibility features like beach wheelchairs and accessibility mats.
It is recommended to check with the specific beach or park regarding their accessibility options before visiting.
Wildlife and Nature
Bonita Springs offers a rich environment to observe and appreciate the diverse wildlife and breathtaking natural beauty of Southwest Florida. Enjoy hiking trails, biking trails, and more in this beautiful area.
Check rates and availability here: Bonita Springs Beachfront Hotels
Bird Watching
With several natural reserves and parks such as Barefoot Beach Preserve and The Wonder Gardens, Bonita Springs has become a fantastic destination for bird watching.
Numerous native and migratory bird species can be observed in these natural habitats, providing exciting opportunities for both experienced and beginner birdwatchers. Keep an eye out for bald eagles.
Marine Life
Visitors to Bonita Springs' beaches can experience various marine life species. You may spot dolphins and manatees swimming close to the shore, and a plethora of fish species living in the coastal waters.
Don't miss exploring the tide pools, where crabs, sea stars, and other small marine creatures await to be discovered.
Turtle Nesting
During the nesting season, you might be fortunate enough to witness sea turtles laying their eggs on the Barefoot Beach shoreline.
The natural vegetation on this 2.5-mile beach provides an excellent environment for nesting turtles.
Check rates and availability here: Bonita Springs Beachfront Hotels
Make sure to respect the marked nesting areas and not disturb these amazing creatures in their essential task of laying eggs.
Other Cultural Attractions
Everglades Wonder Gardens is a beautiful icon of Old World Florida. It is home to over 300 rescued, rehabilitated and non-releasable animals.
Alligators and Flamingos to beautiful macaws, pythons, turtles, tortoises and even Chinese Golden Pheasants all call these gardens home. Open to visitors.
Corkscrew Swamp Sanctuary offers you a view into the heart of the Everglades ecosystem. The 2.25 mile boardwalk takes you through marsh, a wet prairie leading you to the largest old-growth bald cypress forest in North America.
Seasonal Considerations
Best Times to Visit
The best time to visit Bonita Springs beaches is during the late winter and early spring months, when temperatures are warm but not too hot, and rainfall is minimal.
Specifically, February through April tend to be the most popular and pleasant months for beach visits.
Weather
Bonita Springs has a tropical-like climate with warm temperatures year-round.
During the winter months, temperatures range from the 60s to low 80s°F (15-27°C), making it an ideal escape from colder climates.
As summer approaches, temperatures can climb into the 90s°F (32-37°C) with increased humidity and afternoon showers.
Hurricane season lasts from June through November in the state of Florida.
Crowds and Peak Season
As with many popular beach destinations, Bonita Springs can see an influx of visitors during peak season.
Check rates and availability here: Bonita Springs Beachfront Hotels
The busiest months tend to be from December to April, when many people flock to Florida's beaches to escape colder winter weather.
During this time, you may experience larger crowds as well as higher prices. To avoid the crowds, consider visiting during the shoulder seasons of May and September.
Shopping
There are several shopping malls and outside areas for you to enjoy in Bonita Springs. They are:
Coconut Point Mall
Promenade at Bonita Bay
Check rates and availability here: Bonita Springs Beachfront Hotels
Victoria's Place
Flamingo Island Flea Market
Tangerine Coastal Market
And there you go! Everything you need to plan a fun beach vacation in Bonita Springs.
Upcoming Trip?
I like to use Booking for booking not only my hotels, but my tickets and rental cars as well. Makes life so much easier with only having to log into one location for my information.
Be sure to grab my travel tips to save you time and money. You'll also be entered into the weekly drawings.
Register here: Get 100 Travel Tips EVERY traveler should know PLUS entered into the weekly drawing.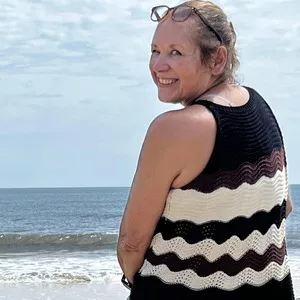 About Denise
Denise Sanger lives a life split between her love for fitness and her passion for travel particularly to the BEACH. Denise also has a love of marketing and lives in beautiful Suwannee County, Florida. You can find out more about Denise here: About Denise