Tampa Florida Beaches: A Guide to Pristine Shorelines And A Wonderful Vacation
This article may contain affiliate links. Whenever you buy something through one of these links, I may earn a small commission without any cost to you. I really appreciate it as it supports this site and my family. Thank you!
Tampa has beautiful scenery, an ideal climate with an average of 361 days of sunshine per year. Some of the Tampa Florida beaches are the best you will find not only in Florida but the United States.
This prime spot on Florida's west coast means visitors and locals can enjoy a range of white sandy beaches. From secluded patches of sand to lively a coastline bustling with water activities, restaurants and more.
Don't have time to read the whole post? Check current rates and availability here: Tampa Bay Beachfront Hotels
In addition to the beaches, Busch Gardens, great bars and craft breweries, entertainment including street performers are all a short drive away from downtown Tampa. I have included information below to help you plan a fantastic vacation.
Thank you for reading this post. Don't forget to subscribe! This way you never miss an update, travel deals, discounts and more!! Subscribe to the right------>
Popular beaches in the Tampa Bay area include Madeira Beach, known for its beautiful powdery white sand and waterfront activities, and located roughly 27 miles from Tampa Bay.
Other notable Tampa Florida beaches within a short driving distance are Sunset Beach, Honeymoon Island State Park, and Clearwater Beach, each offering unique experiences for beach goers. They are listed below.
Where is Tampa and How To Get There?
Tampa is located on the Gulf Coast of Florida located in Hillsborough County. It is bordered by the north shore of Tampa Bay and the east shore of Old Tampa Bay. It's a city with a small town vibe.
Ready to enjoy the miles of beach and beautiful water? Fly into Tampa International Airport or Clearwater-St. Pete International Airport.
Driving? I-75 north or south will get to Tampa. From the center of the state, I-4 west or east is your route.
Top Tampa Florida Beaches
Ben T. Davis Beach.
Located in Tampa, this is not the biggest or the best beach, but you can sit in your car in the nearby parking lots to watch the sunset. I'd recommend going to one of the other beaches I've listed below for a true Florida beach experience.
Check current rates and availability here: Tampa Bay Beachfront Hotels
Redington Beach
This beautiful beach town is located less than 30 miles from Tampa and roughly 15 miles from St. Pete. This is the destination for those that love water sports.
Enjoy fishing, boating, waterskiing, snorkeling and more. Keep scanning the water and you might see dolphins playing nearby.
Caladesi Island State Park
This Florida State Park is beautiful! Not within Tampa boundaries, this beach is north of Clearwater and the only way to get there is by private boat.
Check current rates and availability here: Tampa Bay Beachfront Hotels
When you want to get away from the crowds, these white sand beaches are the where you want to go.
Clearwater Beach
Clearwater Beach is known for its soft, white sand and crystal-clear waters. It is also one of the most popular beaches in this part of the Sunshine State.
This family-friendly beach offers a variety of activities, from sunbathing and swimming to water sports and beachside dining.
The nearby Pier 60 provides a unique opportunity for fishing and nightly sunset festivals with live music and local artisans. Be sure to visit the Clearwater Marine Aquarium for educational fun for the entire family.
St. Pete Beach
St. Pete Beach is a popular destination for both locals and visitors alike. Featuring miles of pristine shoreline, this beach is ideal for lounging in the sun, catching a wave, or exploring the many shops and restaurants in the surrounding area.
Check current rates and availability here: Tampa Bay Beachfront Hotels
St. Pete Beach also hosts various events throughout the year, making it a lively spot for all ages. This is one of my favorite beaches on the West Coast.
Shell Key Island
Also in St. Pete is Shell Key. This barrier island is also a nature preserve and the only way to get to it is to take a boat to Shell Key which is the largest land mass in the preserve.
It is frequented most by wildlife including shore birds and sea turtles. If you are a nature lover, you must make the time to visit this little island.
Treasure Island
Treasure Island boasts a wide expanse of sandy shores and a laid-back atmosphere perfect for families and beach goers seeking relaxation. This is one fun beach town.
In addition to the traditional beach activities, Treasure Island features a beachfront promenade for leisurely strolls and a vibrant nightlife scene.
Honeymoon Island State Park
Honeymoon Island State Park offers visitors a more natural and secluded beach experience.
The unspoiled shores of Honeymoon Island provide a perfect setting for sunbathing, swimming, or exploring the various nature trails that wind through the park.
Check current rates and availability here: Tampa Bay Beachfront Hotels
Picnic tables, beautiful beaches, crystal clear waters, boat ramp and more are available for you in this state park.
Madeira Beach
Madeira Beach, or "Mad Beach" as it's affectionately called by locals, is known for its soft sand, calm waters, and beautiful sunsets.
The nearby John's Pass Village and Boardwalk offer a variety of shopping, dining, and entertainment options, making Madeira Beach a great spot for beach goers seeking more than just sun and surf. Perfect place to get away from it all.
Archibald Memorial Beach Park
Also located in Madeira Beach, is Archibald Beach Park. For some reason it was showing permanently closed on Tripadvisor, but my information and the website confirms it is open.
Double check before you by visiting the Madeira Beach website. You will find metered parking spots, beach chair rentals, volleyball courts, public restrooms, soft white sand and even food at Madeira Beach Snack Shack a few steps away from the beach area.
Sand Key Park
Sand Key Park is 95 acres with two distinct areas of beach and park located in nearby Clearwater. Sea turtles next on this barrier island from April through October.
Check current rates and availability here: Tampa Bay Beachfront Hotels
Be sure to stay away from the marked off nests. Take time to walk along the boardwalk and nature trail.
Beach wheelchairs also available along with umbrella, cabana, bike and kayak rentals from the concessionaire and snack bar. Excellent place to really get away from it all.
Pine Key Tampa Bay formerly known as Beer Can Island
One of two Beer Can Islands in the state of Florida this one is roughly 2 miles offshore from Apollo Beach. Pine Key aka Beer Can Island is an Event Venue and campground.
It includes 11 acres to explore and a privately owned tiki bar that can be rented out for private parties. It, too, is only accessible by boat, but it is the ideal place to really get away. Family and dog friendly.
Fred Howard Park Beach
One of the best places for a nature lover. From this beach you may see dolphins, manatees, ospreys and bald eagles. Access is a 1-mile causeway from the park to the white sandy beach for swimming and sunsets.
Beautiful Gulf Coast views for out of this world sunsets. One of the best things about this park is that you can launch kayaks or canoes.
Enjoy the playgrounds, showers, as well as waters sports like swimming, wind surfing or fishing. This beach is located in Tarpon Springs.
North Shore State Park North Beach
Want to play volleyball? North Shore offers beach volleyball courts for you to play a competitive game right near the water.
Also, available in this park located in St. Pete is a dog park, public beach, and playground for the kids. The perfect spot for a family day.
Activities and Attractions
Water Sports
Tampa Bay offers a variety of water sports for residents and visitors to enjoy. Thrill-seekers can try their hand at jet skiing, parasailing, or paddleboarding along the coastline.
Check current rates and availability here: Tampa Bay Beachfront Hotels
For a more relaxed experience, consider kayaking or canoeing through the calm waters of Tampa Bay's estuaries and canals. Visit Tampa Bay recommends local rental companies and guided tours for all skill levels.
Nature and Wildlife Spotting
The region's diverse ecosystems make it an excellent vacation spot for nature lovers. Popular locations include Bayshore Boulevard and Curtis Hixon Park, where you can walk, run, or bike while admiring the local flora and fauna.
For those interested in marine life, the Tampa Electric's Manatee Viewing Center as well as Apollo Beach Nature Preserve offers an opportunity to observe sea turtles, manatees and more in their natural habitat during the winter months.
Check current rates and availability here: Tampa Bay Beachfront Hotels
If you love to bike, make time to bike the Courtney Campbell Trail. This is a roughly 10 mile out and back pedestrian bridge trail with amazing views.
Beach Shopping and Dining
Tampa's waterfront areas offers some of the best shopping and dining options. The historical area of Tampa has been restored and now offers visitors unique shopping experiences as well as fantastic dining options.
Fishing
Fishing enthusiasts can find a variety of fishing spots in Tampa Bay, from piers and bridges to offshore adventures.
Charter fishing trips are readily available for those who wish to experience deep-sea fishing or backwater fishing in the bay.
Local guides can help you explore the area and target various fish species native to Tampa's waters.
Sunset Vibes
The best way to end your day on a Tampa vacation? With a breathtaking sunset on one of Tampa's nearby beaches.
Waterfront bars and restaurants offer front row seating to some of the most stunning views of the sun setting over the Gulf of Mexico.
Many locations offer live music, beach cocktails, and a fun, friendly atmosphere. These special moments create lasting memories and provide a perfect end to a day spent after exploring Tampa's beaches.
Check current rates and availability here: Tampa Bay Beachfront Hotels
Family-Friendly Beaches
Tampa is family friendly and a great spot for a multi-generational vacation. When visiting Tampa, families can find a variety of beautiful and family-friendly beaches.
Relaxed Gulf beach vibe, making it a perfect destination for families, couples and more. Fort De Soto Beach in Pinellas, Florida is one of the best beaches for families.
This beach offers a range of amenities, such as a playground, picnic shelters, grills, a concession stand, restrooms, and showers.
Also want to mention is Indian Rocks Beach, which has more than 27 beach access points. It is known for its calm water making it perfect for travel with young kids.
Be sure to keep an eye out for dolphins, as they can often be spotted from the shoreline.
Romantic Getaways
Tampa Florida Beaches are also perfect for a romantic vacation. The area's stunning white-sand beaches and exciting outdoor adventures create an ideal atmosphere for romance.
Visiting a romantic garden can be a lovely experience for couples. Meander through flower-lined pathways. Enjoy a picnic at one of Tampa Bay's scenic gardens, such as Sunken Gardens in St. Petersburg.
For couples interested in cultural attractions, Tampa offers numerous options for romantic evenings.
Check current rates and availability here: Tampa Bay Beachfront Hotels
Catch a theater performance or immerse yourselves in art exhibitions at local galleries. The city also features excellent dining opportunities, with various waterfront restaurants where you can watch the sunset together.
If a romantic staycation is what you desire, consider the Tampa Marriott Water Street. This hotel offers a convenient location to explore the best attractions in downtown Tampa.
Or enjoy a more intimate experience by renting a boat for an hourly fee and navigating the picturesque Tampa Riverwalk.
Tips for Visiting Tampa Florida Beaches
Parking and Transportation
When planning a trip to Tampa Florida beaches, there are several parking and transportation options available to make your visit as smooth as possible.
Popular beaches, like Clearwater Beach, provide ample parking spaces for visitors, while some other beaches may have limited or metered parking. It's essential to arrive early to secure a good spot, especially during peak season.
Check current rates and availability here: Tampa Bay Beachfront Hotels
For those opting for public transportation, consider using the Pinellas Suncoast Transit Authority (PSTA) buses, or take advantage of the Suncoast Beach Trolley, which makes stops at several popular beach destinations.
Beach Safety
Prioritizing beach safety is crucial while enjoying Tampa Bay's beautiful coastlines.
Several beaches, including the 3-mile shore, have designated swimming areas with lifeguard stands. Be sure to swim near these stations and always follow lifeguard instructions.
Be aware at all times. Watch for potential hazards such as rip currents, stingrays, or jellyfish.
To avoid being stung by a stingray, shuffle your feet when walking in shallow water to scare them away.
As a precaution, consider bringing some vinegar to neutralize the venom in case of a jellyfish sting.
Seasonal Considerations
Tampa Bay beaches experience warm weather and sunshine year-round, with an average of 361 days of sunshine each year. However, be aware of seasonal changes that may affect your beach experience:
Summer: While the warm weather is perfect for beach activities, summer also brings higher temperatures and humidity.
Check current rates and availability here: Tampa Bay Beachfront Hotels
Don't forget sunscreen, plenty of water, and shade to stay comfortable. Also keep an eye on the weather as hurricanes can develop quickly through the Gulf of Mexico.
Rainy Season: Tampa Bay's rainy season typically occurs between June and September, so be prepared for afternoon showers and potential storms during this time.
Check the weather forecast before your beach trip to avoid any surprises.
Winter: Winter temperatures in Tampa Bay can be cooler, with daytime highs averaging around 70°F (21°C).
While it may not be ideal for swimming, visitors can still enjoy beach walks and other outdoor activities during this time.
From family friendly beaches to romantic getaways, picturesque beachfront hotels to serene gardens and exciting cultural experiences, you cannot go wrong with booking a Tampa Florida Beaches destination vacation.
Upcoming Trip?
I like to use Booking for booking not only my hotels, but my tickets and rental cars as well. Makes life so much easier with only having to log into one location for my information.
Be sure to grab my travel tips to save you time and money. You'll also be entered into the weekly drawings.
Register here: Get 100 Travel Tips EVERY traveler should know PLUS entered into the weekly drawing.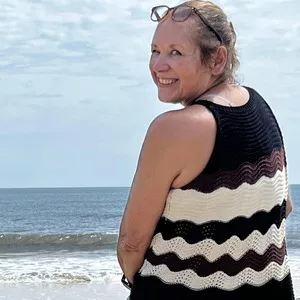 About Denise
Denise Sanger lives a life split between her love for fitness and her passion for travel particularly to the BEACH. Denise also has a love of marketing and lives in beautiful Suwannee County, Florida. You can find out more about Denise here: About Denise