The Best Beaches in Southwest Florida Experience paradise
This article may contain affiliate links. Whenever you buy something through one of these links, I may earn a small commission without any cost to you. I really appreciate it as it supports this site and my family. Thank you!
You can find heaven on the Gulf Coast of Florida. Today, we are going to cover the best beaches in Southwest Florida for a great beach getaway vacation perfect for you.
There is nothing as relaxing as a beach vacation. Add in beautiful turquoise water and white-sand beaches, and you may think you are in heaven.
Miles of coastline and crystal-clear waters, this region is home to some of the best beaches in the United States. Some beaches you may have heard of while others you may not have.
Barrier islands, fishing piers and shallow water definitely makes this part of the State of Florida a popular destination.
Thank you for reading this post. Don't forget to subscribe! This way you never miss an update, travel deals, discounts and more!! Subscribe to the right------>
Truly a beach for every type of traveler and every type of beach vacation.
At the end of this article, will be links for more things to do and places to visit in this area to help you plan your vacation.
Airports Near Southwest Florida
This great place has several nearby airports for easy access to your dream beach vacation. Choose between:
West Coast
Southwest Florida International Airport, Fort Myers
Tampa/St. Pete International Airport
East Coast
Miami International Airport
Fort Lauderdale International Airport
The above airports are roughly a 2 hour or less drive to the Southwest Florida area.
How about the best beaches in SW Florida?
As I mentioned above, this area is positively gorgeous.
Below is a list of the best beaches in Southwest Florida to help you start planning your next seaside getaway.
Marco Island
Marco Island. Such a beautiful paradise you have to see for yourself to believe it. It is the perfect place to completely get away and relax.
One of the most beautiful beaches on the island is Tigertail Beach. There is a quite a bit of a walk to get to the beach, but trust me. It's worth it.
Tigertail is also a great beach for wildlife viewing. Paddleboards and kayaks are available for rent as well as this beach offers handicapped beach wheelchairs.
Also, be sure to keep your eyes open. You may spot loggerhead turtles.
Pine Island
This beach is roughly 30 minutes away from Fort Myers but completely different from what you would expect to find on a public beach.
Pine Island is the largest island off the Southwest Florida coast with a small beach town vibe. The waters off the island of Matlacha Pass and in the Pine Island Aquatic Preserve are perfect for kayaking.
Fish are plentiful including tarpon, redfish, grouper and more. Things do get crazy when it's tourist season. February, March, and April are all peak travel times to this part of the state.
The island is small and only has a two lane road and no traffic lights. When tourists descend on this island, it is quite hectic and not easy to get around.
There is not a beach per se on this island, but I didn't want to leave off the list. Nature lovers will enjoy the mangroves that surround the island and includes three aquatic preserves.
Cayo Costa State Park
This State Park and beautiful beach is only accessible by boat. But so worth it once you get to the beach. Enjoy walking on the nature trail where you might spot an endangered or rare bird not seen elsewhere.
There are 9 miles of white sandy beaches just waiting for you to come explore. The undeveloped coastline attracts many shore birds as well as sea turtles, manatees, and dolphins.
Ferry services runs throughout the day and for those that like to camp, I really recommend the campsites on the island for those that wish to spend the night. Truly a nature lovers paradise.
Boca Grande
Enjoy a scenic drive from nearby Port Charlotte as you head toward Boca Grande. Boca Grande Beach is actually part of Gasparilla Island State Park.
Love to fish? This is the place you want to go. Tarpon, Grouper and Redfish are in these waters.
Nature lover? Keep your eyes open for West Indian manatee, gopher tortoises, Southern bald eagles, least tern, royal tern, sandwich tern and the American oystercatcher.
Barefoot Beach and Bonita Springs
Bonita Springs is a great area for a more low-key beach vacation. Close enough to the Fort Myers area but a lot of crowds.
I have heard people say that Barefoot Beach is the 2nd best beach after Siesta Key. It is a great spot and located on one of the last undeveloped barrier islands on Florida's southwest coast
Low tide makes for gentle surf and waves in shallow water. This is truly an unspoiled beach and the perfect spot to get back to nature.
Be sure to also stop at Bonita Beach and Bonita Beach Park. Volleyball courts, tennis courts, beach access with outdoor showers, boardwalk and other fun things to do while visiting.
Fort Myers Beach
This is such a fun spot for a vacation. Live music. Great restaurants and bars. Shopping, galleries and more.
For beaches, stop at Lynn Hall Memorial Park. Beach access, charcoal grills, restrooms, showers, pavilions, fishing pier and boat ramp.
Easy to find on Estero Boulevard, north of the Matanzas Pass Bridge, next to "Times Square" in the heart of downtown.
Estero Island, located off the coast of Fort Myers Beach, is a beach lover's dream. You can take a trolley or drive onto the island over a bridge.
Lovers Key State Park is located off the southern tip of the island. It is one of four barrier islands where watching wildlife, marine life, looking for shells, swimming, snorkeling, kayaking and more. Perfect for those that like an active vacation.
Sanibel Island Beaches.
Sanibel Island is known for its pristine beaches and abundant wildlife and one of my absolute favorites.
Right now, however, this island is still rebuilding after Hurricane Ian. Please do not plan a vacation here until you check with the location you plan to stay at. Some beaches may not be open at this time.
The island has over 15 miles of shoreline with plenty of spots to soak up the sun and enjoy the Gulf of Mexico. Bowman's Beach is a popular choice for its calm waters and white sand. This is a great beach for shell seekers.
Love to beachcomb and collect seashells? Blind Pass Beach offers great shelling opportunities. It's also quite unique in that it stretches through a pass between Sanibel and Captiva Islands that connects the ocean to an intracoastal waterway.
For a more secluded experience, head to the quiet and peaceful Gulfside City Park Beach.
Lighthouse Beach Park is another popular beach to visit on Sanibel. This part of the island was hit very hard by the hurricane. The lighthouse has been repaired, but I do not believe this park is open.
One more keynote to mention. Sanibel Island as well as Fort Myers are part of the Mangrove Ecosystem. You can kayak through the mangrove swamps and really get to see nature at it's finest.
Captiva Island Beaches.
Captiva Island is a hidden gem in Southwest Florida, with some of the most beautiful beaches in the area. This island like Sanibel Island is also known for its soft white sand, crystal-clear waters, and stunning sunsets.
One of the most popular beaches on Captiva Island is Captiva Beach, which offers great swimming, shelling, and fishing opportunities.
Enjoy watching dolphins in the Gulf while you sit on the beach. The biggest problem is there is limited parking in the parking lot.
Another must-visit spot is Turner Beach. This is the first beach on Captiva Island after you leave Sanibel Island.
This beach is known for its strong currents which are great for surfing and water sports but definitely keep an eye on kids.
Another fantastic beach for shell seekers. Limited parking area.
For a more secluded experience, head to the quiet and peaceful Alison Hagerup Beach Park. This beach actually just reopened. Picnic tables, warm water, palm trees all make this a popular place.
Personally? I feel the parking fee is high at $15/hour. If you plan to stay longer than 2 or 3 hours, it's best to pay $40 and make a full day out of it. Restrooms and pavilion.
No matter which beach you choose, Captiva Island is definitely a paradise for beach lovers.
Naples Beaches.
Naples, Florida is home to some of the best Florida beaches. With over 10 miles of pristine white sand and crystal-clear waters, Naples beaches offer something for everyone.
Vanderbilt Beach is a popular spot for families, with its calm waters and plenty of amenities like restrooms, showers, and picnic areas.
For a more secluded experience, head to Delnor-Wiggins Pass State Park, which offers miles of unspoiled beach and great opportunities for shelling and wildlife viewing.
And for those looking for a little adventure, head to Clam Pass Park, where you can take a tram through a mangrove forest to reach the beach.
No matter which Naples beach you choose, you're sure to have a memorable experience.
Keewaydin Island
Keewaydin Island located off the coast of Naples is one of the best locations in the sunshine state to get back to nature.
This island is part of the 10,000 islands and the only access is by boat. Keewaydin Beach on the island is one of the nicest beaches of Southwest Florida.
Lovers Key State Park Beach.
Lovers Key State Park Beach is a secluded and romantic beach located on a barrier island between Fort Myers Beach and Bonita Springs.
The beach is accessible only by a tram or a short hike, which adds to its secluded charm.
The beach is perfect for couples looking for a quiet and intimate getaway, with plenty of opportunities for shelling, birdwatching, and fishing. The park also offers kayak and paddleboard rentals, as well as picnic areas and restrooms.
Other things to experience:
Caloosahatchee River. This is a tidal river near the above Southwest Florida Beaches. It is roughly 67 miles long but flows near Sanibel and is one of the best places for fishing.
Sarasota Beaches
Moving up the Gulf Coast towards Sarasota, you will find the following top Florida beaches to explore:
Siesta Key Beach is a must-visit destination for beach lovers and one of the most amazing beaches not only in the USA but the world.
Located just south of Sarasota, Siesta Key Beach boasts some of the softest, whitest sand in the world.
The beach is wide and long, with plenty of space for sunbathing, swimming, and playing beach games.
There are also plenty of amenities, including restrooms, showers, and picnic areas.
And when you're ready for a break from the sun, head to Siesta Key Village, where you'll find plenty of shops, restaurants, and bars. This beach does get crowded.
Longboat Key offers several public beach access points and also includes Beer Can Island off the shore only accessible by boat.
Manasota Key a bit north of Fort Myers and west of Punta Gorda is another great spot for those that prefer to get away from it all.
More secluded, one of the best things about this island are the pristine beaches.
There you go. The best beaches in Southwest Florida for your next vacation are waiting for you to visit. Please be mindful of the rebuilding of Sanibel Island, Captiva Island as well as the Fort Myers area following Hurricane Ian.
Upcoming Trip?
I like to use Booking for booking not only my hotels, but my tickets and rental cars as well. Makes life so much easier with only having to log into one location for my information.
Be sure to grab my travel tips to save you time and money. You'll also be entered into the weekly drawings.
Register here: Get 100 Travel Tips EVERY traveler should know PLUS entered into the weekly drawing.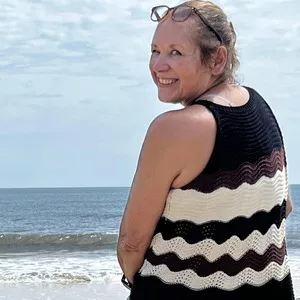 About Denise
Denise Sanger lives a life split between her love for fitness and her passion for travel particularly to the BEACH. Denise also has a love of marketing and lives in beautiful Suwannee County, Florida. You can find out more about Denise here: About Denise