The Best Fanny Pack Women Who Travel
This article may contain affiliate links. Whenever you buy something through one of these links, I may earn a small commission without any cost to you. I really appreciate it as it supports this site and my family. Thank you!
If you had told me many years ago, that I would be wearing a fanny pack, I would have looked at you like you were crazy. Yet here I am. Rocking it out wearing the best fanny pack women who travel. Imagine that.
What changed my mind? It makes my life SO much easier! Below I've included information on a few of my favorite activities that I always grab my fanny pack to take with me.
So here I am with a fanny back around my waist with everything I need safety tucked inside including small items like credit cards, keys, and of course my cell phone.
Why did I start wearing a fanny pack?
My kids asked me the same thing. Matter of fact, they looked at me like I was the worst dressed woman on the planet when I wore my first one. Probably because it had been quite a long time since the last time I wore one.
Thank you for reading this post. Don't forget to subscribe! This way you never miss an update, travel deals, discounts and more!! Subscribe to the right------>
In their defense though, it wasn't very pretty. Matter of fact it was downright fugly as they say.
But continue to wear it I did. Why? Because it is so convenient for my active lifestyle.
Whether I am in the woods hiking, on the beach watching the waves or kayaking one of the nearby rivers, a fanny pack is the best option not only for my travels but for all my outdoor activities as well.
When it comes to travel gear, fanny packs are often overlooked. Yet these small, versatile bags can be a woman's best friend when hitting the road for good reason.
Not only do they free up your hands, but they can also help you stay organized and keep your valuables close at hand. So which fanny pack is the best for women travelers?
There are a few factors to consider, such as size, style and features. But with so many options on the market, it can be tough to know where to start.
Never fear, we've got you covered. Here are our picks for the best fanny packs for women travelers, no matter where your journey takes you.
Fanny packs are not just for tourists.
A lot of people think that fanny packs are just for tourists, but that could not be farther from the truth. The design and styles today put the old fanny packs to shame.
Whether you prefer a sling bag or a hip pack. Want a key clip or extendable waist strap, there is a fanny pack for you.
Fanny packs can be really handy especially for women who travel, because they keep your hands free and your belongings close to your body. More important? It keeps your valuables close to your body with easy access for you.
Best Fanny Packs Women that are convenient and stylish way to carry your essentials when traveling.
If you prefer a fanny pack for travel versus outdoor activities, they are a great option to carry your essentials when traveling.
They are small and compact, and can be worn around your waist or across your body, so you can be sure your credentials are safe.
There are a few things to consider when choosing a fanny pack. First, decide what size you need.
A classic fanny pack can come in a variety of sizes, from small to large. If you are only carrying a few items, a small fanny pack will suffice.
But if you are carrying a lot of stuff, or if you plan on using it as a purse as well as a travel bag, then you will need a larger size. It is up to you to choose the perfect size for the activity you plan to use it for.
A daily use bag may not have the same number of secure compartments as a fanny pack you plan to use for travel.
Next, think about what type of material you want your fanny pack to be made from. Fanny packs are typically made from nylon or canvas.
Nylon is lightweight and durable, and can be easily cleaned. Canvas is a bit heavier, but it is also more stylish and durable.
Finally, think about the color and pattern of your fanny pack. Fanny packs come in a variety of colors, from solid colors to those with a simple design to the much brighter multicolored patterns.
If you are like me and often travel, these are the fanny packs that are also part of my travel essentials because I
use one everyday life for many things. My top picks for you if you live an active lifestyle like I do:
The North Face Explore Hip Fanny Pack is great for hiking or running, because it has a lot of compartments, zippered pocket plus pockets for storage, and it's made from breathable fabric.
This is my number one pick because not only does it have a large main pocket, it also has a hidden pocket to secure your valuables. Also has a nice price point.
If you're looking for a stylish fanny pack, the SoJourner Bags Fanny Pack is a great option. It comes in lots of different colors and designs, and is a larger size at 11.5 x 7 x 4″ I love the bright colors.
eBags has several great options not only for travel but everyday life. Belcourt Crossbody bag is perfect for carrying everything you need throughout the day.
The durable materials are waterproof plus this pack has a lot of compartments. Definitely a contender if you want a pack for everyday wear.
The perfect fanny pack is eBags is the Belcourt Waist Pack. It is very comfortable but does double duty in that you can wear it different ways including cross body.
The Osprey Savu 5 Lumbar Bike Hydration Pack is great for mountain biking or hiking. It has slots to hold not one water bottle but two water bottles that you can easily pull out to drink. Perfect for a bike ride or exploring the great outdoors.
Everyday Use Best Fanny Packs Women
If you are planning to use your bag for everyday use, these are the top picks. They have enough room to store everything you need throughout the day and plenty of color options to pick from:
Lululemon Everywhere Belt Bag is another top pick especially for busy women on the go from morning til evening.
I know sometimes people feel a certain kind of way when they hear Lululemon. I don't because the quality of the products is outstanding.
Whether you plan to use your bag for long walks, a day hike, shopping with the kids or everyday carry, this is one of the best. It is also a favorite fanny pack for moms.
Water repellant including a waterproof zipper, front pocket, adjustable strap yet a nice compact size makes it perfect for your daily list of get things done.
What about if you need a larger fanny pack? Got you covered there too.
Fanny packs that can also double as a diaper bag or travel bag that are the right size with a large main compartment makes these tote bags that double as fanny packs a necessity:
Kibou Bag in vegan leather and great colors are perfect not only for women but men as well. The bag can sit on your waist, or you can use it as a cross body bag. It is also perfect for all body types.
This bag includes a water resistant inner pocket to store wet wipes or even a dirty diaper or wet swimsuit away from the other items.
Adjustable waistband belt to fit most sizes, interior pockets for everything you need to carry and large capacity to even store diapers if needed.
If you need more room or your plans include a stop at the grocery store, a fanny bag that converts to a tote bag is what you need.
Depending on your style you will find these best fanny packs women in various designs included a clear fanny pack to a bag with water-resistant material and even the perfect bag to get you through airport security in a breeze.
Of these types of bags, the one I like the best is State Bags Graham Tote + Lorimer Fanny Pack Set. It's not a complete conversion, but it's a popular pick for those that need options.
I like it because you can detach the fanny pack from the tote bag. Also for those that prefer crossbody fanny packs, this bag can be used multiple ways.
One of the most functional bags I have ever come across. No matter what size fanny pack you choose, be sure to check the care instructions.
Many of these bags cannot go into the washing machine. I do opt for one that can especially after a long day or after one of my long hikes. The reason is that I need more than a simple wipe off cleaning.
And there you have it. The list of the best travel fanny packs and every fanny packs for whatever you are doing and wherever you are going.
Upcoming Trip?
I like to use Booking for booking not only my hotels, but my tickets and rental cars as well. Makes life so much easier with only having to log into one location for my information.
Be sure to grab my travel tips to save you time and money. You'll also be entered into the weekly drawings.
Register here: Get 100 Travel Tips EVERY traveler should know PLUS entered into the weekly drawing.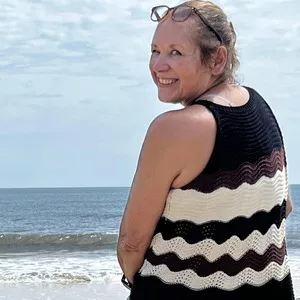 About Denise
Denise Sanger lives a life split between her love for fitness and her passion for travel particularly to the BEACH. Denise also has a love of marketing and lives in beautiful Suwannee County, Florida. You can find out more about Denise here: About Denise