Ormond Beach Vacations: Get Away And Create Amazing Memories
This article may contain affiliate links. Whenever you buy something through one of these links, I may earn a small commission without any cost to you. I really appreciate it as it supports this site and my family. Thank you!
Exploring Ormond Beach: What To Do and Where To Go
Gorgeous Ormond Beach is perfect for a break from the world. Beautiful beaches, fun outdoor activities, and incredible historic sites to visit, this beach town on the Atlantic Ocean coast is a great choice for a beach vacay.
Where is Ormond Beach Florida?
Ormond Beach is located on the central east coast of Florida, approximately 45 miles northeast of Orlando, south of Jacksonville and Flagler Beach but north of Daytona Beach and New Smyrna Beach. All of these beaches are must visit destinations if you have a chance.
The city of Ormond Beach is located in Volusia County. There are several beaches with easy access right within town limits.
How To Get To Ormond Beach
It is easy to get to this part of the sunshine state by either car or plane. The airport closest to Ormond Beach is the Daytona Beach International Airport (DAB), which is located just 30 minutes away from Ormond's main city center.
Thank you for reading this post. Don't forget to subscribe! This way you never miss an update, travel deals, discounts and more!! Subscribe to the right------>
You can also drive or take a train from Orlando. It is roughly an hour away from the parks in the city. If you are coming from Jacksonville to the north or south from Miami, you would take Interstate 95 and U.S. Highway 1, which connects Ormond Beach to cities all along the East Coast.
Exploring
Whether your idea of the perfect beach vacation is lying on the gorgeous sandy beaches or an active vacation with hiking, kayaking and other water sports, you will find it here. The surrounding area is loaded with beautiful parks, museums, rivers, and more.
Top Ormond Beach Destinations To Visit
Tomoka State Park
2,000 square acres await your visit in this Florida State Park. Walk along the nature trail and explore the birdwatching opportunities.
On the Tomoka River, you can rent a canoe or kayak and just might see the area's Indian Manatees. Timucuan Native Americans lived in this and other historical sites in the area many years ago.
Bulow Creek State Park
This is one Sunshine State Park you should put on your list to visit. This state park protects over 5,000 acres with 1500 of those acres submerged. Picturesque view of the oldest stands of live oak trees with one tree more than 450 years old. Enjoy hiking, paddling and more.
Addison Blockhouse Historic State Park
One more beautiful state park to talk about. In this park, you will find the ruins of the Addison Blockhouse Plantation from the early 1800s. Be sure to make time to visit.
Ormond Memorial Art Museum
Located on Granada Boulevard, the Museum has been in operation since 1950. The museum offers a variety of historic and contemporary art pieces, collections, and exhibits.
One of the highlights of Ormond Memorial Art Museum is its dedication to presenting both traditional and modern exhibitions in a wide range of media from painting to textile arts.
Daytona International Speedway
Feel the need for speed? Ormond Beach is conveniently located near Daytona Beach and the Daytona International Speedway. It's the perfect place to make a pit stop and take in all the action.
From live races to interactive events, the speedway is a great place for car and race enthusiasts.
Beaches
And of course, we have to talk about the BEACHES! Ormond Beach has three beaches you will want to make a point to visit.
First is Ormond Beach itself. This beach is located at 601 Division Ave. You can literally walk for miles on this uncrowded beach.
Next is Andy Romano Beachfront Park. This is a great place for families. Kids will love the playground and splash pad. This beach is located at 839 S. Atlantic Avenue.
And third is Neptune Beach Park. This is a small park with a view of the Halifax River. Before going to this location, check to be sure it is open. I have heard that it is temporarily closed but have not been able to get back over there yet.
Where to stay in Ormond Beach
There are several hotels to choose from including the Ormond Hotel as well as the chair hotels like Hampton Inn and Hilton. See the hotel options here: Ormond Beach Hotels.
And you know me. I prefer to stay in a vacation rental home and there are plenty of amazing options to choose from many right on the beautiful beach. See them all here: Ormond Beach Vacation Homes.
Upcoming Trip?
I like to use Booking for booking not only my hotels, but my tickets and rental cars as well. Makes life so much easier with only having to log into one location for my information.
Be sure to grab my travel tips to save you time and money. You'll also be entered into the weekly drawings.
Register here: Get 100 Travel Tips EVERY traveler should know PLUS entered into the weekly drawing.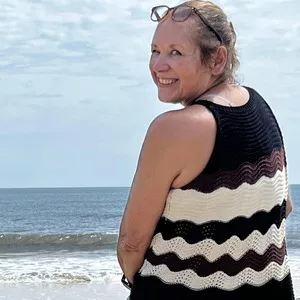 About Denise
Denise Sanger lives a life split between her love for fitness and her passion for travel particularly to the BEACH. Denise also has a love of marketing and lives in beautiful Suwannee County, Florida. You can find out more about Denise here: About Denise