Best Places To Stay And Where To Go Florida Vacations
This article may contain affiliate links. Whenever you buy something through one of these links, I may earn a small commission without any cost to you. I really appreciate it as it supports this site and my family. Thank you!
With its sunshine, sandy beaches, and diverse attractions, there's no state like the Sunshine State. Whether you're looking for a family vacation spot or a romantic getaway destination, below are the best places to stay in Florida and where to go.
From theme parks to natural wonders and bustling cities to secluded beaches, golf courses, tennis courts, and luxury hotels with an outdoor pool or hot tub, the Sunshine State offers many unique places for fun and relaxation.
If you are ready to plan a trip to Florida, below are the best places to stay and what to do, by geographic area, to help you plan your next getaway.
Best places To Stay Florida Keys
Start all the way at the bottom of the state in the Florida Keys at the Southernmost Point, Key West. From there we will move to Key Largo, which is the largest of the Florida Keys.
Thank you for reading this post. Don't forget to subscribe! This way you never miss an update, travel deals, discounts and more!! Subscribe to the right------>
Relax on one of Key West's beautiful beaches or take a walk through Old Town where you'll find colorful Caribbean-inspired homes alongside quaint cafés and boutiques.
For nature lovers there are plenty of things to do like visiting Dry Tortugas National Park, one of the most beautiful National Parks in the United States.
Visitors can snorkel among coral reefs or kayak through mangrove forests perfect for outdoor enthusiasts.
A bit farther up the Florida Keys chain, you will find Key Largo. This is truly the perfect place to enjoy a vacation getaway for the whole family.
Reasonable drive from Miami International Airport, where the palm trees greet you as your airplane lands.
Grab a rental car and head south. Your body relaxing will let you know instantly you are in the right place.
Whether you're looking for a sun-filled day at the beach or a more active vacation destination full of water sports, you'll never be bored here.
Take advantage of the gorgeous weather and sandy shores to go snorkeling, scuba diving or explore tide pools filled with colorful creatures, charter a fishing boat on John Pennekamp Coral Reef State Park. Or just relax on one of the many stunning white beaches.
With so much to do outdoors, Key Largo is definitely worthy of your next tropical getaway destination.
Options for vacation rentals on either Key Largo or Key West include luxury resorts or a small boutique hotel to beach cottages.
In Key West, check Double Tree Resort by Hilton Hotel Grand Key West, if you prefer a hotel chain. While in Key Largo, a beach cottage is the way to go.
My last visit I stayed in a cottage on the Gulf Coast Side sure to make all beach lovers happy. It did me.
p.s. Before you leave the beautiful Florida Keys, be sure to get some key lime pie!
South Florida Best Places To Stay
Miami Beach, Fort Lauderdale, Delray Beach West Palm Beach, Boca Raton are all fantastic destinations with easy access from all the main airports. You will also find some of the best hotels in these towns.
If you want to experience all that South Beach has to offer, then Miami Beach in Dade County is the place for you. There are endless activities and attractions along this stunning stretch of sand.
From art-deco buildings to trendy shopping districts of downtown Miami to nightlife hotspots to delicious restaurants, you will find it all here.
Plus, you can take advantage of the city's many outdoor activities such as swimming, sunbathing on the beach, kayaking in Biscayne Bay or taking a boat tour around Star Island.
Moving up the coast into Broward County to fun Fort Lauderdale sitting pretty on the Atlantic Ocean side of the state. Short drive from Fort Lauderdale International Airport which is also easier to get in and out versus Miami International Airport.
Spend your day enjoying the beach, then head out for fine dining on Las Olas Boulevard. Los Olas Boulevard is Fort Lauderdale's main street, lined with stylish restaurants and chic boutiques.
It's a great place to stay if you're looking for convenience and luxury. From beachfront resorts to downtown hotels, Fort Lauderdale has plenty of options for those looking to make the most out of their trip.
Delray Beach is a bit farther north from Fort Lauderdale and one of the coolest beach towns in South Florida. Definitely one of my favorites.
When it comes to things to do in Delray Beach, you have quite a few fun options to choose from. Spend a day lounging on Delray Beach's famous white sand beach and take a dip in the Atlantic.
In the evening enjoy art galleries, boutiques and unique shopping experiences. Explore downtown Delray Beach with its array of delicious restaurants, bars and breweries.
Where to stay? In Delray Beach you can choose between a family-friendly hotel, a trendy boutique hotel or an oceanfront resort.
Moving into Palm Beach County also known as the Palm Beaches, brings us to West Palm Beach and Boca Raton. Golfers will love the championship courses in both West Palm Beach and Boca Raton.
From the stunning views of the ocean to the challenging layout, each course will ensure a fun yet competitive experience.
Tennis enthusiasts won't be disappointed either. There are plenty of tennis courts to choose from with player at all levels.
When it comes to picking a place to stay, there is no shortage of options in this area of Palm Beach County. Whether you prefer a luxurious resort many with a private beach, a luxury hotel, a cozy B&B, or a beachfront condo, you can find it here for rent.
Southwest Florida Recovery
Unfortunately, this area of the continental United States, specifically Sanibel Island, Fort Myers, Marco Island and Captiva Island took a hard, direct hit from Hurricane Ian.
When you think of white-sand beaches, the main attraction of this area of Florida are the beaches as well as the seashells that beach combers cannot get enough of. Guest rooms, though at this time, are limited especially on Sanibel Island.
There are some options on the other islands but not many. An option right now in the Southwest Florida area is a visit to Everglades National Park. Explore nature trails, take an airboat ride, and see alligators up close and personal.
An idea is to fly into Central or West Central Florida and take a road trip to the south for a great family outing.
Central Florida fun
Orlando is Theme Park heaven for many people. From Walt Disney World to Universal Studios Florida to Sea World Orlando, there is an amusement park literally waiting for you to visit.
And one of the best things here are literally so many hotels, resorts and other options for accommodations in this part of the state.
Tip. If you plan to spend a lot of time at the one of the theme parks, a great option is to check accommodations there first.
Many times, staying on park grounds, will get you special access to different events and activities in Walt Disney World and Magic Kingdom or Universal Studios and Islands of Adventures.
Orlando has two airports that make it easy to get to this destination in the heart of the Sunshine State. If you are on a budget, booking accommodations a little bit away from these parks can save you a lot of money.
When we would visit when my girls were small, we opted to stay in nearby Kissimmee. Then, when they were older, we chose Fort Wilderness at Disney because it was very affordable, but you still received all the benefits of being in a Disney Resort.
Things to Do West Central Florida
With miles of white sandy beaches and crystal clear waters, this part of Florida is BREATHTAKING. Siesta Key, Sarasota, Clearwater and Tampa are the ideal locations and have some of the best beaches in the world for you to relax.
Siesta Key is perfect for romantic getaways. Choose a beach resort that offers the amenities you like best such as a heated swimming pool, hot tub or even a massage for two.
Sarasota also has miles of beaches to explore and is a great choice for a low-key vacation. Sarasota also offers a great combination of culture and entertainment.
Clearwater and Tampa are the perfect destination for families. From Busch Gardens to the Clearwater Marine Aquarium to the many Florida State Parks in this area, there are plenty of opportunities to explore and have fun.
This area also offers a variety of accommodation options available in each location, you're sure to find something that fits your budget and travel needs.
Siesta Key offers luxurious resorts with spacious rooms while Clearwater has beachfront hotels and resorts, perfect for a family.
In Tampa, you will find national hotel chains many with a fitness center, smaller independent boutique hotels, or even full service apartment rentals. Definitely one of the best areas for options.
Best places to Stay Central And Northeast Florida
Directly to the east of Orlando, puts you at some of the best spots for a vacation. Daytona Beach and the Daytona International Speedway are perfect for those with a need for speed.
Choose Cocoa Beach if you love water sports especially surfing. You can even take surf lessons at some of the best surf shops in the country.
Love NASA and everything space related? Then Cape Canaveral and Kennedy Space Center is definitely the destination for you.
Nature lover? You are still in the right area and should visit the Canaveral National Seashore. A barrier island you can't wait to explore. This is the longest stretch of undeveloped Atlantic Coastline in Florida and home to many marine animals including sea turtles, dolphins and more.
Move up the coast to St. Augustine which is a history buffs paradise. Step back into history with its colonial-style architecture and cobblestone streets.
This charming city is home to some of Florida's oldest buildings including Castillo de San Marcos National Monument and Flagler College, both constructed back in the late 1700s.
It's also known for its vibrant culture with historic sites such as Fort Matanzas National Monument where visitors can explore Civil War era artifacts and learn about local history.
St Augustine is also well known for its beautiful beaches as well as nearby Ponte Vedra Beach, Vilano Beach and Crescent Beach.
From there continue to northern Florida with Jacksonsville and Amelia Island. This is definitely an overlooked gem for vacations.
Jacksonville and Jacksonville Beach with its beautiful ocean views will be a pleasant surprise. There are over 25 craft breweries in this area making it perfect for beer lovers.
From there, explore the downtown area of Amelia Island with Fernandina Beach then take a step back in time with a visit to Fort Clinch.
You will find quite a few people on the beaches at Fort Clinch. And for good reason. That is where folks search for shark teeth. Take time to enjoy the beautiful sand dunes Amelia Island is known as well for.
Accomodations? Everything you could search for. Camping on the beach on Amelia Island. Chain hotels in Jacksonville, quaint B&B's in St. Augustine near all the attractions or a condo for rent by the owner on Cocoa Beach. You have great options to choose from.
Florida Panhandle
That now brings us to our final destination of the best places to stay in Florida. The Florida Panhandle.
This is truly one of the most magnificent stretch of white sand beaches with turquoise waters you will ever visit. Whether you choose my favorite as well as most visited beach town, Panama City Beach, prefer a lower key beach getaway at Santa Rosa Beach, or want to include golf, tennis and shopping in Destin, a Florida Panhandle vacation delivers.
I've written so many articles on this area. And for good reason. It is one of the best places you could possibly choose for a vacation.
Accommmodations range from beachfront resorts, large and small hotels, or like we choose, a vacation rental right on the beach. We step out the door onto the white sand.
No matter what kind of getaway you're looking for. Whether it's peaceful solitude or vibrant excitement and nightlife, Florida has something that will suit your preferences perfectly.
From Miami Beach to St Augustine, Key West to Panama City, these are some of the best places to stay Florida are just a few examples of why Florida is one of America's favorite vacation spots.
p.s. Be sure to bookmark this page as I will return to further breakdown and link to other articles with the best places to stay Florida vacation destinations.
Upcoming Trip?
I like to use Booking for booking not only my hotels, but my tickets and rental cars as well. Makes life so much easier with only having to log into one location for my information.
Be sure to grab my travel tips to save you time and money. You'll also be entered into the weekly drawings.
Register here: Get 100 Travel Tips EVERY traveler should know PLUS entered into the weekly drawing.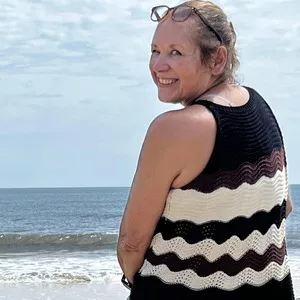 About Denise
Denise Sanger lives a life split between her love for fitness and her passion for travel particularly to the BEACH. Denise also has a love of marketing and lives in beautiful Suwannee County, Florida. You can find out more about Denise here: About Denise