The Best Things To Do In Pensacola Beach Florida
This article may contain affiliate links. Whenever you buy something through one of these links, I may earn a small commission without any cost to you. I really appreciate it as it supports this site and my family. Thank you!
Why you should choose Pensacola Beach for your next beach getaway.
Whether you're looking for a place to relax on the beach or you want to explore and find some new adventures, Pensacola Beach Florida has something for everyone.
Home to Eglin AFB and the Blue Angels as well as the national park, Gulf Islands National Seashore, this is one of the best Gulf Coast beaches on the northwest Florida Panhandle.
Pensacola Beach and the Pensacola Bay Area are located in Escambia County. Quietwater Beach is Pensacola Beaches iconic landmark and focal point of the Pensacola Beach Boardwalk mentioned below.
A scenic drive from Fort Walton Beach as well as Panama City Beach, this area of the Florida Gulf coast has amazing views.
Thank you for reading this post. Don't forget to subscribe! This way you never miss an update, travel deals, discounts and more!! Subscribe to the right------>
Add in the gulf breeze and Pensacola Beach is the perfect place for a getaway beach vacation and why it is a top beach in North America.
Ready to explore? Below are some of the best things to do in Pensacola Beach Florida
Pensacola Beach
Of course, you know the sugar-white sand beaches would be number one on my list, didn't you? Pensacola with its breathtaking views of the Gulf of Mexico is a popular beach destination all year long in Florida.
Be sure to visit Casino Beach located right at the beach ball water tower. Sure to become one of your favorites with the beautiful turquoise waters and sugar-white beaches the Gulf side of Florida is well known for.
A few other beaches to include while you visit are Navarre Beach and Perdido Key. Perdido Key is a barrier island located between Pensacola and Orange Beach Alabama.
Beautiful stretches of untouched wilderness, Perdido Key is roughly 16 miles long. Local wildlife and marine life including sea turtles as well as being near the Perdido River makes this an ideal place for fishing.
Definitely make time to enjoy the Pensacola Beach Eco-trail. This Pensacola Beach trail, is home to a fragile ecosystem. Dolphins, manatees, sea turtles, coastal birds, and many reptiles call the sandy beaches here home.
Opal Beach is one of the most gorgeous beach in Florida. From the beach you have spectacular views of Santa Rosa Island.
Santa Rosa Sound, on the back side of Santa Rosa Island is one of my favorites and one of the first places I visited when I went to watch my friend complete a triathlon.
Eglin Air Force Base is on the eastern side of the sound while the waterways are part of the Gulf Islands National Seashore.
The Naval Air Station, is also located in Pensacola. It is home to the amazing Blue Angels.
Downtown Pensacola
Downtown Pensacola dates back more than 450 years and is the heart of the city of Pensacola. Enjoy visiting the many museums located downtown including the Pensacola Museum of Art and the Pensacola Children's Museum.
Love to shop? There are plenty of adorable shops and galleries.
Hungry? Plenty of restaurants to choose from. Be sure to enjoy the live music and nightlife at one of the bars after dinner.
You will find a parking lot nearby many of which are free courtesy of the Downtown Improvement Board.
Visit the Pensacola Beach Boardwalk
The Pensacola Beach Boardwalk is a great place to explore the area and take in some of the most spectacular views. Shopping. Dining. Live music and more.
On the boardwalk, you'll find plenty of shops, restaurants, and entertainment venues that will keep you busy throughout your stay. You can also book one of the fun Pensacola Bay cruises or dolphin cruises from the boardwalk.
The trolley service is free courtesy of the Santa Rosa Island Authority. Pick up the schedule right here at the boardwalk.
Botanical Gardens
Love to explore botanical gardens? You will be happy when you visit Pensacola Beach as there are several to choose from.
The botanical gardens in Pensacola Beach and surround the Pensacola area are a great place to find some colorful flora and fauna.
Explore the trails that lead you through forests full of native plants and enjoy the peaceful atmosphere away from the hustle and bustle of the city.
Hawkshaw Lagoon Memorial Park is unique in that it is the only memorial park dedicated as a memorial to missing children.
Pensacola Beach Gulf Pier
If you're looking for a great day out, then look no further than the Pensacola Beach Gulf Pier!
There's plenty to do here starting with fishing. Great place to cast your line and a variety of fish species to lure in as well.
If relaxing is more your thing, why not take a leisurely stroll along the pier and take in beautiful views from every angle including the breathtaking sunsets.
Regardless of your preference, the Pensacola Beach Pier offers something for everyone.
In addition, with nearby attractions such as the National Naval Aviation Museum and several quaint beachside restaurants along the way, spending time at the pier has never been more fun. It's certain to be an unforgettable experience.
Spend time at the Gulf Islands National Seashore.
If you're looking for an outdoor adventure, the Gulf Islands National Seashore is the perfect destination. With breathtaking coastal scenery and thriving wildlife, it's no wonder why this seashore is one of the most popular in the United States.
Whether you want to take a leisurely hike, have a picnic in nature at one of the many picnic tables, or witness the beauty of birds up close and personal through bird watching, there's something here for everyone.
Stop by Fort Pickens. A historic fort that's now open to the public.
If you're looking for a great way to spend the day, why not take a trip to Fort Pickens? This historic fort is a relic from the past, boasting massive walls and stunning views of the bay.
Visitors can explore its sprawling grounds, taking in its interesting history and artifacts. Some of these artifacts are almost two centuries old.
Or simply relax and grab some lunch at one of the nearby eateries; there's something for everyone here.
Sample some of the local seafood. Pensacola Beach is known for its fresh seafood.
If you're looking for an opportunity to sample some of the freshest seafood around, there's no better place than Pensacola Beach.
You can try all the local favorites like grouper sandwiches, fresh oysters or a concoction of different types of shrimp. Whatever your heart desires.
No matter what type of seafood is your favorite, there is something that will leave you wanting more.
Don't forget to watch the sunset. It's truly a sight to behold.
Watching the sunset should be a priority for everyone. It's an opportunity to observe an awe-inspiring display of natural beauty.
Every night, the sun paints the sky with a mesmerizing array of colors and then slowly descends beyond the horizon.
The vibrant orange, yellow and pink pastels seem to stretch out infinitely. This creates a spectacular view that you can't help but admire.
This is one of those special moments where you can take a few minutes to appreciate Earth's wonders, be thankful for everything you have, and let your worries slip away.
Go ahead and treat yourself. Take some time every day to watch the sunset whether you are at Pensacola Beach or at home. Make the time.
Where to stay in Pensacola Beach
If like you, like me, prefer to be right on the beach, check out the many Pensacola Beach vacation rentals and other options at VRBO.
There are also plenty of hotels to choose from including the Hampton Inn and Holiday Inn Resort with its fantastic swimming pool and lazy river for the kids to enjoy. Check out the hotel options here: Pensacola Beach Hotels.
Pensacola Beach is a great location and place to vacation if you're looking for beautiful scenery, plenty of activities, and fresh seafood.
Be sure to include the Pier, swim at one of the beaches, hike through Gulf Islands National Seashore, and watch the sunset before you leave. And be ready to book your next vacation because it is truly a perfect spot on Florida's Gulf Coast.
Upcoming Trip?
I like to use Booking for booking not only my hotels, but my tickets and rental cars as well. Makes life so much easier with only having to log into one location for my information.
Be sure to grab my travel tips to save you time and money. You'll also be entered into the weekly drawings.
Register here: Get 100 Travel Tips EVERY traveler should know PLUS entered into the weekly drawing.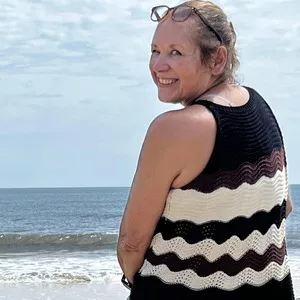 About Denise
Denise Sanger lives a life split between her love for fitness and her passion for travel particularly to the BEACH. Denise also has a love of marketing and lives in beautiful Suwannee County, Florida. You can find out more about Denise here: About Denise