Best Cheap Hotels Pensacola Beach For Your Next Getaway
This article may contain affiliate links. Whenever you buy something through one of these links, I may earn a small commission without any cost to you. I really appreciate it as it supports this site and my family. Thank you!
Planning a trip to Pensacola Beach but trying to stay within a budget? Good news! This article is all about the best cheap hotels Pensacola Beach has available.
Beautiful white sand, clear turquoise waters, and plenty of water activities to enjoy, Pensacola Beach is one of the best destinations in the Sunshine State.  Even better?
There are plenty of affordable hotels in Pensacola Beach with everything you need including an outdoor swimming pool or hot tub, some with a tennis court, and free parking.
Traveling with a family, there are some great hotels that have a fully equipped kitchen, washing machine, and dryer to keep up with laundry, and literally a short walk from your hotel room has your tootsies in the white sand near the water.
Thank you for reading this post. Don't forget to subscribe! This way you never miss an update, travel deals, discounts and more!! Subscribe to the right------>
You do need to keep a few things in mind though when looking for the best cheap hotel options. Start by figuring out exactly what your needs are.
How close is beach access, what attractions, restaurants, and more are nearby? What type of cleaning service or tasty breakfast does the hotel offer?
Many of the best hotels in the Pensacola Beach Area are not literally steps from the beach, they also offer amenities you would only expect from more expensive hotels.
Consider the time of year as well when planning your vacation. The average price of a hotel room during peak season is significantly higher than at the low or off-season.
Literally, in one week's time, the price of a hotel room can double when you're in the peak beach season which starts around Memorial Day. 
Below, I've pulled together some of the best cheap hotels Pensacola Beach has to offer. At the bottom of this article, I have also included additional links to help you plan a fantastic beach getaway within your budget.
Why Pensacola Beach is a Fantastic Beach Destination on a Budget
Pensacola Beach is one of the best places in Florida where you can relax on the beach if that's what you want to do or enjoy a more active vacation with water sports, hiking, and more.
Even better? If you do a little bit of research like you are by reading this article, you can find a perfect hotel right on the sand within your budget.
One of the main reasons Pensacola Beach is a superb budget destination is the availability of affordable hotel rooms. There are some great options for cheap hotels, motels, and even vacation rentals that fit within your budget.
The Panhandle is one of the more affordable destinations as well as the cost of living is a bit lower in this part of the state.
Add in that it is a short drive from Pensacola Regional Airport to get to the beach, and you have one of the best locations for a beach getaway.
How about that beach? Pensacola Beach is absolutely one of the most beautiful beaches in the Sunshine State. The best part is that most beaches are public, making them free to enjoy.
Water Activities
Like to keep moving on vacation? This is a great destination for you. Pensacola Beach offers plenty of water activities that won't break your budget. A few of these include:
Surfing and paddleboarding
Fishing from the pier
Biking and hiking in nearby parks
Snorkeling and diving at the famous reefs
​Nearby Attractions
Pensacola Beach is also close to attractions many that offer reduced or even free admission. Check out:
Historic Pensacola Lighthouse
Visit the National Seashore Visitor Center
Enjoy outdoor concerts and festivals that take place throughout the year
Other affordable things to do:
Pensacola Beach Gulf Pier.
Take a leisurely stroll down the Pensacola Beach Gulf Pier to enjoy beautiful ocean views. Those that love to fish can fish right off the pier for a few dollars.
Downtown Pensacola
Downtown Pensacola is a must-visit when in this area. To enjoy a blend of history, art, and culture, you can explore museums, galleries, and unique shops. There are also several parks to let the kids burn off energy before dinner.
Gulf Islands National Seashore
Spend a day exploring the Gulf Islands National Seashore by hiking or cycling through its network of trails. This part of the Florida Panhandle gives you the chance to see wildlife such as sea turtles, dolphins, rays and more in their natural habitat.
Santa Rosa Island
Nearby Santa Rosa Island is an ideal destination for beach goers looking for a peaceful getaway. And it's gorgeous too1
Little Sabine Bay
For those who prefer water sports, Little Sabine Bay is a prime location for kayaking, paddleboarding, and canoeing. If you are not able to bring your own equipment, there are nearby vendors that will rent what you need.
Pensacola Lighthouse
And the views! Take the time to climb the Pensacola Lighthouse and check out the panoramic views of Pensacola Beach and the surrounding area. The views are incredible!
Best Cheap Hotels Pensacola Beach
When you're looking for a beach getaway without breaking the bank, consider these affordable and comfortable lodging options.
Hampton Inn Pensacola Beach
At the Hampton Inn Pensacola Beach, you can enjoy stunning gulf views and plenty of amenities without breaking your piggy bank. Located just steps away from the white sandy beaches, this hotel offers:
Complimentary hot breakfast
Two outdoor pools
A fitness center
Free Wi-Fi
The spacious guestrooms include balconies, mini-fridges, and microwaves for your convenience. Get more information and current rates here: Hampton Inn Pensacola Beach
Holiday Inn Express Pensacola Beach
Holiday Inn Express Pensacola Beach is another excellent option for those seeking an affordable stay. The hotel's prime location allows you to enjoy the beautiful beachfront while benefiting from several offered amenities:
Modern guest rooms with ocean views
Free breakfast
An outdoor pool
Free Wi-Fi
Get more information and current rates here: Holiday Inn Express Pensacola Beach
Holiday Inn Resort Pensacola Beach an IHG Hotel
For an affordable yet family-oriented experience, consider Holiday Inn Resort Pensacola Beach as well as nearby Casino Beach.
This is one of several friendly hotels that provide you with a beachfront location a short walking distance from the surf & sand while providing an array of amenities for both adults and children.
Usually within a family-friendly price range, this is the perfect place to keep everyone happy.
Lazy River pool complex
On-site restaurants
Complimentary Wi-Fi
Fitness center
Get more information and current rates here: Holiday Inn Resort Pensacola Beach IHG Hotel.
Marriott Pensacola Beach
The Marriott Pensacola Beach caters to guests looking for an affordable yet refined experience. The hotel's prime beachfront location and various amenities ensure a convenient and enjoyable stay, including:
On-site dining options
A heated outdoor pool and whirlpool
24-hour fitness center
Complimentary Wi-Fi
Get more information and current rates here: Marriott Pensacola Beach
Springhill Suites Pensacola Beach
Lastly, the Springhill Suites Pensacola Beach offers a balance of comfort and value, perfect for your beach getaway. Guests will enjoy:
An all-suite property with separate living and sleeping areas
Kitchenettes in each unit
Complimentary hot breakfast
Heated outdoor pool and fitness center
Free Wi-Fi
These hotels in Pensacola Beach guarantee a comfortable and budget-friendly stay, allowing you to maximize your beach experience. Get more information and current rates here: Springhill Suites Pensacola Beach
Hilton Pensacola Beach
Folks often think the Hilton Hotels are luxury hotels and too pricey to book a budget vacation at but in many cases, this great place is just as affordable as other hotels.
Again, check different dates for the lowest rate. You can get more info as well as rates here: Hilton Pensacola Beach
Margaritaville Beach Hotel
Wasting away again in Margaritaville. I have not been able to check this hotel out this year. I have read that it is undergoing a rebranding, so before you book, be sure to check that it is not in the remodeling stages and that the prices are still reasonable here:
Pensacola Beach Surf & Sand Hotel
Literally steps from the shoreline, you will find the brightly decorated Surf & Sand Hotel. Absolutely love the retro vibe of this hotel.
It includes an outdoor pool, a cozy private beach, free amenities like bikes, kayaks and stand-up paddleboards AND pet-friendly too!
Once you check into your guest room, you are literally a few minutes' walk to several restaurants, so you do not need to get back into your car if you don't want to!
Get more information and current rates here: Pensacola Beach Surf & Sand Hotel
Days Inn
Days Inn hotels are usually a 2 to 3-star hotel as they are less expensive but also offer fewer amenities. There are a few Days Inns in this area including the downtown area but not on the beachfront.
If you aren't worried about being steps from the surf, this may be a better option for you as they are usually less expensive off the beach. Get more information and current rates here: Days Inn
Other Helpful Information:
The average cost of a hotel room during the peak season can be more than $250/night. Be sure to do your research.
Many of the hotels offer a heated swimming pool for those that plan to arrive before the hot summer months. Other hotels have an indoor swimming pool, laundry facilities, fitness center, and free parking.
Be sure to research before booking to make sure the hotel you choose not only provides you with the lowest price but everything else you would need for a fun vacation.
Another tip. Check vacation rental homes. Believe it or not, in all my trips in the past 18 months, it has been less expensive to book the house.
I've put the link for you below as well as you can check rental options here: Pensacola Beach Vacation Rental Homes
Finally, sometimes moving your vacation just a week or two, can reduce the price you pay for a night at your hotel. Be sure to check different date options when booking.
Upcoming Trip?
I like to use Booking for booking not only my hotels, but my tickets and rental cars as well. Makes life so much easier with only having to log into one location for my information.
Be sure to grab my travel tips to save you time and money. You'll also be entered into the weekly drawings.
Register here: Get 100 Travel Tips EVERY traveler should know PLUS entered into the weekly drawing.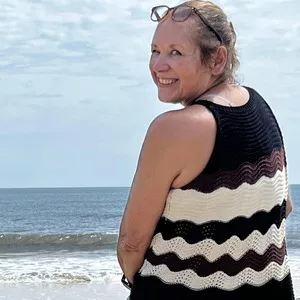 About Denise
Denise Sanger lives a life split between her love for fitness and her passion for travel particularly to the BEACH. Denise also has a love of marketing and lives in beautiful Suwannee County, Florida. You can find out more about Denise here: About Denise