Breweries In Jacksonville Florida: Your Ultimate Guide To Craft Beer Experiences
This article may contain affiliate links. Whenever you buy something through one of these links, I may earn a small commission without any cost to you. I really appreciate it as it supports this site and my family. Thank you!
Sun-drenched days and a vibrant city atmosphere set the scene for Jacksonville, Florida's Duval County thriving craft beer scene. You will find some of the best breweries in Florida in Jacksonville in this budding craft beer scene.
I'm having a blast making my way through all of these breweries. People are so nice and the beer is insanely good. I fully expect this to be a beer lover's destination quite soon.
You may have guessed by now, but I have a new love and fascination for craft breweries. Especially those with a great beer selection.
Fun fact. This girl used to be a Michelob Light girl. These days? I am stout all the way while my brother is IPA and my sister-n-law loves reds.
Thank you for reading this post. Don't forget to subscribe! This way you never miss an update, travel deals, discounts and more!! Subscribe to the right------>
I cannot believe what I've been missing all these years. My two favorites so far are Count Shakula from local brewery Green Room and Dreamin' Samoas from Ink Factory Brewing. Oh my gosh are they good! I cannot promise you will find these at the breweries when you visit, but I do promise you that you will find something you like,
With numerous breweries and an ever-growing demand for flavorful and innovative beers, the city is quickly transforming into a must-visit destination for craft beer enthusiasts.
Each brewery has its own unique take on brewing, offering a diverse selection to please even the pickiest beer lovers.
In recent years, Jacksonville has seen an explosion in the number of craft breweries opening their doors, providing both residents and visitors with a delightful array of flavors and styles.
Ranging from traditional brews such as IPAs and stouts to more experimental offerings, these breweries provide a perfect blend of the city's rich brewing tradition and modern-day creativity.
From traditional IPAs to experimental sours and stouts, cream ales to a beer garden, these breweries offer a wide variety of craft beers that will make your taste buds smile. I have put the complete list of craft breweries below by geographical location.
Also at the bottom of this article will be information on fun things to do and see in Jacksonville and St. Augustine.
Downtown Breweries In Jacksonville Florida
Downtown Jacksonville is one of the best places for beer lovers. Severa local breweries wait for you to explore and enjoy not only their core beers but also a constantly changing selection of guest beers.
This section will provide information about some of the largest breweries, taprooms and live music in this part of North Florida.
Largest Taprooms
Aardwolf Brewing Company: Known for great craft beer, Aardwolf offers a spacious taproom for patrons to gather and sample their brews. They feature rotating seasonal beers and experimental concoctions. Be sure to try a new beer that you have never tried before. I am no longer a light ale gal.
Intuition Ale Works: With a large two-story taproom, Intuition Ale Works provides ample space for beer enthusiasts to relax and try their wide variety of brews. Here you will find both indoor and outdoor seating and accommodations for events too.
Bold City Brewery: As one of Jacksonville's staple breweries, Bold City boasts a roomy taproom to enjoy their classic and seasonal beer offerings. This is a fun family-owned business that takes pride in their friendly atmosphere and commitment to quality.
Live Music
Several downtown breweries In Jacksonville Florida host live music events to enhance the beer tasting experience. Notable venues include:
Downtown Vision: Downtown Vision is an organization that works hard to bring folk to downtown Jax. Live music, art exhibits and more to explore with some amazing breweries nearby.
Jax Brew Bus: Now this is FUN. Jax Brew Bus will take you on a tour of microbreweries each located in a different Jacksonville area neighborhood. From the heart of Jacksonville Beach to downtown Jacksonville to Orange Park, you will sample the award-winning beers that are making Jacksonville a beer destination city. Some of the cities newest breweries on this tour that runs about 4.5 hours. Let the good times roll. Tour includes beer! Get more info here: Jax Brew Bus
Downtown breweries In Jacksonville Florida cater to a variety of beer lovers, with each offering unique experiences, extensive selections of craft brews, and entertaining live music events.
These venues provide the perfect setting for gathering with friends or making new acquaintances while exploring the city's brewing scene.
Breweries in Jacksonville Beach
Beach lover AND a beer lover? Jacksonville Beach is a great place for you. This charming beach town has some fantastic breweries that have already made a name for themselves, offering distinct and delicious craft beers.
One notable brewery located in Jacksonville Beach is Southern Swells Brewing Co. Known for their innovative and diverse selection of beers, Southern Swells has become a go-to spot for locals and visitors alike. They pride themselves on their creativity and commitment to quality.
Another great Jacksonville Beach brewery is Engine 15 Brewing Company. Choose from many beers on tap, including their famous Nut Sack Brown Ale. Engine 15 is a great gathering place for friends and family.
For those seeking a more intimate and relaxed setting, Green Room Brewing is the perfect spot for you. Eco-friendly brewery focuses on producing small-batch, hand-crafted beers. Green Room Brewing embodies the spirit of Jacksonville Beach's laid-back beach vibe lifestyle.
When visiting Jacksonville Beach, beer lovers can also consider checking out Ruby Beach Brewing. I was just at this local favorite on my last visit.
Ruby Beach Brewing has a nice selection of craft beers. Their delicious beers are often new flavors and styles you would not think of when you think of beer.
Tip: Many breweries have board games for you to play while you enjoy your flight or pint of house-brewed beers.
Craft Beer Festivals Breweries In Jacksonville Florida
Great American Beer Festival
The Great American Beer Festival (GABF) is a significant event for beer enthusiasts and the craft beer community in Jacksonville, Florida.
Held annually, the festival attracts many attendees, who gather to appreciate and celebrate the diverse range of craft beers produced in the region.
Jacksonville's breweries often participate in the GABF to showcase their unique brews and compete for recognition and awards.
The event provides an excellent opportunity for these breweries to connect with the larger craft beer community, including beer lovers from around the country.
At the festival, you can enjoy:
A wide variety of craft beers, with an emphasis on showcasing local Jacksonville breweries and regional styles.
Tasting sessions, where festival-goers have the opportunity to sample and savor different beers.
Educational seminars and workshops conducted by experts in the brewing industry.
Networking opportunities for both breweries and attendees to form connections and share their passion for craft beer.
Through participation in the Great American Beer Festival, Jacksonville breweries have the opportunity to further establish their presence in the craft beer scene. It also allows them to get attention from beer enthusiasts not only in Florida but also throughout the nation.
Craft Breweries In Jacksonville Florida with Food Trucks
In Jacksonville, Florida, craft breweries and food trucks have come together to provide an exceptional experience for beer lovers.
These establishments offer a diverse selection of brews while partnering with some of the best local food trucks, giving patrons a chance to enjoy unique food pairings with their favorite beers.
At Bold City Brewery, an impressive lineup of craft beers is complemented by the presence of various food trucks on a rotating schedule.
Customers can expect to find flavorful food, such as gourmet burgers and artisanal tacos, to enjoy alongside their cold drinks.
Intuition Ale Works also has an amazing assortment of brews and often has local food trucks onsite.
From Nashville hot chicken sandwiches to mouthwatering BBQ dishes, there's always a delicious culinary treat waiting to be discovered.
The following craft breweries often have food trucks are also worth checking out:
Aardwolf Brewing Company: Known for their Belgian-style and experimental beers, Aardwolf often hosts food trucks that specifically pair with their offerings, creating a harmonious tasting experience.
Veterans United Craft Brewery: With an emphasis on American-style ales and lagers, this veteran-owned brewery cultivates a patriotic atmosphere while offering a delightful rotation of food trucks to accompany their drinks. This is one of my favorites that my brother and sister-n-law introduced me to.
Awesome Beer Pairing Dinners
Dinner and a beer anyone? Jacksonville, Florida is a wonderful destination for beer enthusiasts as you now know.
Some of these breweries also offer beer pairing dinners that cater to a variety of tastes. These events are fun for both locals and those on a beer-cation.
One popular establishment, the Craft Brew House, hosts monthly beer pairing dinners that feature a diverse range of brews accompanied by chef-curated dishes.
Each event offers five courses, carefully crafted to complement the flavors of the accompanying beers. The Craft Brew House offers:
A selection of local and international beers
Expert discussion on the pairings
A relaxed and enjoyable atmosphere
Another one I want to mention is Downtown Hops, another noteworthy brewery in Jacksonville. Their events shine the spotlight on their in-house brews alongside dishes prepared by local chefs.
Not only do attendees get to indulge in unique combinations, but they also experience exclusive seasonal releases. Attending a Downtown Hops event include:
A focus on seasonal ingredients and flavors
Collaboration with local chefs
Limited edition beer releases
For the craft beer lover who prefers a more intimate setting, Ale Tales offers personalized beer pairing experiences for small groups. With their team of beer experts and a versatile menu, Ale Tales can customize an unforgettable experience for any occasion.
List of the Breweries Located in Jacksonville & Surrounding Area
These are some of the top breweries in the area, grouped by their locations in Downtown Jacksonville, Jacksonville Beach, and other parts of the city.
Many have a happy hour, trivia night, tap room, their own food or possibly a food truck that visits on the weekend.
Many are part of the Jax Ale Trail. Ask about a passport when you visit the first brewery.
Jacksonville Breweries
Aardwolf Brewing Company
Bold City Brewery Downtown
Bold City Brewery Riverside
Bottlenose Brewing
Fishweir Brewing Company
Historically Hoppy Brewing Company
Hyperion Brewing Company
Intuition Ale Works
King Maker Brewing
Legacy Ale Works
Lemonstreet Brewing
Myrtle Avenue Brewing
Engine 15 Brewing
Strings Sports Brewery
Tabula Rasa Brewing
Ruby Beach Brewing Company
Seven Bridges Grille and Brewery
Tepeyolot Cerveceria
Veterans United Craft Brewery
Wicked Barley Brewing Company
Jacksonville Beach Breweries
Atlantic Beach Brewing Company
Green Room Brewing
Southern Swells Brewing Co.
Ruby Beach Brewing
Zeta Brewing Company
Engine 15 Brewing Company
Ink Factory Brewing
Fruit Cover Breweries
2nd Bay Brewing
Orange Park Breweries
Cultured Collective Brewing Co.
Pinglehead Brewing Company
Atlantic Beach Breweries
Ragtime Tavern, Seafood & Grille
Reve Brewing Company
Yulee Breweries
Disco Witch Brewing
SJ Brewing Company
St. Augustine Breweries
St. Augustine, a city with a rich history, also boasts a growing local craft beer scene. Several notable breweries can be found in the area, offering diverse beer options and unique experiences for visitors and locals alike.
Ancient City Brewing
Ancient City Brewing, located in the heart of downtown, offers a wide range of beers on tap. They pride themselves on using local ingredients and innovative brewing techniques to create flavorful and distinct brews.
Some popular options include the Matanzas River Red Ale, Anastasia Island IPA, and Castillo Coconut Porter. There are 2 locations. One is 3420 Agricultural Center Dr # 8, St. Augustine, FL 32092 and the other is located at 18 Cathedral Pl, St. Augustine, FL 32084
Bog Brewing Company
Bog Brewing Company is a small-batch brewery specializing in old-world European styles. Their cozy taproom provides a relaxed atmosphere to enjoy their carefully crafted beers.
Try the Belgian-style Triple, the flagship Smoked Datil Ale, and the seasonal Cranberry Goose. Bog Brewing is located at 218 W King St, St. Augustine, FL 32084.
Dog Rose Brewing
Dog Rose Brewing is a newer addition to the St. Augustine beer scene. They focus on producing traditional, well-balanced beers that appeal to a wide audience. This brewery is located at 77 Bridge St, St. Augustine, FL 32084.
Amelia Island Breweries
Amelia Island, located in the northeastern part of Florida, offers a unique brewery experience for visitors and locals alike. With its picturesque landscape, the island sets the perfect backdrop for enjoying a cold, refreshing craft beer.
One popular brewery on Amelia Island is Amelia Tavern. They offer a variety of beers, including their flagship Amelia IPA, a Session IPA, and a seasonal Mango Berliner Weisse. The brewery also provides delicious food, making it a favorite among both beer enthusiasts and foodies.
Another must-visit destination for beer lovers is Pirate's Punch Brewery. This nautical-themed brewery offers an extensive range of craft beers, such as their famous Pirate's Punch IPA, Hurricane Dorian Blonde Ale, and the aptly named Treasure Hunter Stout. The unique and flavorful options provide a memorable drinking experience for visitors.
Lastly, Island Hop Brewing is a small-batch nanobrewery located on Amelia Island. They specialize in producing unique hop-forward beers using locally sourced ingredients.
Some of their offerings include a Citra Pale Ale, Island Haze New England IPA, and a rotating selection of seasonal brews. Patrons can enjoy their beers at the cozy taproom or take some home in growlers or crowlers.
Fun fact: Anheuser-Busch Brewery is also located in Jax. You can take a tour of the brewery and even take a beer brewing class.
Upcoming Trip?
I like to use Booking for booking not only my hotels, but my tickets and rental cars as well. Makes life so much easier with only having to log into one location for my information.
Be sure to grab my travel tips to save you time and money. You'll also be entered into the weekly drawings.
Register here: Get 100 Travel Tips EVERY traveler should know PLUS entered into the weekly drawing.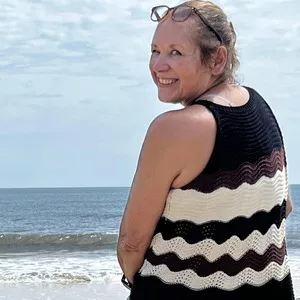 About Denise
Denise Sanger lives a life split between her love for fitness and her passion for travel particularly to the BEACH. Denise also has a love of marketing and lives in beautiful Suwannee County, Florida. You can find out more about Denise here: About Denise