Cheap Florida Vacation Rentals Where To Find Them
This article may contain affiliate links. Whenever you buy something through one of these links, I may earn a small commission without any cost to you. I really appreciate it as it supports this site and my family. Thank you!
Ready for a vacation? Thinking about Florida but wondering if it will be too expensive? You are in luck! If you are searching for cheap Florida vacation rentals this article will help you find them.
You will find some of the best rates in the United States when you vacation in Florida. From the Florida Keys to the Orlando area and Magic Kingdom to the Florida Panhandle, there are affordable vacation homes if you know where to search.
We used to automatically search for a hotel room when booking a vacation. Today, that is not usually your best option as far as cost.
Rental homes many with a private pool and hot tubs, are often much less expensive than a hotel room. Even better? The more people you include in your vacation plans, the less expensive it will be.
Thank you for reading this post. Don't forget to subscribe! This way you never miss an update, travel deals, discounts and more!! Subscribe to the right------>
The first thing to consider when planning a beach vacation, Walt Disney World vacation or any trip to Florida is the time of year. Certain times of the year like Spring Break, the rates for any accommodations are high.
Also, more families tend to travel when schools are out during the summer, Christmas breaks as well as other holidays. If you are traveling with a family and can choose a different time of year, you can get some amazing deals.
Cheap Central Florida Vacation Rentals
Starting in Central Florida specifically the theme parks, you can find some amazing deals. When my girls were younger, we always rented a place with a fully equipped kitchen, so we could have breakfast before going to the park and dinner afterward. MUCH less expensive that way.
If you plan your trip to Disney, Sea World Orlando or Universal Studios Florida off season, you will be pleasantly surprised at how little you pay per night. A vacation home a short drive from Disney starts about $80/night. Definitely kind to your bank account.
I found the best vacation rentals for this area on VRBO. Beautiful homes many with swimming pools, 3 and 4 bedrooms a popular destination in the Sunshine State of Florida.
In January, you can enjoy a week at the perfect vacation rental for as little as $600/week. Easy access to all the parks for an enjoyable family vacation. Check out the deals here: Orlando VRBO
Cheap Southeast Florida Vacation Rentals
Over to Fort Lauderdale and Miami as well as other major cities in South Florida where you can fly into Miami International Airport. Here the days are warm and the nights jamming. The average price is about $80/night for a hotel room that sleeps 4.
Watch the sunrise over the Atlantic Ocean then enjoy the day on the beach. Miami is a popular tourist destination that tends to be busy during winter as snowbirds look to get out of the cold.
Everything from hotel suites to luxury vacation rentals awaits your visit. For Miami, Fort Lauderdale and all South Florida destinations, I tend to use Kayak for my research. Like the commercial says one site and done.
You may be wondering why I am suggesting a hotel. The reason is that there are areas in Miami, you need to be careful when visiting.
If you are not familiar with Miami, your best bet is a hotel near your destination that provides security near Miami Beach or South Beach.
Fort Lauderdale, West Palm Beach and Boca Raton also offer affordable accommodations for families as well as luxury rental properties. Winter is Miami's high season.
For the best deals, plan your vacation outside the months of November through March. Also take a look at these other options for best Florida Coast beaches.
Cheap Florida Keys Vacation Rentals
How about the Florida Keys? Can you find cheap beach homes to rent and other affordable accommodations? Absolutely if you know when to go and the right place to start your search.
Fall is off season for the Keys. One thing to keep in mind is this is also Hurricane Season.
High demand periods are December through February. Warm temps welcome those tired of winter to white sandy beaches and average temps in the 70s.
Key West is such a unique place to visit and for me, I have found the best way to search for a rental is to read the reviews on Tripadvisor.
Why? There are literally so many accommodation types from an RV in a campground to the perfect home around the corner from the Southernmost Point.
Reviews on Tripadvisor are brutally honest. Something you really need when visiting popular destinations such as Key Largo and Key West.
For those that like a resort experience, summer/fall is the best time to look for those type of accommodations. The temperatures are hotter than the rest of the year as well as being Hurricane Season.
Up the east coast of Florida, you will find options more affordable than South Florida and the Florida Keys.
For more bang for your buck, look at smaller beach towns such as Jacksonville, Vero Beach, Cocoa Beach, Kennedy Space Center and Cape Canaveral, and New Smyrna Beach.
Don't get me wrong. These beach towns can get busy also but not to the extent of St. Augustine and Daytona Beach.
I recently enjoyed beautiful accommodations in New Smyrna Beach. It is the perfect location with easy access not only from North and South Florida but Central Florida as well.
Less than 60 minutes from Orlando and you can have your feet in the sand.
Nearby Ocala National Forest also has options for nature lovers. This area offers cabins as well as very affordable camping choices for RV's and tents.
Southwest Florida Rentals
Moving to the Gulf of Mexico, the Southwest portion of the state including Fort Myers, Sanibel Island, Captiva Island. This area is recovering from the direct hit they took from Hurricane Ian.
Many rental properties are being used for those that have been misplaced or are not able to live in their homes. It is a good idea to hold off visiting this part of the state during the rebuild as property rentals are scarce.
But never fear! Florida Strong and they are rebuilding as I write this. I will come back and update this article for some of the most popular vacation destinations in the country.
Cheap West Central Florida Vacation Rentals
Moving up toward the Emerald Coast of Florida. Your choices for affordability are best during the low season between the months of October through December before the Christmas holiday.
Beautiful white sandy shorelines greet you the moment you see the Gulf Coast. Search for the perfect beach house in Clearwater Beach, Treasure Island, and all throughout the Tampa Bay area.
My last visit we rented a home through VRBO in St. Pete that was literally less than 10 minutes to the white sand beaches of St. Pete, Clearwater and Treasure Island.
We had such a great time. The cost per night for 4 of us? Less than $80.
This may not work for everyone. I live in Florida so was able to pick up my friends from the Tampa/St. Pete Airport before heading to the beach rental.
If you do not know someone in Florida, be sure to include the price of a rental car or check with Uber or my favorite Hyrecar rental company.
Cheap Florida Panhandle Vacation Rentals
This brings us to my FAVORITE part of the state to vacation. You guessed it. Panama City Beach!
PCB, Miramar Beach, Rosemary Beach or Seacrest Beach, Blue Mountain Beach, Grayton Beach, Fort Walton Beach, Destin and Pensacola Beach are all fantastic options. But where should you start your search?
AirBNB may be the best known BUT Booking.com actually has the most options. A quick search is showing rentals at $69/night during off season.
White sands await you on this beautiful part of the state but be sure to get out of town before Spring Break. This area gets hit hard by kids from the Southern part of the USA through the Midwest in Spring.
Temps are a bit cooler off season, but there are still plenty of sunny days to be enjoyed. If visiting the Panhandle during the winter months is fine by you, you can easily get a place with enough space for a large family for under $750 to $1000/week.
Smaller is less expensive. If you are looking to really get a good deal, look for a smaller home with an open concept layout. The home will feel more spacious, and you can easily toss down a few inflatable mattresses as needed.
Upcoming Trip?
I like to use Booking for booking not only my hotels, but my tickets and rental cars as well. Makes life so much easier with only having to log into one location for my information.
Be sure to grab my travel tips to save you time and money. You'll also be entered into the weekly drawings.
Register here: Get 100 Travel Tips EVERY traveler should know PLUS entered into the weekly drawing.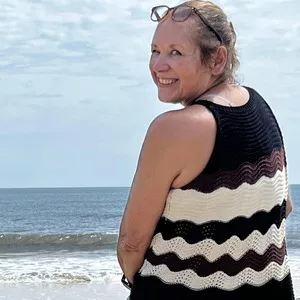 About Denise
Denise Sanger lives a life split between her love for fitness and her passion for travel particularly to the BEACH. Denise also has a love of marketing and lives in beautiful Suwannee County, Florida. You can find out more about Denise here: About Denise