The Best Beaches To Visit In Southwest Florida For Fun In The Sun
This article may contain affiliate links. Whenever you buy something through one of these links, I may earn a small commission without any cost to you. I really appreciate it as it supports this site and my family. Thank you!
Discover the best beaches to visit in Southwest Florida with our top 11 must visit beaches list. From pristine white sands to crystal clear waters, these beaches are a must-visit for any beach lover!
From the beautiful city of Naples to the charming islands of Sanibel and Captiva, this area is home to some of the best beaches in the Sunshine State.
If you're looking for the perfect beach getaway in Southwest Florida, look no further. I've compiled a list of the top beaches in this beautiful area on the Gulf of Mexico with stunning white sands, crystal clear waters, and breathtaking views. 
So whether you're a sunbather, a swimmer, or just someone who loves the beach, these Southwest Florida beaches are a great place for a beach getaway in the Sunshine State.
Thank you for reading this post. Don't forget to subscribe! This way you never miss an update, travel deals, discounts and more!! Subscribe to the right------>
These are the top picks for a great beach vacation including beaches on the barrier islands.
Sanibel Island
Sanibel Island is a true gem in Southwest Florida, known for its abundance of seashells and diverse wildlife.
The beaches here are pristine and offer a peaceful and natural experience for visitors. Again, I must mention this area took a direct hit from Hurricane Ian and is still recovering. 
One of the best things about Sanibel Island is the seashells. It is often called the elbows and a@@ beach because people are always bent over searching for the perfect shell.
If you can, be sure to stop at Bowman's Beach. Popular with beachcombers for many reasons. 
There are also several wildlife refuges and spot dolphins, manatees, sea turtles, and a variety of bird species.
Tranquil with stunning natural beauty, Sanibel Island beaches are definitely a must-visit for Beach Lovers in Southwest Florida.
Best places to stay: Sanibel Island Vacation Rentals
Captiva Island
Neighboring island, Captiva Island is just as beautiful as Sanibel island. These two islands are truly some of the most beautiful in the United States.
Add in that there is no shortage of things to do on Captiva Island and Captiva Beach, whether you're looking for relaxation or adventure. Relax at the beach is at the top of my list but nature lovers have plenty of things to do as well.
One of my favorites is Alison Hagerup Beach Park located at the end of San-Cap Road on the island. Great beach to take in the Gulf sunsets.
Absolutely take a boat over Cayo Costa State Park which is north of Captiva and Boca Grande (Gasparilla Island). One of the most beautiful beaches and the perfect spot to find shells you may not find anywhere else. Only accessible by boat though.
If you're looking for adventure, you will find it on Captiva Island. Go on a nature hike through the island's lush vegetation on a nature trail where you may catch sight of gopher tortoises and other wildlife.
Try birdwatching in one of the many bird sanctuaries where you may see bald eagles as well as shore birds. Take a kayak or paddleboard out onto the warm waters of the Gulf. 
You can also charter a fishing boat and try to catch dinner. Definitely a popular destination for many reasons and a great spot for a vacation at one of the most beautiful beaches you will ever see.
Best Places To Stay: Captiva Vacation Rentals
Fort Myers Beach
Fort Myers Beach is a small beach town that offers the perfect place for a getaway.
Here you will find sugar-white sand and turquoise water like other nearby beaches as well as easy access not only to the beach but also to the fishing pier. Toss your line and see what you catch. 
The weather? Beautiful. Fort Myers Beach is warm most of the year.
The town is also situated on a barrier island, which protects it from the worst of the weather. This means that the beaches are clean, and the water is crystal clear.
A few more of my favorites nearby include mentioned above Alison Hagerup Beach Park as well as Estero Island. Both are absolutely beautiful. Enjoy kayak, paddleboard, fishing, and hiking down Estero River and even head into the bay from Estero Island.
Be sure to leave time to visit Lovers Key State Park located on the island. It offers over two miles of beautiful white sandy beaches, calm waters, and nature trails through the mangrove swamps and mangrove forests that follow canals and estuaries.
Bring lunch. There are plenty of picnic areas with picnic tables to relax and eat lunch or a snack a short walk from the parking lot.
San Carlos Bay also located in Fort Myers near the Sanibel Causeway is popular for swimming, fishing and birdwatching. A great place to stop for nature lovers and anglers.
Volleyball? There are sand volleyball courts available to play in this city as well. For those that prefer tennis, there are also several tennis courts located here as well.
Before we leave the Fort Myers area, I want to mention Pine Island. Roughly 30 minutes from Fort Myers Beach, Pine Island is a great destination for a quiet, laid-back atmosphere, plenty of great fishing, and a lush natural environment. 
More information below on Fort Myers Beach.
The Best Beaches To Visit In Southwest Florida Marco Island
Marco? Polo? One of the things about Marco Island is there are so many great things to do you will not have time to play games unless you want to.
My favorite beach in the area is Tigertail Beach. It is absolutely gorgeous so be sure to make time to visit.
Another popular spot in the Southwest Gulf Coast of Florida, it is also one of the most popular beaches in the area. It is another one of the top Florida Beaches for a great vacation.
There are also plenty of things to do here too. Go fishing. Marco Island is a great place to fish, whether you're offshore, inshore, or in the backwaters. Maybe charter a boat and head off for some deep-sea fishing.
Enjoy a round of golf. Marco Island is home to several golf courses, including the world-famous Tiburon Golf Club.
Shop til you drop then hit one of the restaurants with proximity to the beach and enjoy a tasty meal. 
Best places to stay: Best Marco Island Hotels
Bonita Springs
Another favorite of mine, Bonita Springs, is next on the list. This is one of the less crowded beaches of Southwest Florida as many are not familiar with it.
A visit to Fort Myers Beach for me was actually in Bonita Springs at a vacation rental. I did not realize at the time I booked my vacation home, that I was in Bonita Springs, but it was a good mistake.
This fun beach city is also known for its white sandy beaches, fishing, and unique shops. But you have to visit downtown Bonita Springs which is where you'll find many of the city's best restaurants, bars with live music, boutiques, and more.
Nature lovers will enjoy this area as well. Again Lover's Key State Park is nearby as well as the best beaches in the area including Barefoot Beach Preserve, Bonita Springs Public Beach, Bonita Beach Park, and Little Hickory Beach Park. A great option for families. 
Where To Stay: Best Vacation Rentals Bonita Springs
The Best Beaches To Visit In Southwest Florida Naples 
I love the city of Naples. Not only is there a lot to do, you will find some of the most amazing beaches here as well.
Starting with the white-sand beaches, you will want to visit all the Naples beach areas but especially Naples Pier Beach, Seagate Beach, Barefoot Beach Preserve County Park (check status before going as it may be closed), Keewaydin Island, and Clam Pass Park.
If you prefer a quieter beach vacation, I recommend Delnor-Wiggins Pass State Park. Open every day of the year and even has a boat ramp inside the park to launch your canoe, kayak, paddleboard, and more.
These beaches with clear water are some of the busiest though in South Florida. Easy beach accesses and close proximity to shops, restaurants, and more.
Love water sports? There are kayak rentals and boat ramps throughout the city. A very popular place not only during summer but the winter months as well. 
Where To Stay: Top Naples Hotels
Gasparilla Island State Park
This is another gorgeous Florida State Park mentioned above, but it needs its own section and a must to put on your list. It is located on Boca Grande Island and part of a chain of Gulf Coast barrier islands.
Enjoy swimming, snorkeling, fishing, and marine life as well as wildlife viewing that are easy to get to from any of the parking lots. Shelling is particularly good in the winter months also here.
Anna Maria Island
Anna Maria Island is literally breathtakingly beautiful. It is near the mouth of Tampa Bay, as are the cities of Longboat Key, Lido Key, Siesta Key, Casey Key, Venice, and Manasota Key.
This destination is quite well known for the strip of white sandy beach as well as fantastic restaurants and fun shops. It can be crowded during the hot summer months but is one of the least crowded beaches on the West Coast of Florida. 
Where To Stay: Best Hotels Anna Maria Island
Stump Pass Beach State Park
Another gorgeous Florida State Park to add to your list. This beauty is located in the southwest corner of Charlotte County and offers a mile of beach for you to explore.
Search not only for seashells but also sharks teeth. Check the tide charts including low tide as well as high tide. High tide will carry the sharks teeth to shore.
Water sports? Absolutely! Enjoy kayaking, snorkeling and swimming.
​Nature lover? There are several hiking trails to enjoy. You may also catch a glimpse of the West Indian manatee in this park.
Longboat Key
Enjoy 12 miles of white sandy beaches while on Longboat Key. This is a luxury destination with a world-class golf resort on the island.
Many of the residents on the island are retirees, but there are still plenty of things to do and see. 
Siesta Key
Of course, we cannot leave Siesta Key and Siesta Key Beach off this list. Siesta Key remains one of the most popular beaches in this area. Also, one of the most crowded which is why I have placed it at the bottom. That is the only reason.
I generally choose beach locations based on ease to get to as well as things to do. Siesta Key does offer both but if you are looking for a more quiet beach getaway, I would recommend one of the above picks.
Best places to stay: Top Siesta Key Vacation Rentals
The Best Beaches To Visit In Southwest Florida: Best Family-Friendly
Southwest Florida's beaches are not only a paradise for adults but also offer plenty of family-friendly options.
Tigertail Beach is a family-friendly beach known for its calm, shallow waters, making it perfect for young children to splash and play. 
The beach has a playground, picnic areas, and nature trails. A great choice for families looking to create memories.
The Best Beaches To Visit In Southwest Florida for Water Sports and Activities
Prefer more excitement? Your best choice is Naples Beach. This is a popular destination for water sports enthusiasts with jet skiing, parasailing, and paddleboarding.
Helpful Links To Plan Your Southwest Florida Beach Vacation
​
Upcoming Trip?
I like to use Booking for booking not only my hotels, but my tickets and rental cars as well. Makes life so much easier with only having to log into one location for my information.
Be sure to grab my travel tips to save you time and money. You'll also be entered into the weekly drawings.
Register here: Get 100 Travel Tips EVERY traveler should know PLUS entered into the weekly drawing.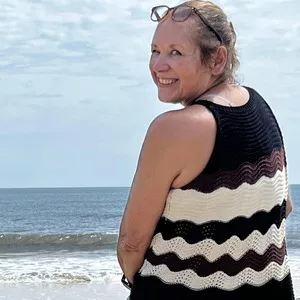 About Denise
Denise Sanger lives a life split between her love for fitness and her passion for travel particularly to the BEACH. Denise also has a love of marketing and lives in beautiful Suwannee County, Florida. You can find out more about Denise here: About Denise