How To Make A Long Island Iced Tea Cocktail At The Beach Or Home
This article may contain affiliate links. Whenever you buy something through one of these links, I may earn a small commission without any cost to you. I really appreciate it as it supports this site and my family. Thank you!
The first time I enjoyed a Long Island Iced Tea Cocktail was not at the beach. It was actually in a bar in Cleveland, Ohio but from the first sip I was hooked.
Fast-forward a few years to when I became a bartender learning what and how much goes into each cocktail, I thought I'd never learn this one. There is a LOT of alcohol in it.
But you know what? The owner of the bar that was training said one sentence to me and from then on it was a piece of cake.
That one sentence? All white in the well. The well refers to the shelf where the most used, also lower cost alcohol is used.
Thank you for reading this post. Don't forget to subscribe! This way you never miss an update, travel deals, discounts and more!! Subscribe to the right------>
As an example, if you walk into a bar or restaurant and order a Rum and Coke, you are getting the well rum not the top shelf or mid-shelf rums like Bacardi or Captain Morgan.
Top shelf rums include Mount Gay Black Barrel or Bumbu Original. How to tell the difference? The rum or any alcohol you order from the top shelf is more expensive because of better quality ingredients.
What that has translated in to for me, is better quality, less feeling like crap the next day. The reason I explained all of that is because often in a Long Island Iced Tea Cocktail, they are using the well liquor which yes is lower cost, but also not as pure.
If you find you are super sensitive to consuming alcohol as I am, I would recommend using top shelf liquor in your Long Island Iced Tea.
You can see the price differences here: Top Shelf Liquor. Let's make one!
Long Island Iced Tea Cocktail Ingredients
All liquor that goes into this cocktail, is 1/2 shot or 3/4 ounce. It's easier for me to pour 1/2 shot or a 2 count from the bottles. This is what you need:
1/2 shot Vodka
1/2 shot Gin
1/2 shot White Rum
1/2 shot White Tequila
1/2 shot Triple Sec
Splash sweet & sour mix. To be honest? I used and still use to this day lemonade.
Coke
Fill a shaker cup with ice and add the above ingredients through the sweet and sour mix and shake. Pour into a tall glass and add coke to the top or again to taste. This also gives it the Iced Tea Color.
Garnish with a lemon. And that is it. Sounds much more difficult than it actually is right? Enjoy. Salute!
Enjoy these other easy to make Beach Cocktails at the beach OR at home:
Upcoming Trip?
I like to use Booking for booking not only my hotels, but my tickets and rental cars as well. Makes life so much easier with only having to log into one location for my information.
Be sure to grab my travel tips to save you time and money. You'll also be entered into the weekly drawings.
Register here: Get 100 Travel Tips EVERY traveler should know PLUS entered into the weekly drawing.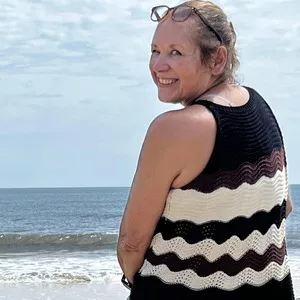 About Denise
Denise Sanger lives a life split between her love for fitness and her passion for travel particularly to the BEACH. Denise also has a love of marketing and lives in beautiful Suwannee County, Florida. You can find out more about Denise here: About Denise