Closest Beach to Ginnie Springs: Your Ultimate Guide to Sun, Sand, and Serenity
This article may contain affiliate links. Whenever you buy something through one of these links, I may earn a small commission without any cost to you. I really appreciate it as it supports this site and my family. Thank you!
From Springs to Sand: Exploring the Closest Beach to Ginnie Springs
Are you a nature enthusiast looking for the perfect blend of adventure and relaxation? Look no further than the closest Beach to Ginnie Springs for both!
Located in the heart of North Central Florida in the quaint historic town of High Springs, Ginnie Springs offers an experience like no other.
Whether you want to swim, dive or snorkel in the blue and green waters of the spring or prefer to relax on the beautiful beaches nearby, Ginnie Springs is one of the best destinations for those that love to spend their vacations outside.
Ready to take a journey from springs to sand? We will start first with Ginnie Springs then move onto nearby beaches to enjoy.
Thank you for reading this post. Don't forget to subscribe! This way you never miss an update, travel deals, discounts and more!! Subscribe to the right------>
So grab your snorkel gear and beach towel, and get ready for an adventure like no other first at Ginnie Springs then we will find the closest beach to Ginnie Springs to continue the fun.
Location of Ginnie and Closest Beach To Ginnie Springs
Ginnie Springs is located in the quaint, historic town of High Springs just a short drive off of I-75. In addition to Ginnie Springs, there are several other crystal clear springs nearby.
Ginnie Springs is roughly 20 miles away from the nearest beach. This makes it an easy hop on a weekend or even the same day if you want to enjoy as much as possible on your vacation.
How To Get To Ginnie Springs
Getting to Ginnie Springs is easy. Below are a few travel options you may want to consider.
Prefer to fly? The nearest airport is Gainesville Regional Airport, which is approximately a 40-minute drive from Ginnie Springs.
But if you are like me and enjoy road trips, Ginnie Springs is easy to get to by car off Interstate 75. Enjoy the scenic drive that will take you through a part of Florida few ever see.
How Many Springs Comprise Ginnie Springs?
There are seven springs to explore at Ginnie Springs.
There are other beautiful springs nearby you should visit including Itchetucknee, Gilchrist Blue, Bronson Blue, Devil's Den and more. At the bottom of this article, I've placed a link for the springs.
Are there alligators in the river and springs?
Is water wet? Yes there are gators in the majority of rivers, springs, lakes, ponds, and more throughout Florida.
The problems arise when people decide they want to feed not only alligators but wildlife in general. DON'T FEED THE ALLIGATORS!
When that happens, these animals lose their natural instinct to stay away from humans.
Can You Swim In Ginnie Springs?
You sure can! The spring is a constant 72 degrees year round which is very refreshing in the dog days of summer.
Can I Tube In Ginnie Springs?
Yes. You will launch near Devil Spring, float down the Sante Fe River to Twin Spring. For those with young children, there is a walk back to where you launched approximately 15 minutes or so.
Also be considerate of others on the river. Ginnie Springs is a private operation with Sante Fe River frontage. There are kayakers, boaters and more on the river. Move to the side, so they can get by you.
Attractions and Activities near Ginnie Springs
Apart from absolutely gorgeous Ginnie Springs, there are plenty of other attractions and activities to keep you entertained during your visit including Florida State Parks, rivers and springs.
Ginnie Springs is a very popular and often busy destination during the summer months. You will see folks tubing down the Sante Fe River or camping near the river. Ginnie Springs is privately owned.
For those seeking even more adventure, scuba diving is also available in the springs, but you MUST be diver certified. The underwater caves offer a challenging dive experience where you can explore underground where no one else can see.
Even if you are certified, I strongly recommend going with a diving instructor or tour. It is very easy to get turned around when you are in these caves.
Honestly? Not something I would ever do, but I have watched divers over the years, and it's pretty cool.
If you prefer to stay on land, you will find some of the most amazing hiking and nature trails to explore in this area. Take a leisurely walk through one of Florida's forests or State Park like nearby O'Leno and observe the native wildlife in their habitat.
One Florida State Park you must be sure to visit is Ichetucknee Springs State Park, which is a short drive away. This park features the beautiful Itchetucknee River that meets both the Sante Fe River and Suwannee River before meandering to the Gulf of Mexico via the Suwannee River.
This beautiful park offers visitors the opportunity to swim, tube, or kayak in its crystal clear waters. You really must see it to appreciate the beauty.
Closest Beach to Ginnie Springs
While Ginnie Springs and the nearby cities do not have traditional beaches, you can enjoy the river from the property.
As far as the closest beach? I believe it may be Cedar Key, located approximately 70 miles southwest of Ginnie Springs. Known for its charming coastal town, Cedar Key is a popular destination for those looking to relax and enjoy the scenic views. Literally a step back in time.
Also on the Gulf Coast, you will find Keaton Beach as well as Hagen's Cove both north of the city of Steinhatchee.
On the Atlantic East Coast Side of the Sunshine State, if you go directly east through the city of Gainesville, you will find Crescent Beach and north of that is St. Augustine.
Both of these are a bit farther than the Gulf Coast beaches mentioned but a very doable, drive.
Best Time to Visit Ginnie Springs and the Closest Beach
I am constantly asked what is the best time to visit Florida as well as the various springs and beaches. The best time to visit Ginnie Springs and other nearby springs really depends on what you want to do.
If you enjoy warmer weather and don't mind crowds, the summer months from June to August are a popular time to visit. But they are packed because not only are we in the midst of summer vacations from people outside the state of Florida, residents are traveling as well.
During this time, the beaches hopping from morning until evening. The water is warm, and you just want to dive in. But if you don't like crowds, this may not be the right time for you.
For those who prefer a quieter, more relaxed getaway, the spring and fall months are fantastic for you. The weather during Spring and Fall is milder, and the beaches are less crowded.
Keep in mind though that Fall is still Hurricane Season for us in Florida. You may need to pivot quickly in case of bad weather.
Tips When Planning A Day To Hit Closest Beach to Ginnie Springs
When planning a beach trip anywhere including from Ginnie Springs, keep this few tips in mind:
First, be sure to pack essentials such as sunscreen, towels, and beach chairs. Especially sunscreen. I see people burned to a crisp constantly in Florida. Recovering from a bad burn will ruin your vacation.
You may also want to consider bringing snorkel gear or other water sports equipment if you plan on exploring at the beach like you did in the springs. So many beautiful things to see under the sea as the song goes.
Also, one of the most important things you can do is check the weather forecast as well as high tide and low tide times before heading to the beach. This will help you plan your day as far as best time to arrive and when to leave if it feels too hot.
Finally, be sure to follow any safety precautions. There are a lot of rip currents right now on both coasts of Florida. Be very careful.
Finally, check local regulations set by the beach authorities. Not only are there sea turtles and their nests on shore, there are many other endangered wildlife and birds that are protected.
Can you camp at Ginnie Springs?
Yes you can camp at Ginnie Springs, but reservations are not easy to get during peak seasons like summers. You can check availability and pricing here: Camping At Ginnie Springs
Would I personally camp there? No I would not unless I were in a campsite well away from the river during the peak season.
It can be crazy during that time and at 62, I'm no longer in partying mode and I like to get my sleep. I would not be a happy camper being kept awake all night.
Before being married with children, we probably would have camped here. It all depends on where you are in life.
Personally? I would go to the BNB I mention below or a hotel in Gainesville.
And there you go! Ginnie Springs and the closest beaches provide you with a unique blend of natural beauty and coastal charm.
From the crystal-clear springs to the sandy shores of nearby Florida beaches promises to deliver an unforgettable experience for nature enthusiasts and beach lovers alike.
This is absolutely one of my favorite places in the state and why I live in this area. Whether you're seeking adventure underwater or relaxation on the beach, you will find it here.
Pack your bags, put on your sunscreen, and get ready to explore both the spring and the closest beach to Ginnie Springs.
What I would recommend? One of the BNB's. They are historic homes and breathtakingly beautiful like the one I posted a pic of below.
This one, Grady House, is top-notch and one of the best near not only Ginnie Springs but also downtown High Springs. It includes breakfast and other amenities. There are also a few good restaurants on Main in High Springs.
Tip: I have put a link below to the nearest hotels to High Springs BUT these are actually in Gainesville. I recommend either Grady House above or a vacation rental in High Springs.
Another tip? It's actually more affordable at this time (July 2023) to book a vacation rental over a hotel. You can view the various rentals and pricing here: High Springs Vacation Rentals
The following links will help you plan the perfect vacation in this area for you:
Upcoming Trip?
I like to use Booking for booking not only my hotels, but my tickets and rental cars as well. Makes life so much easier with only having to log into one location for my information.
Be sure to grab my travel tips to save you time and money. You'll also be entered into the weekly drawings.
Register here: Get 100 Travel Tips EVERY traveler should know PLUS entered into the weekly drawing.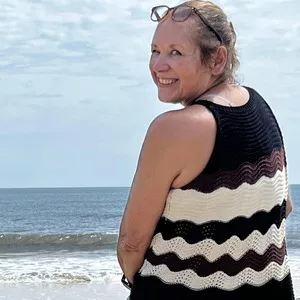 About Denise
Denise Sanger lives a life split between her love for fitness and her passion for travel particularly to the BEACH. Denise also has a love of marketing and lives in beautiful Suwannee County, Florida. You can find out more about Denise here: About Denise