Best Beaches of Cocoa Beach near Orlando
This article may contain affiliate links. Whenever you buy something through one of these links, I may earn a small commission without any cost to you. I really appreciate it as it supports this site and my family. Thank you!
Closest beaches to Orlando? Take a look at Cocoa Beach first.
If you're looking for a beautiful beach to spend time at, there are plenty of great options near Orlando. In this post, we'll take a close look at Cocoa Beach, and why it's one of the best beaches near Orlando.
Easy getaway from Disney, Universal, Museum of Illusion and all the busyness of Orlando. Cocoa Beach is located about an hour east of Orlando, making it the perfect spot for those who want to get away from the hustle and bustle of city life.
The beach is known for its soft white sand and crystal clear waters. It's also home to the Kennedy Space Center, Canaveral National Seashore and Port Canaveral which offers miles of undeveloped coastline and pristine beaches.
Cocoa Beach is a fantastic place for those that surf. Or those that want to learn. Enjoy a surf lesson, then browse the many surf shops for your new water activity.
Thank you for reading this post. Don't forget to subscribe! This way you never miss an update, travel deals, discounts and more!! Subscribe to the right------>
But you should not overlook other beaches that are about also about an hour drive from Orlando. We will highlight the Cocoa Beach beaches below as these are the closest beaches to Orlando and central Florida.
Then we will expand our coverage to beaches you can drive to in about an hour. These beaches include Daytona Beach, New Smyrna Beach, Vero Beach, Melbourne Beach and more.
Beautiful beaches in the Cocoa Beach Area
Lori Wilson Park.
Situated at the south end of Cocoa Beach, this beach has plenty of room to relax and enjoy. Whether you're looking for a place to sunbathe or take part in some fun activities such as volleyball, jet-skiing, or even skim-boarding, Lori Wilson Park is sure to provide an unforgettable experience. The park also includes a nature center and two fishing piers that are perfect for those who want to get out on the water and catch some fish.
Canaveral National Seashore.
A must-visit spot when visiting Cocoa Beach, the Canaveral National Seashore is a barrier island that offers miles of pristine, undeveloped beach. In addition to its stunning beauty, the national seashore also offers opportunities for bird-watching and other wildlife viewing. Cape Canaveral is home to an abundance of wildlife, including three native species of sea turtles: the loggerhead, the leatherback and the green turtle. Cape Canaveral Air Force Station is located here as well with six launch towers and the original mission control. Super cool to see!
Alan Shepard Park Beach.
For those looking for a more secluded beach experience, Shepard Park Beach is the perfect spot! With its quiet atmosphere and uncrowded shoreline, it's easy to relax and unwind here. There are also plenty of nearby restaurants and shops if you get hungry or want to do some shopping. The City of Cocoa Beach maintains this popular ocean-front park, and it's a great place for families as well as nature lovers.
Playalinda Beach Florida
This beach is also a great spot to check out if you're looking for something a little different. Located on the space coast, this beach is known for its wildlife viewing opportunities, as well as its miles of undeveloped coastline. Whether you want to relax and enjoy the views or participate in some outdoor activities like walking a nature trail, Playalinda Beach Florida has something for everyone!
Robert P. Murkshe Memorial Park
Located near Cape Canaveral on Florida's Space Coast this beautiful beach is located in a 7-acre park. It is very well known for its pristine coastline. White sandy beaches with plenty of activities and water sports to enjoy. An easy day trip from Disney World, Universal Studios and other theme parks Orlando is known for. Get the kids away from the gift shops and let them explore the Atlantic Coast in this beautiful beach park.
Cherie Down Park.
This park is another beautiful beach with plenty of things to do to keep the kids busy. It, too, is maintained by the city of Cocoa Beach. Pavilions are available on a first come basis. Picnic areas and parking lot with free parking near the beach makes it ADA friendly as well.
Sidney Fisher Park
Located on the Atlantic Ocean side of the sunshine state is Sidney Fisher Park. This 10 acre oceanfront park has picnic pavilions, picnic tables, showers and restroom as well as 200 parking spaces. There is a fee however for this parking lot of $15.
Westgate Cocoa Beach Pier.
This historic beach pier was built in the early 60s and stretches 800 feet over the Atlantic Ocean. Be sure to visit the retail shops and local restaurants after you enjoy your walk on the pier.
More of the Best Beaches of Cocoa Beach near Orlando on the East Coast
Above are the Best Beaches of Cocoa Beach near Orlando. Next let's take a look at the beaches on the Gulf Coast.
Moving outside the Cocoa Beach area, there are even more beautiful beaches on the East Coast for you to explore. I have picked my favorites below:
Daytona Beach.
The world's most famous beach is a short drive from Cocoa Beach. This beach is a popular choice for those that like to drive on to the beach.
Before you drive on the beach, make sure your car can handle the sand. I have watched many cars towed off the beach because folks parked their car in an area with sugar sand making it difficult for a 2-wheel drive to drive off the beach.
There is a fee of $20 per vehicle. Look for the many beach access points off A1A. Recreational vehicles are not allowed on the beach as far as I know but check in advance.
Keep in mind the time of the year if you decide to visit Daytona Beach. Bike Week and BikeToberfest are both held in Daytona Beach and very popular.
The first time I found myself in this city with Bike Week, I was amazed at the number of bikes and activities. Side note, when you are in Daytona Beach, be sure to take time to visit the Daytona International Speedway.
New Smyrna Beach.
This is now one of my favorite beaches on the east coast of the United States. That's right. On the WHOLE east coast. The beach is beautiful, and this quaint beach town is one of a few walk friendly destinations.
When I was last there, it was right after the hurricane hit. They are rebuilding, and the city is open, but many of the beautiful sand dunes were destroyed with the storm surge.
Easy walking distance to all the restaurants, bars many with live music Smyrna Dunes Park also has a dog park with access to the water. Definitely one of the best things you can enjoy with your 4-legged family member.
Vero Beach.
This beach is another one of my favorites. Vero Beach is another must-see beach when you are in central Florida or near Cocoa Beach.
While it may be slightly less popular than some of the other beaches, its relaxed atmosphere and stunning views make it well worth a visit. Whether you're looking for a place to swim or just want to take in the scenery, Vero Beach is full of memory making things to do.
Melbourne Beach.
With its lush green palm trees and white sandy beaches, this beautiful spot is sure to take your breath away! There are plenty of restaurants and shopping options nearby, so you won't have to go far to find something to eat or find a local shop to explore.
Sebastian Inlet State Park.
This beautiful state park is the perfect spot for those looking for a little adventure. Enjoy fishing, kayaking, or simply exploring the park's wildlife. And the beaches! One of the best beaches to look for sea turtle nests and seashells.
Merritt Island National Wildlife Refuge.
This national refuge is another great spot to visit when you are in the area. Spend your day bird-watching or simply taking in the breathtaking views
You'll be sure to leave feeling refreshed and rejuvenated. Top destination for nature lovers around the world.
Gulf Coast Beaches
There are several beaches on the Gulf Coast also about an hour's drive from Orlando. The beautiful beaches on Florida's Gulf Coast you may want to visit include Tampa, St. Pete Beach, Treasure Island, Clearwater Beach and a few others.
Check this article I wrote that details the options you can choose from: Best West Central Florida Beaches for a memorable vacation.
No matter which coast you choose, Florida beaches are some of the most beautiful beaches in the world.
Upcoming Trip?
I like to use Booking for booking not only my hotels, but my tickets and rental cars as well. Makes life so much easier with only having to log into one location for my information.
Be sure to grab my travel tips to save you time and money. You'll also be entered into the weekly drawings.
Register here: Get 100 Travel Tips EVERY traveler should know PLUS entered into the weekly drawing.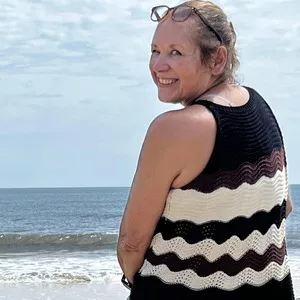 About Denise
Denise Sanger lives a life split between her love for fitness and her passion for travel particularly to the BEACH. Denise also has a love of marketing and lives in beautiful Suwannee County, Florida. You can find out more about Denise here: About Denise