How To Make a Frozen Margarita
This article may contain affiliate links. Whenever you buy something through one of these links, I may earn a small commission without any cost to you. I really appreciate it as it supports this site and my family. Thank you!
It has been one hot summer here in Florida and one thing guaranteed to cool you off is a delicious, frozen cocktail. Before you say you can't make one at home, I am going to explain to you how easy it is to make a frozen margarita.
Yes when you are on vacation, many Tiki Bars and restaurants have machines that they serve the frozen cocktails from. Here's the thing though. Most of those cocktails are from a premade mix.
Those premade mixes do make it easier to serve a frozen margarita or any type of cocktail, but there are other things to consider. Often they have additives and more sugar than maybe you want to consume. I know it's too much for me.
One of my absolutely favorite cocktails is a pure and simple margarita. Not with all the sugary additives but simple with tequila, lime juice and triple sec.
Thank you for reading this post. Don't forget to subscribe! This way you never miss an update, travel deals, discounts and more!! Subscribe to the right------>
When you stick to the pure recipe, it's actually better for you especially if you watch your sugar. Even better? When they are frozen.
So today, I bring to you the classic frozen margarita that you can easily whip up at home. I have also put the information for a Margaritaville Frozen Cocktail Maker below if you'd like to check that out.
Below are links to other delicious beach cocktails but first let's make a frozen margarita. I have provided instructions to make one delicious frozen margarita or the "party" pitcher of frozen margaritas.
How To Make a Frozen Margarita
Margarita Ingredients
As a mentioned, we are going to make a simple yet very delicious margarita. The ingredients you need are:
2 ounces white tequila (Blanco) I generally use Patron Silver. For a pitcher to serve 8, use 12 ounces tequila which is 3/4 cup.
1 ounce Triple Sec. For a pitcher, you will use 8 ounces of Triple Sec.
1.5 ounces fresh squeeze lime juice. For a pitcher, you will use 3/4 cup fresh lime juice.
Ice
1.5 ounces is a regular shot glass.
Margarita Instructions
Place all of these ingredients into a strong blender. Vitamix is the strongest by far and what you will see not only in many restaurants but in foodie's kitchens also.
You must have a blender strong enough to crush ice into frozen drink consistency. (Get info on blenders here: Vitamix Blenders)
Ready for the difficult instructions? Place everything into your blender and hit high speed until it is a frozen margarita.
Use a lime slice to moisten the rim of your margarita glass, then dip the rim into crushed sea salt. Place the lime on the side and enjoy that cocktail!
And that is it. Not too hard, was it? If you like a sweeter margarita, add agave syrup to taste.
I do not add the agave to the mixer because like me, many prefer the classic margarita. If your guests want a sweeter version, you can add to their taste preference.
Be sure to give these other beach cocktails a try as well:
Upcoming Trip?
I like to use Booking for booking not only my hotels, but my tickets and rental cars as well. Makes life so much easier with only having to log into one location for my information.
Be sure to grab my travel tips to save you time and money. You'll also be entered into the weekly drawings.
Register here: Get 100 Travel Tips EVERY traveler should know PLUS entered into the weekly drawing.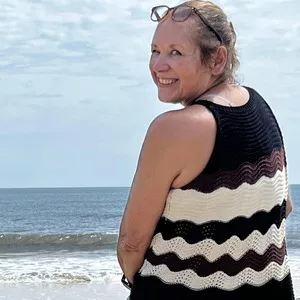 About Denise
Denise Sanger lives a life split between her love for fitness and her passion for travel particularly to the BEACH. Denise also has a love of marketing and lives in beautiful Suwannee County, Florida. You can find out more about Denise here: About Denise