Best Florida Beaches To Visit In Winter
This article may contain affiliate links. Whenever you buy something through one of these links, I may earn a small commission without any cost to you. I really appreciate it as it supports this site and my family. Thank you!
Florida is one of the best places to take a vacation during the winter months. There are other states as well but for this article, we will take a look at the best Florida beaches to visit in winter.
Florida beaches in the winter.
Go to the beach in the winter? The first time I went to the beach in the winter it was in Atlantic City.
I was there for a trade show and the hotel I stayed at was beachfront. I'm pretty sure it was the Tropicana, but the boardwalk was literally right out the back of the hotel.
Stepped through the sliding doors onto the boardwalk over to the beach and what do I see? Snow!
Thank you for reading this post. Don't forget to subscribe! This way you never miss an update, travel deals, discounts and more!! Subscribe to the right------>
Now I'm a born beach lover and spent many days on the beach of Lake Erie in Cleveland. Even so, I was not prepared to see snow on the sand at the ocean.
But you know what? It was absolutely gorgeous.
From that moment on, I have made it a point to hit the beach in the winter. There is something absolutely breathtaking and awe-inspiring when you step on the beach, and you are the only person.
You can truly appreciate the beauty of the ocean. And you know what? Doesn't matter if it's summer or winter, the waves continue to hit the shore. That for me always puts things in perspective.
Ready to visit a beach this winter? Below are the best Florida beaches to visit in winter that are warm and sunny.
Florida Keys
The Florida Keys are the perfect destination for a winter beach getaway and definitely the top of the Florida Beaches To Visit In Winter list.
With its tropical climate, the warm waters of the Atlantic Ocean on the east and Gulf of Mexico on the west, this destination offers some of the best beaches to visit in winter.
The Key Largo area is known for its abundant marine life, while Key West offers more secluded and tranquil beaches with white sand and palm trees as far as you can see.
Whether you're looking for snorkeling, swimming, or just lounging in the sun, the Florida Keys have it all! Warmer water temperatures makes the Florida Keys a great place for a winter beach vacation.
As the southernmost point in the United States, temps tend to be warmer during winter. Average water temps are about 75 F and daily highs are around 78-80.
South Florida Atlantic Coast
Moving up the east coast of the state, there are plenty of fantastic beach towns to choose from for a winter escape in south Florida. South Florida is home to some of the best beaches in the country, and winter is a great time to visit them.
The weather is usually mild, and the beaches are less crowded than during the summer. Average highs during the winter months are mid to upper 70s. Here are some of the best south Florida beaches to visit during winter.
Miami Beach. Trendy Art Deco architecture and gourmet restaurants, South Beach has something for everyone looking to experience southern Florida in all its glory. Experience nightlife at one of its many clubs or simply stroll down Ocean Drive soaking up the atmosphere with palm trees and beautiful beaches. Be sure to enjoy the Christmas Lights and live music if you visit during the holiday season.
Fort Lauderdale Beach. Fort Lauderdale is a great place for beach goers looking to explore. Spend the day lounging on its picturesque beaches, exploring the everglades, or check out one of its many excellent restaurants.
West Palm Beach. Home to Worth Avenue, one of the most prestigious shopping streets in America, West Palm Beach offers upscale dining and shopping experiences as well as miles of beautiful coastline perfect for swimming, sunbathing, or just relaxing under a palm tree with a good book. And don't forget the golf courses. If you love to golf, you will enjoy the many golf courses in the area.
Hollywood Beach. A short drive from Miami or Fort Lauderdale with its iconic Broadwalk, Hollywood Beach is perfect for a leisurely stroll or some bike riding during winter. The beautiful white sand beaches are popular with families, and there's plenty of dining and entertainment options nearby. My daughters and I spent many happy afternoons all year round on this beach.
Delray Beach. This beach is one of the most charming beach towns on the east coast, Delray Beach offers a quaint and vibrant atmosphere. With its many art galleries and shops, it's easy to find something interesting across the town's boardwalk or in any of its beachfront bars and restaurants.
Deerfield Beach. This charming beach town is located between Boca Raton and Fort Lauderdale, making it perfect for a winter escape. The beach is usually quiet during the cooler months and perfect for sunbathing, swimming, or simply exploring its wide array of shops and restaurants.
Florida Beaches To Visit In Winter on East Central coast to Northeast Florida Beaches.
Continuing up the East Coast, you will still find some of the warmest beaches in the United States. Even better? This part of Florida is easy to get to from Orlando and Magic Kingdom and Walt Disney World, Universal Studios, Sea World and other theme parks.
Winter is a good time to pick to visit this area. The following beaches with sunny days and average temperature in the low 70s, are near Orlando International Airport, Daytona Beach International Airport and even not too bad of a drive from Jacksonville International Airport. Shop for the best flight deals before booking your getaway to the sunshine state.
Daytona Beach. Home to NASCAR events and one of Florida's most popular spring break destinations, Daytona Beach offers a wide variety of activities and attractions. From sand dunes to boardwalk shops, there's something for everyone here!
Vero Beach. Famous for its gentle surf and white sandy beaches, Vero Beach is the ideal spot to soak up some warm winter sun or take a romantic stroll along the shore.
Cocoa Beach. Not to be confused with the nearby city of Cocoa, Cocoa Beach is a popular destination for surfers and beach-goers alike. Here you can enjoy miles of sandy beaches, swimming, fishing, water sports and more! Kennedy Space Center is also a very short drive from Cocoa Beach for NASA and space enthusiasts.
St. Augustine Beach. This historic beach town is known for its Spanish colonial architecture and unique culture. Visitors can explore the town's restaurants and bars, or take a fishing charter out for some deep-sea adventure.
Jacksonville Beach. With its white sand beaches, lively boardwalk and diverse nightlife, Jacksonville Beach is the ideal spot for a winter getaway. Spend the day swimming or playing beach sports, then head out to some of Jacksonville's best bars and restaurants for a fun night on the town.
Amelia Island. With its picturesque beaches, nature preserves with nature trails, and historic downtown Fernandina Beach, this barrier island is a great destination for beach-goers looking to escape the cold weather. History of Fort Clinch as well as plenty of activities for nature lovers, this popular destination is a good pick for those that like to be outside as much as possible.
Southwest Florida Beaches to visit in winter.
Back over to the Gulf Coast with its calm waters. Unfortunately as I write this, this part of the coast is recovering from taking a direct hurricane hit. You may want to hold off as this area is rebuilding the beautiful beaches and availability of vacation rentals is tight.
When things return to a somewhat normal state, the following beaches are my top picks for a winter getaway. No matter what time of year it is, you can always find the perfect beach in Southwest Florida.
From Sanibel Island to Everglades National Park, there are plenty of beaches to explore and enjoy during your stay. Pack up your bag and head down south for some sun, sand, and fun at these beaches:
Marco Island has a perfect beach for soaking up the sun and taking in the stunning views of the Gulf of Mexico. Fort Myers boasts miles of soft sand and tranquil shores, making it ideal for swimming and relaxing.
Sanibel Island is known for its abundance of shells that line its beaches. Sanibel Island is a great choice for beach-goers who like to relax and explore. With its quaint shops, restaurants, and galleries, you can experience the local culture while still getting in some much-needed beach time.
The Everglades National Park is a must-see for nature lovers and outdoor adventurers. Here, you can explore countless acres of tropical land and spot some of Florida's most exotic wildlife. Plenty of picnic tables to enjoy a snack in one of the country's wildest national parks.
Siesta Key is known for its bright white sand and gentle waves, making it the perfect destination to get away from the hustle and bustle of everyday life. Located on a barrier island off the coast of Sarasota County, this beach boasts crystal white sand that is made up of 99% quartz crystals! It's also been voted as one of the best beaches in the United States several times over.
Fort Myers offers the perfect mix of relaxation and activity. Whether you're looking for a place to lounge on the sand or take part in some waterspouts, Fort Myers has something for everyone.
West Central and Panhandle Florida Beaches to visit in winter
Crystal clear water from Clearwater through Panama City Beach over to the west coast of Florida's Panhandle, folks flock to this area for vacations all year long. The average high temperature in Panama City Beach can range from mid-60s to lower 80s.
Many feel winter is the best time to visit the west coast of Florida. Fewer crowds until Spring Break and beautiful white-sand beaches have folks returning year after year for a winter getaway.
The top Florida beaches to visit in winter in West Central, Treasure Coast and the Florida Panhandle are:
Clearwater Beach. This world-famous beach is a great place to start your trip, with its soft white sand and gentle waves.
Tampa Bay Beaches. This area is home to some of the best beaches in the world, from St. Pete Beach and Fort Desoto Park to Caladesi Island State Park.
Panama City Beach. Famous for its nightlife and lively atmosphere. Folks come here for its lively atmosphere, nightlife, and miles of shoreline to explore as well as the beautiful turquoise waters.
Navarre Beach. Relax in the shallow waters of this secluded beach located on the Gulf of Mexico near Pensacola.
St. George Island. Nestled between Apalachicola Bay and the Gulf of Mexico, this quiet beach is perfect for star-gazing or spotting dolphins in their natural habitat.
Santa Rosa Beach With its powdery white sand and emerald green waters, Santa Rosa Beach offers plenty of outdoor activities like fishing, kayaking and more.
Pensacola Beach. If you're looking for a more undeveloped beach, head to Pensacola for its crystal clear waters and secluded beaches.
Destin. Luxurious resorts and world-class golf courses, Destin is perfect for those looking for a little bit of everything in one coastal destination.
Anna Maria Island. This quaint island, located on the Gulf Coast of Florida is known for its laid-back vibe and abundance of nature trails.
Still need a reason? Read this next: 5 reasons to take a beach vacation in the winter.
Truthfully? No matter where you decide to go in Florida this winter, you're sure to find some beautiful beaches along the way! With crystal clear waters and white sand beaches, Florida is the perfect destination for a winter getaway.
Upcoming Trip?
I like to use Booking for booking not only my hotels, but my tickets and rental cars as well. Makes life so much easier with only having to log into one location for my information.
Be sure to grab my travel tips to save you time and money. You'll also be entered into the weekly drawings.
Register here: Get 100 Travel Tips EVERY traveler should know PLUS entered into the weekly drawing.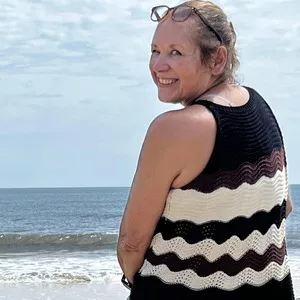 About Denise
Denise Sanger lives a life split between her love for fitness and her passion for travel particularly to the BEACH. Denise also has a love of marketing and lives in beautiful Suwannee County, Florida. You can find out more about Denise here: About Denise