How To Plan Dates: Romantic Beach Date Ideas For Couples
This article may contain affiliate links. Whenever you buy something through one of these links, I may earn a small commission without any cost to you. I really appreciate it as it supports this site and my family. Thank you!
Romantic Beach Date Ideas That Will Make Your Heart Flutter
UPDATED 7/2023. Are you looking for a romantic beach getaway, look no further! These romantic beach date ideas will make you and your significant other's hearts flutter.
Below is a list of unforgettable and romantic beach activities that will definitely make your trip you and your honey will always remember.
Whether you're in search of quiet, intimate moments or you are a couple that likes to get out and experience new things, you will find what you're looking for in the list below.
From sunset walks along the shoreline to snorkeling hand-in-hand in crystal clear waters, you will create lasting memories. Dive into the ocean of love with your honey, take fun beachfront picnics, enjoy a couples' massage looking out at the water then end the day with starlit stargazing.
Thank you for reading this post. Don't forget to subscribe! This way you never miss an update, travel deals, discounts and more!! Subscribe to the right------>
Whether you're planning a honeymoon, anniversary celebration, or simply a romantic getaway, these activities are sure to ignite the flame of love and create unforgettable moments.
There are so many fun things you can do on a couple's getaway, for your anniversary, for Valentine's Day or any day that you want to add a little romance to your relationship.
So, grab your sunscreen, pack your bags, and get ready for the ultimate romantic beach adventure.
Why choose a beach getaway for couples?
A beach getaway is the perfect setting for a romantic escape with your special someone. The soothing sound of waves crashing against the shore, the warm sun kissing your skin, and the breathtaking views of the ocean create an atmosphere of tranquility and love.
The beach provides a serene and picturesque backdrop that enhances the romantic experience, making it the ideal place to reconnect and create lasting memories with your loved one.
Spending time at the beach as a couple offers a multitude of benefits. The fresh sea air, rich in negative ions, has been proven to reduce stress and promote relaxation.
The gentle ocean breeze and the rhythmic sound of the waves have a calming effect on both the mind and body, allowing you and your partner to unwind and escape from the pressures of daily life.
You may have read this before because I use this sentence often. No matter what else is going on in the world, the waves will continue to roll onto the shore. It's a reminder to me when I was going through tough times, sitting on the beach in South Florida watching the waves roll one after another onto the sand.
The beach also provides an opportunity for physical activity, such as swimming or beach volleyball, which can boost endorphin levels and increase feelings of happiness and well-being.
From sunset strolls to intimate picnics, below are some of the best romantic beach date ideas for you:
Sunset Stroll for Romantic Beach Dates
One of the most romantic things you can do on the beach is taking a leisurely stroll along the water's edge as the sun sets.
Hold hands and take in the stunning scenery as you chat and get to know each other better.
The setting sun is also the perfect time to snap those pics. The light is fantastic!
When it comes to romantic moments, few things compare to a sunset stroll along the beach to get you in the mood. There's something about the relaxing sound of the waves and the warm glow of the setting sun that just brings folks together.
Hold hands and walking along the surf is the perfect way to get close to someone special. As you chat about the day while taking in a breathtaking sunset, you'll definitely relax and get to know each other on a deeper level.
Couples' spa treatments and massages by the beach
Indulge in the ultimate relaxation experience by treating yourselves to a couples' spa treatment or a massage by the beach.
Many beach resorts offer spa services that cater specifically to couples, providing a serene and tranquil environment where you can unwind and rejuvenate together.
Imagine being pampered with a soothing massage while listening to the sound of the waves and feeling the gentle ocean breeze on your skin.
This intimate and indulgent experience will leave you and your partner feeling relaxed, refreshed, and even more connected.
Romantic Beach Dates: Picnics
What could be more romantic than a picnic on the beach? Simple too! Just pack up your favorite food and drinks with along with a blanket, and head to your favorite beach.
Spend time relaxing in each other's company as you while enjoy a simple beach picnic. There's nothing quite like a romantic beach picnic.
Listen to the sound of the waves crashing against the shore, the smell of salt in the air, and the feel of sand between your toes. The beach makes everything feel more romantic.
Really want to impress your date? A picnic can be made special by adding a few extra touches.
Pack up their favorite food and drinks.
Add a blanket and some candles if you plan to be on the beach at sunset. Then find the perfect spot on the sand.
Want your picnic set up for you? This is a great option: Book A Private Romantic Beach Picnic At Sunset
For the adventurous couples, consider beachfront camping. Set up a tent on the sand, listen to the sounds of nature, and fall asleep under the stars. This unique and adventurous experience will create memories that you will cherish for years to come.
Romantic Beach Dates: Stargazing
Watch the sun goes down, then lay back and gaze up at the beautiful star-filled sky. The stars are infinite and so romantic to share this view with a special someone.
The night sky has always been a source of wonder and fascination for people throughout history. Simply something about the vastness of the universe that fills us with wonder and hope.
Stargazing is a great way to appreciate the beauty of the universe. It is also a great opportunity to spend time with someone you care about.
There are a few things you will need to check before schedule an evening of stargazing.
A few things you will need are clear weather conditions. Look for an area away from light. A pair of binoculars if you want to look for constellations or another event.
Once you have all of these things, find a comfortable spot to place your blanket or chair then sit or lie down. Look up at the sky and relax as your eyes adjust to the darkness.
You may see some bright stars or constellations right away. But it may take up to 20 minutes for your eyes to adjust and for you to see all the beautiful things the night sky offers us.
Relax, enjoy and your time exploring the different stars, planets, and other things you may see. If you have binoculars use them to get a closer look at things that catch your attention.
Bring your phone so you can also use apps to help identify what you are seeing in the night sky. The put it away. Don't spoil the magic of stargazing with your special someone.
Next time there is a clear night sky, grab your significant other and head outside. Then relax and enjoy nature's spectacular show.
Romantic Beach Dates: Bonfires
There's something about a bonfire on the beach that just screams romance. Gather some wood and build a fire, then sit back and relax with your date. Roast some marshmallows and enjoy each other's company as you watch the flames dance.
Bonfires on the beach literally scream romance. And they're easy to set up too.
Simply gather some wood, build a fire, then sit back and relax with your date. Roast some marshmallows. Pop open a bottle of wine and enjoy each other's company as you watch the flames dance.
Sitting around a Beach Bonfire with someone you're interested in that feels so romantic. And may push things to the next level if that's what you want.
The sound of the waves crashing in the background as you gaze at the flames of the fire create an intimate setting. Whatever the reason, bonfires are a great way to spend time with someone special.
If you're planning on having a Beach Bonfire with your date, there are a few things you'll need to do in order to make sure it's successful.
They are:
Gather wood and build a fire. You can usually find wood for sale near a beach that allows bonfires. Or you can bring your own from home.
Bring a blanket or chairs so once you have a nice fire going, you can sit back and relax with your date.
Roast some marshmallows and wine while enjoying each other's company as you watch the flames dance.
The best things about Beach Bonfires are that they can be as simple or as elaborate as you want them to be. If you want to keep things low-key, bring a few snacks and drinks and enjoy each other's company around the fire.
But if you want to really ramp it up, you can cook dinner over the fire and enjoy a romantic meal under the stars.
Beach bonfires are a great way to create lasting memories with someone special.
Romantic Beach Dates: Swimming
Taking a dip in the ocean with your date is a fun way to relax and enjoy a date. Swimming takes the pressure off as you splash and enjoy fun in the water.
After a long, hot day, it's a great way to cool off too as well as a great way to spend time with your date. There are many different ways to enjoy swimming.
Take a dip in the ocean or pool during the day or bring your beach chairs to the surf and let your toes enjoy the cool water.
Swimming is also a great workout. It's also a low-impact activity, which means it's easy on your joints. Perfect for any fitness level.
Don't swim? No worries! You can enjoy any of the above activities that do not require you to get in the water.
Whether you're strolling along the water's edge, picnicking on the sand, swimming and splashing in the water or stargazing under the night sky, you are creating lasting memories. Memories you will want to share with your kids and grandkids down the road.
Planning your next romantic beach getaway
Now that you're armed with a list of unforgettable and romantic beach activities, it's time to start planning your next getaway. Consider the location, the time of year, and the amenities offered by different beach resorts.
Whether you choose a secluded tropical island or a bustling coastal town, make sure to select a destination that suits your preferences as a couple.
Research the local attractions, restaurants, and activities to ensure that your getaway is filled with both relaxation and adventure.
And most importantly, don't forget to pack your sense of adventure, love, and excitement as you embark on your romantic beach adventure.
The links will help you plan the most romantic beach dates including best places to enjoy your beach getaway.
Upcoming Trip?
I like to use Booking for booking not only my hotels, but my tickets and rental cars as well. Makes life so much easier with only having to log into one location for my information.
Be sure to grab my travel tips to save you time and money. You'll also be entered into the weekly drawings.
Register here: Get 100 Travel Tips EVERY traveler should know PLUS entered into the weekly drawing.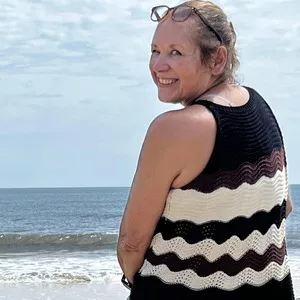 About Denise
Denise Sanger lives a life split between her love for fitness and her passion for travel particularly to the BEACH. Denise also has a love of marketing and lives in beautiful Suwannee County, Florida. You can find out more about Denise here: About Denise