Easy Watermelon Martini Beach Cocktail Recipe
This article may contain affiliate links. Whenever you buy something through one of these links, I may earn a small commission without any cost to you. I really appreciate it as it supports this site and my family. Thank you!
Watermelon. Watermelon. Watermelon. Does anything say summer better than a chilled slice of watermelon? Yes! This easy Watermelon Martini Beach Cocktail recipe!
Watermelon cocktails are very refreshing. Not heavy or loaded with unnecessary sugars. The watermelon adds just the right sweetness.
I enjoyed sipping my first Watermelon Cocktail on the beach. Bet that's a surprise right?
It was at a tiki bar on the beach in Panama City Beach. I sat at the bar that overlooked the waves as I watched the sunset. It was a beautiful split moment in time and the Watermelon Martini the perfect touch.
Thank you for reading this post. Don't forget to subscribe! This way you never miss an update, travel deals, discounts and more!! Subscribe to the right------>
Since then, I have enjoyed this cocktail every summer whether at home or on the beach or simply out for dinner. And it's easy to make too.
One of the best ways to try new foods and cocktails is by signing up for a food tour. I have been making my way through these in Florida and really enjoying them. You can get more information here: Food And Beverage Tours
Below are the ingredients and easy to follow recipe. I have also added links to a few of my other favorite beach cocktails.
Watermelon Martini Cocktail Ingredients
Vodka 2 ounces. I do prefer a higher quality Vodka and use Grey Goose that is kept chilled in the freezer.
Fresh Seedless Watermelon, 1/2 cup OR 1/4 cup watermelon juice. Fresh is better in my opinion.
1/4 cup fresh squeeze lime juice (if not available, ready to use lime juice is also okay.)
Mint leaves if desired.
Watermelon Martini Beach Cocktail Instructions
Now comes the fun part! First put the lime juice and mint leaves, if you are using those, into a shaker cup and muddle (mix together) to bring out the flavors.
Next add your watermelon and continue to mix together until it looks like a smoothie.
Add ice and Vodka and shake, shake, shake!
Use a strainer and strain your Watermelon Martini Beach Cocktail into a martini glass and garnish with a wedge of watermelon. Salute! Enjoy!
Below are a few more of my favorite Beach Cocktails to enjoy:
Upcoming Trip?
I like to use Booking for booking not only my hotels, but my tickets and rental cars as well. Makes life so much easier with only having to log into one location for my information.
Be sure to grab my travel tips to save you time and money. You'll also be entered into the weekly drawings.
Register here: Get 100 Travel Tips EVERY traveler should know PLUS entered into the weekly drawing.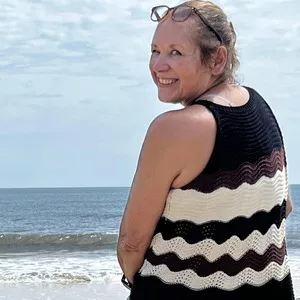 About Denise
Denise Sanger lives a life split between her love for fitness and her passion for travel particularly to the BEACH. Denise also has a love of marketing and lives in beautiful Suwannee County, Florida. You can find out more about Denise here: About Denise