How To Make A Lemon Margarita Beach Cocktail
This article may contain affiliate links. Whenever you buy something through one of these links, I may earn a small commission without any cost to you. I really appreciate it as it supports this site and my family. Thank you!
There is something about lemons that to me means summer. Maybe it comes from getting a great big glass of cold lemonade on a hot day when I was a kid.
Whatever the reason for the love I have that lemons means summer, one of my favorites every single year is a Lemon Margarita. Simply put – ahhhhh! Refreshing like a Nestea plunge!
The first time I had a lemon margarita was in a beach bar. A tiki bar in Fort Lauderdale that also served food.
I actually started to order my normal simple margarita. The margarita that Jimmy Buffett's restaurants call the "perfect" margarita.
Thank you for reading this post. Don't forget to subscribe! This way you never miss an update, travel deals, discounts and more!! Subscribe to the right------>
We had stopped for lunch and our server asked me if I had ever tried a lemon margarita. I had not so I gave it a whirl.
And it was YUMMY! Luscious lemon mixed with tequila. Can you say winning? Very refreshing yet decadent at the same time.
Now you know your girl here LOVES her Bushwacker frozen cocktail when at the beach. I also love Piña Coladas, Dirty Banana and pretty much ANY margarita or frozen cocktail.
But this lemon margarita with a touch of salt on the rim is quite refreshing.
When you are next on a beach vacay, be sure to give a Lemon Margarita a try. I bet you will write me and say you were right Denise. It's SCRUMPTIOUS!
Not going to the beach soon? It's okay! I've got the recipe for you so you can make this yummy lemon cocktail at home.
I am not sure where I found this recipe, but it is definitely my favorite. Hopefully the mixologist who created it reaches out, so I can give credit to them. Ready? Here you go:
Simple Lemon Margarita Recipe
Ingredients
Tequila 1.5 ounces
Cointreau 1 ounce
Lemon juice
Salt for the rim
Personally? I prefer Jose Cuervo for my cocktails. I stay FAR away from anything that includes "well" bottles.
Why? Those ALWAYS give me a bad hangover the next day whether I enjoy one cocktail or three cocktails over the night.
The kind of next day that has you saying you will NEVER drink tequila again. But with Jose Cuervo tequila that never happens.
Cointreau is an orange-flavored triple sec liqueur. Adds the perfect balance of sweet versus tart. If you cannot find Cointreau, Grand Marniar is another orange based liquor you can use instead.
Now that you have assembled all your ingredients, let's make your cocktail!
Instructions
Assemble all your ingredients together to save time. You'll be able to enjoy your lemon margarita cocktail sooner!
Dip your glass in water, then in salt to cover the rim. Shake off any loose salt.
Lemons. You definitely want fresh lemons – not lemon juice. You will squeeze 4 to 5 lemons for this cocktail.
Put all ingredients into a shaker and shake.
Pour over ice in a glass (tumbler glass), garnish with a lemon and enjoy!
You can get the tequila and Cointreau delivered right to your home. I use Drizly.
Not heading to the beach anytime soon? Make this refreshingly scrumptious cocktail at home and add a vacay stirrer to your cocktail.
Before you know it, you'll be using your imagination visualizing yourself on the beach in your lounge chair, sipping your margarita. Let me know how you love it!
Upcoming Trip?
I like to use Booking for booking not only my hotels, but my tickets and rental cars as well. Makes life so much easier with only having to log into one location for my information.
Be sure to grab my travel tips to save you time and money. You'll also be entered into the weekly drawings.
Register here: Get 100 Travel Tips EVERY traveler should know PLUS entered into the weekly drawing.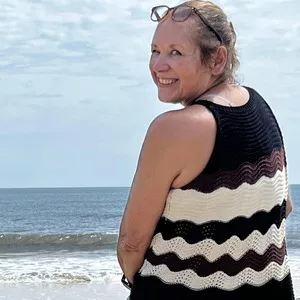 About Denise
Denise Sanger lives a life split between her love for fitness and her passion for travel particularly to the BEACH. Denise also has a love of marketing and lives in beautiful Suwannee County, Florida. You can find out more about Denise here: About Denise