Guide to Shark Watching Florida
This article may contain affiliate links. Whenever you buy something through one of these links, I may earn a small commission without any cost to you. I really appreciate it as it supports this site and my family. Thank you!
Hope you enjoy this Ultimate Guide to Shark Watching Florida!
Interested in shark watching Florida? This has been the summer of shark sightings all over the USA. One of the most recent shark sightings was at a beach on the Gulf Coast of Florida that I visit all the time.
Keaton Beach is a bit north of Steinhatchee, Florida. Little old vibe Florida beach town. A girl and her family were scalloping a few miles offshore when she was bitten by a shark.
This girl was so brave. It really surprised me reading about her because she said her first instinct was to punch the shark in the nose.
I do not know how I would react to something like this but kudos to her! Her brother, a firefighter and EMT, raced over to assist her and was able to get her away from the shark.
Thank you for reading this post. Don't forget to subscribe! This way you never miss an update, travel deals, discounts and more!! Subscribe to the right------>
Later, sharks were sighted off the coast of Jacksonville Beach as well as farther north in Cape Cod, New York and the Jersey Shore. It seems no matter where you are this summer on the beach, sharks have been sighted.
Funny to me is that folks have messaged me asking where the best places are to see sharks. I did not realize that shark watching was something that many like to do.
So, here we are. This will be your ultimate guide to shark watching in Florida.
How Many Shark Attacks in 2022?
As of this writing, there have been 28 shark attacks reported throughout the United States. The beach with the most? New Smyrna Beach as I mentioned in this recent article: Sharks In Florida, Which Beaches Have The Most Sharks
What month do sharks attack the most?
You would think that the most attacks would occur during summer months when there are a lot of people in the water. But according to data, the best time of year to see sharks as well as when most shark attacks occur during the months of October through December.
Which shark bites the most?
Great white sharks are reported most often as the shark that has attacked.
What is the shallowest water that sharks can swim in?
Sharks can swim in water as shallow as 5 feet, but some reports have been made in 3 feet of water. Do you swim with your dog? Sharks are attracted to dogs swimming. Many shark species also hang around the many fishing piers in Florida.
Are sharks swimming closer to shore?
The answer is yes. Scientist believe it is due to climate change and warmer waters.
What species of sharks are found in Florida?
There are 15 different varieties of sharks to be found in Florida waters. The following are the sharks you may see:
Nurse Sharks
Black tip Sharks
Lemon Sharks
Bull Sharks
Great Hammerhead Sharks
Sandbar Sharks
Blacknose Sharks
Tiger Sharks
Atlantic Sharpnose Sharks
Scalloped Hammerhead Sharks
Caribbean Reef Sharks
Bonnethead Sharks
Dusky Sharks
Spinner Shark
Great White Shark
Silky Shark
Best Places For Shark Watching In Florida
Ready to see sharks? Florida is a peninsula surround by water on three sides which makes it easy to head to the water for your shark watching adventure.
Best thing to do is take a shark tour. There are a number of companies that offer shark tours in Florida, and they're a great way to see sharks up close.
You'll usually be able to find a tour that takes you out to see sharks in their natural habitat, and you'll also get the chance to learn more about these fascinating creatures.
Shark viewing trips are available in almost every large city from the Florida Keys to West Palm Beach in South Florida continue up the Atlantic Coast. On the Gulf side, you'll also find some amazing shark tours.
Shark Dives
Shark dives are best handled by booking your tour with an experienced shark diver. Not only will they know where to find the largest number of sharks to view, they will also keep you safe while providing you with an unforgettable experience.
Not only will they know where to find the largest number of sharks to view, they will also keep you safe while providing you with an unforgettable experience.
Have you ever wanted to get up close and personal with one of the ocean's most feared predators? Have you ever wanted to get up close and personal with one of the ocean's most feared predators? If so, shark diving in Florida shark diving may be the perfect activity for you!
You'll be enclosed in a metal shark cage that protects you from the sharks, but still allows you to get close enough to see them up close and personal.
If cage diving isn't for you, there are also open water shark dives available. These dives are less common, but they do offer a more immersive experience. Just be sure to go with a reputable tour operator who has experience leading these types of dives.
There are a few different shark diving tour operators in Florida, so you'll have to do some research to find the one that's right for you. But once you're on a shark dive, you're sure to have an experience you'll never forget!
Scuba divers can also get in on the shark diving action. There are a few tour operators that offer scuba shark dives, where you'll be able to see sharks while you're exploring the reefs.
If you're a certified diver, there are plenty of dive sites around Florida where you can see sharks. And even if you're not a certified diver, you can still go snorkeling in areas where sharks are known to frequent.
Just be sure to check with the local authorities before you enter any water where sharks may be present. And remember to keep a safe distance from all marine life including sharks, dolphins and sea turtles.
Love to fish? Shark fishing may be more your speed. Shark fishing is a popular sport in Florida, and it's a great way to see these creatures up close.
There are a number of charter companies that offer shark fishing trips, and they'll usually supply all the gear you need. Just be sure to bring your camera, because you're going to want to get some great photos of your catch!
Shark Watching Tours
Miami Shark Tours. In South Florida one of the most popular tours guides for shark watching is Miami Shark Tours. Whether this is your first time diving or you are a seasoned diver, you will find a tour perfect for you. They have many great reviews. Get more info here: Miami Shark Tours
The Dry Tortugas is probably the best place in the Caribbean for shark watching in their natural surroundings. The park is home to a large number of shark species, including bull sharks, hammerhead sharks, black tips and nurse sharks.
There are a few different ways to see the sharks at Dry Tortugas National Park. You can take a glass bottom boat tour, go snorkeling or scuba diving, or even go fishing.
Keys Shark Diving is one of the top shark tour provides in the Florida Keys. Keys Shark Diving offers a variety of shark diving experiences, from cage dives to offshore waters dives. No matter what your level of experience, they have a shark dive that's perfect for you.You may even see a manta ray or two. Also check Key West Extreme Adventures
Also located in the Keys is Theater Of The Sea Swim home to dolphins, sea lions, sea turtles, fish, different species of shark, stingrays, alligators, and birds. You can literally feed, pet, and hold nurse sharks in their tank. Definitely the best way to get up and personal with sharks!
A few other popular destinations to see large numbers of sharks are:
Discovery Cove in Orlando, Florida has a shark habitat where you can swim with 20 different types of sharks in tropical waters.
Florida Aquarium. The Florida Aquarium's Dive With the Sharks program lets visitors get closer to the predators and other sea life. Now anyone age 9 or older can swim with the sharks at Florida Aquarium located on the West Coast of Florida. Be sure to check the schedule for shark swim times. No scuba certification needed.
No matter which type of shark dive you choose, you're sure to have an incredible experience. So what are you waiting for? Book your shark diving trip today!
Upcoming Trip?
I like to use Booking for booking not only my hotels, but my tickets and rental cars as well. Makes life so much easier with only having to log into one location for my information.
Be sure to grab my travel tips to save you time and money. You'll also be entered into the weekly drawings.
Register here: Get 100 Travel Tips EVERY traveler should know PLUS entered into the weekly drawing.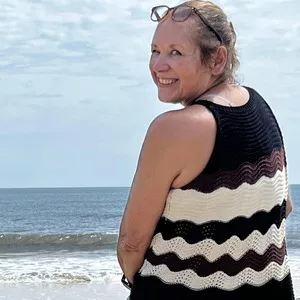 About Denise
Denise Sanger lives a life split between her love for fitness and her passion for travel particularly to the BEACH. Denise also has a love of marketing and lives in beautiful Suwannee County, Florida. You can find out more about Denise here: About Denise