Sharks In Florida, Which Beaches Have The Most Sharks
This article may contain affiliate links. Whenever you buy something through one of these links, I may earn a small commission without any cost to you. I really appreciate it as it supports this site and my family. Thank you!
Sharks In Florida, Which Beaches Have The Most Sharks
One question I am asked all the time is are there sharks in Florida? My answer? Absolutely! Florida is home to many sharks that are around all year and others that are migrating through to other waters.
Should you be worried? Let's start with the fact that there are many shark species swimming off Florida's coast. They are below in no particular order:
Bull Sharks. Bull sharks are a common species of shark often found nearshore and offshore waters of both the Gulf and Atlantic coasts of Florida. This shark commonly enters estuarine waters which are partially enclosed coastal waters, often popular swimming areas. They are also one of the few shark species that may inhabit freshwater.
Hammerhead Sharks. Hammerhead sharks are commonly seen on Florida's coastline. They are both tropical and subtropical sharks that live in the open ocean and the shallow coastal waters of both the Gulf and Atlantic coasts of Florida. They prefer coral reefs but may also be found near the opening of bays and inlets.
Thank you for reading this post. Don't forget to subscribe! This way you never miss an update, travel deals, discounts and more!! Subscribe to the right------>
Blacktip Sharks. Another common shark that migrates in winter months to Florida coastline waters of the United States is the Blacktip shark. This shark will come close to shore often in waist-deep water in large schools and are often seen from Florida's beaches. These sharks do not pose a big threat to humans as the International Shark Attack File has recorded just 11 unprovoked attacks on humans by Blacktip sharks since 1959.
Great White Sharks. The scary star of Jaws, great white sharks are found along Florida's coastline all the way into South Florida and the Florida Keys but also commonly found in Australia and South Africa. Great whites are the most aggressive sharks in the world. According to the Florida Museum of Natural History, most unprovoked shark attacks on surfers and swimmers occur in 6 to 10 feet of water.
Lemon Sharks. Lemon sharks are a yellow-gray shark most commonly found in Florida's southern coastal waters, especially around wrecks and ledges. This common shark presents little threat to humans enjoying the Gulf of Mexico or beaches on the Atlantic side such as New Smyrna Beach.
Nurse Sharks. Nurse sharks are actually quite slow moving and this shark population prefers to dwell on the bottom of the gulf or ocean. They can get quite large though many up to 14 feet. Nurse sharks are very common around the Florida Keys.
Sandbar Sharks. This shark is also called the thickskin or brown shark. It prefers hunting for small prey and tends to avoid Florida beaches.
Shark Capital of the World
Love New Smyrna Beach? It holds the title of shark capital of the world in the USA but Australia actually has had the most unprovoked shark bites.
Shark Sightings in Florida.
Again, New Smyrna Beach has more shark sightings and attacks than other parts of Florida. According to the Florida Museum of Natural History located at the University of Florida, 137 shark attacks on human beings were investigated in 2021 with the USA leading the way with 47 confirmed bites.
Also in 2021, three women, Lacey Faciane, Casie Thompson and Qyuston Eubanks, were on a floatie near the shore of Pensacola Beach when they heard the screams of "shark'! Seven hammerhead sharks in the at least knee deep clear water could be seen. They waited it out while the sharks circled around before heading back out to deeper water.
As recently as a few days ago, a boy was bitten by a 4 foot shark in the shallow waters off Palm Beach County. The boy said the shark bit him then simply swam away. As mentioned above, sharks are not uncommon in shallow water, but shark bites rarely happen so this is not a usual occurrence.
Shark Attacks in Florida
If you're a little worried about vacationing in Florida due to shark attacks, don't be. The only fatal attack occurred in 2021 when a man was killed while bodyboarding in Morro Bay, California. Florida's water may be home to many shark species but they rarely venture close to shore. When swimming, remember the ocean is where sharks live.
Grab your list of 190+ beaches in Florida here: List Of All Beaches in Florida 190+ Reasons To Relax
Find great vacation deals on one of my favorite places, the Keys here: Florida Keys
Upcoming Trip?
I like to use Booking for booking not only my hotels, but my tickets and rental cars as well. Makes life so much easier with only having to log into one location for my information.
Be sure to grab my travel tips to save you time and money. You'll also be entered into the weekly drawings.
Register here: Get 100 Travel Tips EVERY traveler should know PLUS entered into the weekly drawing.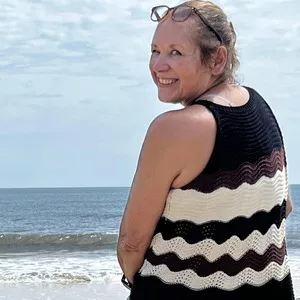 About Denise
Denise Sanger lives a life split between her love for fitness and her passion for travel particularly to the BEACH. Denise also has a love of marketing and lives in beautiful Suwannee County, Florida. You can find out more about Denise here: About Denise