Florida's Top 10 Thanksgiving Destinations For A Holiday To Remember
This article may contain affiliate links. Whenever you buy something through one of these links, I may earn a small commission without any cost to you. I really appreciate it as it supports this site and my family. Thank you!
Thinking about getting away from it all for Turkey Day? Below are Florida's Top 10 Thanksgiving destinations this year.
Some folks absolutely the chilly weather during the holidays. But if you are one that prefers it a bit on the warmer side like I do, Thanksgiving in the Sunshine State may be the perfect flavor for you.
This year, if you are ready to trade the traditional for the tropical, embark on a Thanksgiving journey through the 10 best cities Florida has to offer.
Choose between sandy beaches, rural rustic or theme park heaven. Any of the cities below are the perfect option not just a feast but a getaway that will leave you thankful for the memories made.
Thank you for reading this post. Don't forget to subscribe! This way you never miss an update, travel deals, discounts and more!! Subscribe to the right------>
Join us on a tour of Florida's Thanksgiving hotspots, where you can enjoy a warm turkey day this year.
Sunshine and Feasts: Discover Florida's Top 10 Thanksgiving Havens for a Holiday to Remember!
This year, the following are the best options for Thanksgiving holiday in Florida. At the bottom of this article, I have placed additional information to help you plan the perfect getaway.
Miami
Miami is a great choice due to how diverse this city is. People from all over the world live and enjoy the vibrant culture as it meets the various culinary delights.
Whether you are looking for a traditional turkey dinner or maybe something more Latin or Creole infused, Miami will deliver a feast for you to enjoy.
Check current rates and availability here: Best Miami Hotels
Orlando
Traveling with family? Orlando is a great option for you. Here you will find Disney World, Universal and Sea World theme parks.
Enjoy the festivities as Orlando transforms into a magical Thanksgiving wonderland. Discover holiday parades, feasts, and the spirit that fills the air.
Check current rates and availability here: Best Orlando Hotels For Families
Key West
Escape to the southernmost point of the continental U.S. for a Thanksgiving in paradise. Key West is one of the best options for adults who prefer a more laid-back getaway with waterfront dining, sunset cruises, and island charm.
Check current rates and availability here: Best Key West Hotels
Naples
Experience luxurious relaxation this Thanksgiving holiday along the Gulf Coast in Naples. Upscale dining, picturesque beaches, and elegant boutiques, Naples is the perfect escape for the holiday season.
Check current rates and availability here: Best Naples Hotels
St. Augustine
One of my absolutely favorite places in Florida. Step back in time into the fascinating history of the nation's oldest city. St. Augustine's cobblestone streets and historic charm provide the perfect backdrop for a Thanksgiving rich in tradition and as well as coastal vibes.
Check current rates and availability here: Best St. Augustine Hotels
Sarasota
Back on the Gulf Coast, if you like your Thanksgiving relaxing as well as full of things to do, head to Sarasota. This Gulf Coast gem boasts white sandy beaches, cultural festivals, and amazing waterfront dining.
Check current rates and availability here: Best Sarasota Hotels
Fort Lauderdale
So much fun in the sun! Fort Lauderdale has it all. Enjoy scenic boat parades, waterfront feasts, and fantastic shops. This city offers a sophisticated and sun-soaked holiday.
Check current rates and availability here: Best Fort Lauderdale Beach Hotels
Pensacola
The Florida Panhandle is one of the most beautiful areas in the Sunshine State. Embrace a coastal Thanksgiving in Pensacola, where the historic downtown blends with beautiful beaches. Turkey dinner with a view and charm of Florida's Panhandle.
Check current rates and availability here: Best Pensacola Beachfront Hotels
Clearwater
How about Thanksgiving by the sea in Clearwater? Here you will find sugar-white sands and aqua water as well as waterfront dining options, this Gulf Coast city provides a relaxing and scenic holiday retreat.
Check current rates and availability here: Best Clearwater Hotels
Jacksonville
Finishing up this year's top 10 in the Northeast Corner of the state in Jacksonville. Southern hospitality meets modern charm in this beautiful city of bridges.
Explore historic neighborhoods, enjoy riverfront celebrations, and indulge yourself in a decadent Thanksgiving feast.
This is where I will be part of the holiday weekend including the boat parade of lights. Tip: St. Augustine is a short drive away. Make it a two-fer!
Check current rates and availability here: Best Jacksonville Hotels
Hope you are able to enjoy a getaway this year to one of Florida's Top 10 Thanksgiving Destinations. Pack your bags, bring your appetite, and get ready to discover why Thanksgiving in Florida is a wonderful place to enjoy a warm holiday.
The following information will help you plan your Thanksgiving Getaway:
Upcoming Trip?
I like to use Booking for booking not only my hotels, but my tickets and rental cars as well. Makes life so much easier with only having to log into one location for my information.
Be sure to grab my travel tips to save you time and money. You'll also be entered into the weekly drawings.
Register here: Get 100 Travel Tips EVERY traveler should know PLUS entered into the weekly drawing.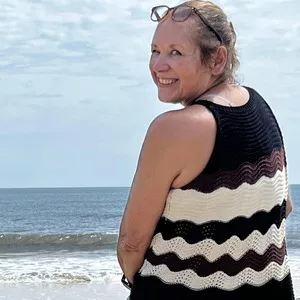 About Denise
Denise Sanger lives a life split between her love for fitness and her passion for travel particularly to the BEACH. Denise also has a love of marketing and lives in beautiful Suwannee County, Florida. You can find out more about Denise here: About Denise