Best Panama City Beach Vacation Rentals for An Incredible Vacation
This article may contain affiliate links. Whenever you buy something through one of these links, I may earn a small commission without any cost to you. I really appreciate it as it supports this site and my family. Thank you!
Thinking about a vacation on the Florida Panhandle? The best place and where to stay on the beach in my opinion are Panama City Beach vacation rentals. Much more affordable than hotels.
My last trip to PCB had me with sticker shock. We went to a popular beachside restaurant and ordered burgers and cocktails. There were four of us. The bill? $220!
I have never spent so much money on burgers and a few drinks in my life, but that is the world we are living in right now. So this last trip, we opted for a vacation rental literally right on the beach.
When I compared this getaway to the current rates for a hotel we used to stay in, the cost of the vacation rental was less than half.
Thank you for reading this post. Don't forget to subscribe! This way you never miss an update, travel deals, discounts and more!! Subscribe to the right------>
My picks are rentals directly on the white sandy beach. Literally less than 50 steps away. After all that is where I spend the majority of my time. Images are courtesy of VRBO.
These are the top 10 Panama City Beach Vacation Rentals
These are our top 10 PCB Vacation Rentals
Right on the beach and includes free tickets to golf as well as being near everything you need like restaurants, shops and more. 5-star rating and perfect for families. Get the details here: Boardwalk Beachfront
Next on the list at Tidewater Beach Resort is this rental that sleeps 9. 3 Bedrooms and 3 bathrooms makes this a fantastic option for families and reunions. Get the details here: Tidewater Beach Vacation Rental
Next on the list is this vacation rental literally minutes from the restaurants and shopping at Pier Park. 2 bedroom 2 bath vacation rental on the beach including beach chairs less than you would pay in the next door hotel. Get more information here: Emerald Isle Vacation Rental
Take a look at the view from pick number 4 at the Calypso. Another great option for families as this vacation rental sleeps 8. It is also a 3-minute walk to Pier Park making it easy to grab dinner or an ice cream. Get more information here: Calypso Beachfront Vacation Rental
Indoor and outdoor pool, hot tub and more awaits you at this vacation rental with Gulf Views. A bit farther out, this one is perfect for those that want a quieter getaway. This one is also great for families as it sleeps 9. Get more information here: Waterfront Vacation Rental
Take a look at this condo literally overlooking the Pier and the Gulf. How beautiful are these views? And it has a Tiki Bar! Again, another one less than a hotel stay, and you have the place to yourself! Walk to Pier Park and more. Get more information here: Tiki Bar Vacation Rental
Need something larger? Got you covered with the following beachfront houses.
This 4 bedroom, 4 bathroom beachfront home sleeps 14. This makes it perfect for a large family gathering, reunions and more. It's called Blessed and I can see why.
You are blessed to be on the white sandy beaches of the Gulf but still close to all amenities. Get more information here: Blessed Vacation Home Rental
This beachfront townhouse like the one above is also directly on the sand. Look at the views! Sleeps 10 and has off-road parking with a garage. Close to stores and restaurants and very affordable for a family. Get more information here: Beachfront Townhouse Vacation Home
You really cannot go wrong with any of these picks. The main decision would be location on the beach and whether you prefer more amenities nearby or like a quieter getaway.
I will be adding to this list so be sure to bookmark this page.
Below are a few more links to help you plan your Panama City Beach Vacation:
Upcoming Trip?
I like to use Booking for booking not only my hotels, but my tickets and rental cars as well. Makes life so much easier with only having to log into one location for my information.
Be sure to grab my travel tips to save you time and money. You'll also be entered into the weekly drawings.
Register here: Get 100 Travel Tips EVERY traveler should know PLUS entered into the weekly drawing.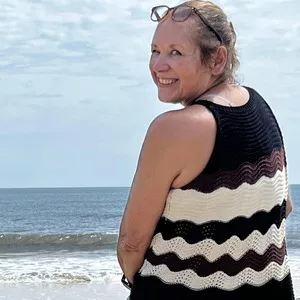 About Denise
Denise Sanger lives a life split between her love for fitness and her passion for travel particularly to the BEACH. Denise also has a love of marketing and lives in beautiful Suwannee County, Florida. You can find out more about Denise here: About Denise