Best Crab Legs In Panama City Beach
This article may contain affiliate links. Whenever you buy something through one of these links, I may earn a small commission without any cost to you. I really appreciate it as it supports this site and my family. Thank you!
Crab Cakes. Seafood Platters. Blackened Shrimp. And King Crab legs! What do these foods have in common? They are some of the best of the best seafood restaurants where you will find the best crab legs in Panama City Beach.
Not only are the beaches out of this world, there are plenty of activities to enjoy, along with great shopping at Pier Park. Even better? You will find some of the best seafood on the Gulf of Mexico right in Panama City Beach.
You all know PCB is my favorite, #1 beach destination. And for good reason. After you tick off your best things to do in Panama City Beach, it's time to eat!
Many Panama City Beach Restaurants not only serve amazing seafood, but you get a view of the beach too! Some of the best seafood restaurants in the state are located here with great service PCB is known for.
Thank you for reading this post. Don't forget to subscribe! This way you never miss an update, travel deals, discounts and more!! Subscribe to the right------>
I am going to eventually talk about all of them in future articles, but today we are going to strictly talk about where to get the best crab legs in Panama City Beach Florida.
Where to find the Best Crab Legs In Panama City Beach
At the top of my list is Local Steamer Seafood Market. Local Steamer Seafood Market is located at 14656 Front Beach Road, Panama City Beach, FL 32413 and is a great place to start.
I'm not bias either. This restaurant is rated number one by both Tripadvisor and YELP. Not easy to do these days. Truly one of the best places to eat on the Panhandle.
This restaurant is known for good food and one of those that you make sure to return to every time you and your family vacation in Panama City Beach.
In addition to crab legs, you can also enjoy shrimp, Royal Red Shrimp, Fresh Bay Scallops, their World Famous Tuna Dip, Steamed Seafood Platters and more.
For crab only, grab the Snow Crab Platter which includes potato, butter, corn and sausage. For a variety, you cannot go wrong by ordering the Famous Seafood Platter for Four.
The platter includes 10 jumbo peeled and deveined shrimp, and one cluster of crab. Corn, sausage, potatoes, hot butter and their famous local spice is sure to have your mouth watering from the time you place your order.
Local Steamer Seafood Market is open daily 11:30am – 11:00 pm.
Next on the list is Hook'd Pier Bar & Grill. This restaurant is also located on Front Beach Road at 16201 Front Beach Rd Panama City Beach, FL 32413. Really enjoyable, comfy down-home dining space.
If you can, grab a high top table. The views of the beach from Hook'd Pier Bar are out of this world.
Even better? This restaurant provides good service and is also dog friendly for those that always include their four legged family members with them on vacation.
Crab legs? You will find them here along with crab cakes, shrimp or fish tacos, shrimp prepared in a range of dishes including blackened, seafood platters and baskets plus burgers, chicken and steak for non-seafood eaters. Choose baked potato or french fries with your basket.
Folks have called this a dive bar on a few reviews. You know what I say? You can ALWAYS find the best food and the best fun in a dive bar. Hook'd Pier Bar did not disappoint.
Enjoy a seafood platter while my friend said the fish tacos were amazing. You may want to try those also.
And the cocktails! Let me just say I am making my way through the list and trying them all.
The staff? Every time we have visited, the staff has been amazing. Friendly. Fast. And truly caring that you have a great experience.
Hook'd Pier Bar is open daily 11 a.m to 9 p.m. Be sure to enjoy a beach cocktail as you watch the sunset. Hook'd Pier has the best views with full bar service!
Bayou Bill's Crab House is next on my list. You would think a restaurant with Crab in the name would have amazing King crab legs. They certainly do!
Bayou Bill's Crab House is located at 23100 Front Beach Rd Panama City Beach, FL 32413. It is open daily from 5 p.m. to 11:30 p.m. but get there early.
The service was outstanding on my last visit and the food even better. Many places we attempted to visit for dinner simply could not seat us.
This has often been the case since Covid with not enough employees or folks in the kitchen. Bayou Bill's did not miss a beat, and we enjoyed an amazing dinner.
Excellent seafood plus a huge range of options such as Filet Mignon and more options for those that do not enjoy crab legs or seafood.
Pineapple Willy is the next one on my list. I absolutely love Pineapple Willy.
On the beach? Check. Great food? Check. Good friendly service? Check. Live Music? Check. This funky restaurant checks all the boxes.
According to their website, William Buskell, (aka Pineapple Willy) started the local tradition has remained true to his mission of great food, great cocktails and great staff. And he delivers!
I am going to be honest with you. My last visit I had shrimp and grits, the Caribbean salad and a frozen Piña colada and all were out of this world delicious.
If you are feeling adventurous, try one of their po-boys. That's on my list for my next visit coming up soon.
Runaway Island is located at 14521 Front Beach Rd, Panama City Beach, FL 32413 with incredible views of the beach. This fun place has two levels of indoor dining space but also has an outdoor deck with boardwalk that will take you to the white sandy shores of the Gulf.
Before we get into the menu, be sure to enjoy the live music while sipping on a good beach cocktail. The menu? Truly something for everyone.
You can choose Alaskan Snow Crab, grouper, redfish, blackened fish such as mahi mahi, shrimp tacos, and other fresh fish options.
Want something other than fish? You will find it here. Before you dig into the burgers, check out the smoked tuna dip, baskets and kids options. Definitely one of the best restaurants on the beach.
Next on the list is Capt. Anderson's Restaurant located at 5551 N Lagoon Dr, Panama City, FL 32408. Be sure to try the She Crab soup appetizer. One word. YUM!
It was actually my first time in this restaurant, and it did not disappoint. Most entrées are served with soup or salad, potato or vegetable.
This restaurant is actually a bit more fine dining with a full wine list to compliment any dish you choose from crab cakes to jumbo Gulf shrimp.
Be sure not to let your taste buds miss out on dessert! Cheesecake to Key Lime Pie to dessert wines to compliment whatever you choose.
Let me know your thoughts when you next visit PCB. I'll add your comments to this post.
Upcoming Trip?
I like to use Booking for booking not only my hotels, but my tickets and rental cars as well. Makes life so much easier with only having to log into one location for my information.
Be sure to grab my travel tips to save you time and money. You'll also be entered into the weekly drawings.
Register here: Get 100 Travel Tips EVERY traveler should know PLUS entered into the weekly drawing.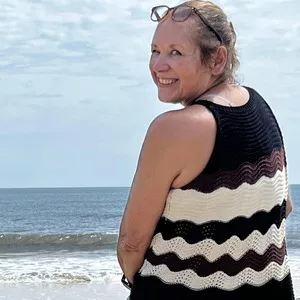 About Denise
Denise Sanger lives a life split between her love for fitness and her passion for travel particularly to the BEACH. Denise also has a love of marketing and lives in beautiful Suwannee County, Florida. You can find out more about Denise here: About Denise