St. Simons Island Georgia Things To Do
This article may contain affiliate links. Whenever you buy something through one of these links, I may earn a small commission without any cost to you. I really appreciate it as it supports this site and my family. Thank you!
This past weekend, I explored Southern Georgia islands with my brother and sister-n-law. Specifically Jekyll Island and St. Simons Island Georgia.
I have been to several beaches near Savannah, but this was my first visit to these two islands. They did not disappoint!
Jekyll Island will have its own article. Today it's all about St. Simons Island. Beautiful is the word I use to describe it.
Whether you're looking for a relaxing beach vacation or an action-packed getaway, you'll find it all on St. Simons Island in Georgia.
Thank you for reading this post. Don't forget to subscribe! This way you never miss an update, travel deals, discounts and more!! Subscribe to the right------>
This beautiful island offers something for everyone. From its stunning beaches and historic sites to its unique shops and delicious restaurants, there is plenty to explore.
A little over an hour's drive from Jacksonville, it is easy to spend a wonderful day on the island. We hit a few historical sites after walking the shores of the beach.
Where is St. Simons Island Georgia?
St. Simons Island is the second largest barrier island off the southern coast of Georgia, but there are other barrier islands nearby.
It is very well known not only for the beaches like East Beach but also the beautiful marshes.
How To Get To St. Simons Island Georgia?
You have a few options as far as airports near this island as well as Jekyll Island. Savannah/Hilton Head Airport is the closest but Jacksonville International Airport is also close.
Driving? You will definitely enjoy the view as you drive over the beautiful bridge onto the island. This bridge is currently the longest bridge at 480 feet and was named for poet Sidney Lanier.
Side note. There is also a Lanier Island, but it is mainly marsh.
Best Beaches At St. Simons Island Georgia
And you know we MUST talk about the beaches! I was actually not sure what to expect when I walked on the path that led to the beach.
We were visiting right after Hurricane Ian devastated southwest Florida before ripping across the state and up the coastline. Jacksonville did have some flooding. Would St. Simons Island?
Here's the thing. Our states survive on tourism, and you can pretty much find out what you need to know with a simple Google search. I did that and found no issues from this monster storm on the island.
East Beach is located on the Atlantic side of the island. And it was beautiful!
Not as much of a shoreline as I'm used to seeing but very pretty and clean. There were quite a few families enjoying the day as well as four legged family members as this is a pet friendly beach.
The end of the beach we were mainly on is called Gould's Inlet. The historic U.S. Coast Guard Station still stands at the entrance today. It is the present home to the World War II Home Front Museum.
Right off the parking lot, there is a very nice restroom and the sand beach is packed hard enough for those that like to bike on the shoreline. It is truly a great place to spend the day.
Little St. Simons Island also has a beautiful beach BUT you cannot drive to it. Very little development has helped this island maintain acres of untamed wilderness making it perfect for nature lovers.
This little island has seven miles of breathtaking beaches, natural beauty and fun outdoor activities to explore. You do have to plan ahead however as the only way to get to this special place is by boat.
One of the best things we noticed, were the amount of public beach access points along with a nice picnic area to enjoy. I want to say I counted 15 access points as we were driving along the island.
As you are exploring the island, watch for late archaic shell rings. Archaic shell rings are deposits of bone, shells, soil and other artifacts. They are found along the barrier islands and coasts of Georgia, South Carolina, and Florida.
Things To Do On St. Simons Island
For nature lovers, the sky is the limit for fun things to do! From the Sea Island Golf Courses to St. Simons Land Trust to a beautiful nature preserve, you will be happily exploring for days.
Sea Island Golf Courses. Did you notice plural as in courses?
That's right. This stunningly beautiful seaside golf course has several courses for you to choose from.
Stay right on the golf course at the lodge, inn or private cottage. If you plan to visit often, you may want to consider membership in their golf club.
Located near the beaches but not directly on the beach is Neptune Park. This is a fun water park located at 550 Beachview Drive.
The park was closed on our visit however as the season ends on Labor Day. From what I could see, it looks like a must-visit destination for families.
Christ Church traces its congregation membership back to 1776. The first church was built in 1820 but destroyed by Union Forces in the Civil War.
This beautiful church proudly displays stained-glass windows, wooded church grounds as well as a cemetery with graves of early St. Simons settlers.
It was right here that settlers, John and Charles Wesley, two brothers from England considered the fathers of Methodism in America first preached to the natives. Their church was below an enormous and beautiful oak tree and other moss-draped oaks.
This area of Georgia has played a huge role in American History. It is said the marsh ran red from Spanish blood which resulted in a victory to the British troops. This battle of bloody marsh stopped the Spanish invasion into this area of the United States.
Fort Frederica National Monument was our next stop on this beautiful island. This Fort was established in 1736 by James Oglethorpe to protect the southern border of the new colony Georgia.
In 1736, 44 men and 72 women and children arrived to build the fort and town, and by the 1740s Frederica was a village of 500 people.
This was the location of the Battle of Bloody Marsh. The battle was fought in this marsh location in 1742 when Spanish soldiers landed on the end of the island.
Today, you can visit the site of Fort Frederica, a national park, and see the ruins of the fortifications, barracks and homes.
Back over near the beach and U.S. Coast Guard Station, you will find the World War II Home Front Museum. The museum tells the story of World War II (world war ii) and how our coast was protected from German submarines and planes.

St. Simons Pier and St. Simons Island Pier Village are also located on the southern tip of the island. Enjoy browsing the many shops, restaurants and picnic areas before you venture to the lighthouse and museum.
St. Simons Island Lighthouse and Museum is next on the list. This lighthouse is in one spot and the museum in another.
The St. Simons Lighthouse is the oldest brick structure in this part of the coastline. It is maintained to this day by the US Coast Guard.
This 104 foot lighthouse has 129 steps you can climb to the top. From there take a deep breath because the view is out of this world.
This current lighthouse was completed in 1872. It proudly stands twenty-five feet from the original lighthouse site. It was built to replace James Gould's lighthouse, which was destroyed by the Confederate Troops in 1862.
Cannon's Point Preserve St. Simons Preserve Trust is also a must-visit for nature lovers and a point of interest on the island. Beautiful trails to hike or bike with educational signs along the paths makes this stop informative as well.
Once you park at Taylor's Fish Camp, you may only walk or bike to maintain the beautiful wilderness of this nature preserve.
Romantic vacation? Love horseback riding? You can choose to ride on the beach or a carriage ride with your special someone. Check with Golden Isles Welcome Center for information.
On nearby Jekyll Island, be sure to stop at the Georgia Sea Turtle Center. This center is dedicated to the rescue and rehabilitation of sea turtles.
Where to stay St. Simons Island Georgia
You know what? As we were driving around the island, I really did not notice many hotels along this part of the Georgia coast.
There are a few chain hotels as well as historic hotels in the area according to Booking.com. If I were to choose, I would stay in a hotel in the historic district of the island.
I did notice several resorts as well as VRBO rental homes. Personally? I always opt for a rental home and VRBO does show several beautiful vacation rentals for this island. You can start your search here St. Simons Island VRBO
St Simons Island is definitely on my list to return to soon for more exploring! Let me know what your favorite things are about this pretty island and favorite beach town of many of us.
Upcoming Trip?
I like to use Booking for booking not only my hotels, but my tickets and rental cars as well. Makes life so much easier with only having to log into one location for my information.
Be sure to grab my travel tips to save you time and money. You'll also be entered into the weekly drawings.
Register here: Get 100 Travel Tips EVERY traveler should know PLUS entered into the weekly drawing.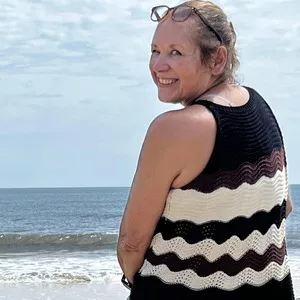 About Denise
Denise Sanger lives a life split between her love for fitness and her passion for travel particularly to the BEACH. Denise also has a love of marketing and lives in beautiful Suwannee County, Florida. You can find out more about Denise here: About Denise