Best Halloween Trips To Savannah Georgia (2023)
This article may contain affiliate links. Whenever you buy something through one of these links, I may earn a small commission without any cost to you. I really appreciate it as it supports this site and my family. Thank you!
If there is another historic city I love almost as much as St. Augustine, it's Savannah. I love this city so much I generally visit it once or twice a year. Even better? Taking Halloween Trips to Savannah, Georgia.
Savannah is chock-full of history so what BETTER beach city to visit on Halloween? From Savannah's historic district to Victorian districts, Savannah is considered America's most haunted city.
I'm not sure if I agree. After all, St. Augustine is pretty spooky too. So let's dig in and see how scary Savannah is during the Halloween Season and if you should take a trip to see it all. But first, let's talk about Savannah.
​Brief History of Savannah
Savannah's history is a wonderful combination of colonial planning, revolutionary strength, and of course Southern charm. This beautiful city was founded in 1733 by General James Oglethorpe and is one of the oldest settlements in the United States.
Thank you for reading this post. Don't forget to subscribe! This way you never miss an update, travel deals, discounts and more!! Subscribe to the right------>
St. Augustine is the country's oldest city founded in 1565. Savannah was founded almost 200 years later.
The city of Savannah itself has a unique layout. It is a grid of squares. This layout was designed by Oglethorpe's to provide a sense of community and green space. These spaces remain today.
Moving into the antebellum era, Savannah prospered financially as a hub for the cotton trade. It also became a center of Southern wealth.
Beautiful mansions on their oak-lined streets remain today to give you a sense of Old Savannah. Along with this southern history, it played a role in the transatlantic slave trade which still leaves its mark on the city.
Today, this city's history remains. You can see the cobblestone streets, historic homes, and cemeteries ghost hunters cannot wait to explore. It's no wonder the Halloween spirit is quite alive in Savannah.
What events are in Savannah at Halloween?
It's a pretty place to visit any time of year and I have visited when the river was green for St. Patrick's Day. But Savannah really comes alive at Halloween as one of America's most haunted cities.
Fun events for the whole family including a costume contest, pumpkin patches, a petting zoo, and other special activities for the kids. If you are one that loves to be scared though, you will also have a fantastic time enjoying all the Halloween events.
The events are not just held on a Halloween weekend. Many of them begin earlier in the month and go through mid-November. These are just a few of the events scheduled for this year:
Savannah Scare on the Square is a fun Halloween festival for the whole family. This festival is held at Emmett Park on Bay Street and is free admission.
Poppell Farms is a real working farm that opens to the public in the Fall. Enjoy a hay ride, a haunted corn maze, and other fun activities for the family. Get more info here: Poppell Farms
Davenport House Museum offers walking tours all year long, but Halloween is when you really want to visit.
Located on Columbia Square, one of the most beautiful squares in downtown Savannah, Davenport is a must on any Savannah Ghost Tour. Many reports of spirits making an appearance.
During this haunted house tour, you might see the ghost girl, the ghostly cat, and even the souls of those that passed during the 1820 Yellow Fever Outbreak. Get more info here: Haunted Davenport House Museum Tour
Halloween Bar Crawl is a fun adult event that is also called the Haunted Pub Crawl or Halloween Themed Bar Crawl. You can get tickets online.
The link is below, but I really like Get Your Guide for updated information. You can see more here: Get Your Guide Haunted Bar Crawl.
Halloween costume contests drink specials, and more to enjoy. Pick up your card at the starting bar then visit all the bars on the list. Nightmare On Congress Street is part of this crawl and also has a costume contest. 
Moon River Brewing Company is housed in one of the oldest haunted buildings in Savannah. This building has also been featured on the paranormal investigation TV show, Ghost Adventures.
It has been everything from a post office to a haunted hotel. You might want to check it out for yourself. Get up to date information here: Moon River Brewing Company Paranormal Investigations
Costume Contests. Stop at Forsyth Park for their contest then visit Wag-O-Ween and enter your dog into their contest.
Wag-O-Ween is a super fun event with your fur family members dressed in their Halloween finest. Trick or treat from Riverfront to the Starland District. This event supports local animal rescues.
Savannah Underground is one of the scariest events offered in the Savannah area. It is immersive and begins with a tour that explains the history of Savannah. Very scary.
Get up-to-date information here: Savannah Underground Immersive Ghost Hunt I'll say it one more time. VERY scary.
And the list of events this beautiful offers goes on and on. You can literally enjoy a fun run, visit a fall festival or two, grab lunch from one of many food trucks, then enjoy live music as you make your way through the haunted bars.
Savannah Cemeteries
We absolutely cannot skip the cemeteries. I don't know what it is about cemeteries, but I can literally spend hours walking through them.
The unique headstones are not only something to see but to read as well. This is why a Savannah Halloween is so much fun.
The best way to see them all is to take one of the ghost city tours. The cemeteries you will want to be sure to visit are below.
The Bonaventure Cemetery. Not in the thick of things but definitely a must-visit – especially on Halloween. This cemetery began in 1846 as a privately owned cemetery – The Evergreen.
The gorgeous Live Oaks and other trees draped with Spanish Moss throughout the cemetery gently stand guard over the plots. Not spooky during the day but definitely spine-tingling to visit after dark.
The second absolutely MUST-visit cemetery and the one I love to visit every time I'm in Savannah is Colonial Park Cemetery. This cemetery was established in 1750, but it's the history that is so fascinating.
In 1789, it became the cemetery of all denominations and Button Gwinnett, a signer of the Declaration of Independence is buried here.
But the history continues. Buried in this beautiful cemetery are the more than 720 victims of Yellow Fever in 1820. Colonial Park Cemetery is home to Savannah's famous ghosts. You can take a night walking tour through the cemetery – super fun on Halloween night.
Laurel Grove Cemetery is another one to put on the list. This cemetery is separated with black citizens on one side and white citizens on the other. It is a reminder of the civil war era.
The best way to see all the cemeteries is by taking a cemetery night tour. My top pick this year is Bonaventure After Hours Tour. Get information here: Savannah's Bonaventure Cemetery After Hours Group Tour
Tybee Island
We don't want to leave Tybee Island off this list. Make time to visit this quaint island and beach town especially Tybee Island Museum – Battery Garland.
The lighthouse and Battery Garden have spirits waiting for you to come calling. Get up to date information here: Tybee Ghost Tour
Top Ghost Tours
So many fantastic ones to choose from! These are my top picks:
Savannah Ghosts & Gravestones Trolley Tour. This tour takes you through the historic streets, historic buildings, battlegrounds, historic cemeteries, and old mansions. It also stops on River Street which is said to have many wandering spirits. Get information here: Ghosts & Gravestones Trolley Tour
Savannah History and Haunts Candlelit Ghost Walking Tour is another top pick. This walking tour is done by lantern and visits parts of Savannah other tours do not.
Tour guides are not only very informative, but they are also entertaining too. Up-to-date information here: Savannah History & Haunts Candlelit Ghost Walking Tour
The Grave Tales Ghost Tour in Savannah is a haunted walking tour of the Historic District ideal for first-time visitors. Get current information here: Grave Tales Ghost Tour in Savannah
Hearse Ghost Tours is a funny tour, not a spooky one. You get to ride in a real Hearse and see the beautiful historic homes. This tour is roughly 75 minutes long, and you can enjoy it all year long. More details here: Hearse Ghost Tours
You can imagine with all these spooky, fun things to do, the Halloween Party in Savannah never ends. The best time to hit them all is a few days before Halloween as the day of Halloween does draw large crowds.
These links will help you plan the Best Halloween Trips To Savannah Georgia
Upcoming Trip?
I like to use Booking for booking not only my hotels, but my tickets and rental cars as well. Makes life so much easier with only having to log into one location for my information.
Be sure to grab my travel tips to save you time and money. You'll also be entered into the weekly drawings.
Register here: Get 100 Travel Tips EVERY traveler should know PLUS entered into the weekly drawing.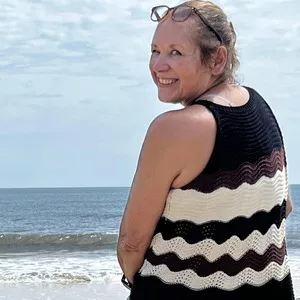 About Denise
Denise Sanger lives a life split between her love for fitness and her passion for travel particularly to the BEACH. Denise also has a love of marketing and lives in beautiful Suwannee County, Florida. You can find out more about Denise here: About Denise