Best Gainesville Florida Beaches
This article may contain affiliate links. Whenever you buy something through one of these links, I may earn a small commission without any cost to you. I really appreciate it as it supports this site and my family. Thank you!
Gainesville Florida Beaches
Gainesville, Florida is not on either coast, it is actually in the center of the state. Now where you would expect to find the best Gainesville Florida Beaches. This city has small town vibes with a college in the middle of it.
The University of Florida is one of the top colleges in the United States. Although this town may not be known for having the best beaches, they are fairly close.
A short drive to either coast, Gulf of Mexico or the Atlantic Ocean side has your feet in the sand. Literally. In about an hour or so, you can drive to a beach.
What is Gainesville, Florida best known for?
Gainesville, Florida is located in Alachua County and is best known for being home to the University of Florida. This large public university is one of the most popular in the state, and its sports teams are hugely popular throughout the country.
Thank you for reading this post. Don't forget to subscribe! This way you never miss an update, travel deals, discounts and more!! Subscribe to the right------>
Gainesville is also known for its beautiful weather and its many outdoor activities and attractions. Even though Gainesville is probably best known for UF, there are several highly rated hospitals and doctors located here.
Is Gainesville worth visiting?
It sure is! Gainesville has something for everyone. Whether you're a student at the University of Florida, a fan of the Gators, in the medical profession or just looking to enjoy some sunny Florida weather, you'll find what you're looking for in Gainesville.
What is there to do in Gainesville, Florida?
There's plenty to do in Gainesville, Florida, no matter what your interests are. For outdoor enthusiasts, there are numerous hiking and biking trails, as well as lakes and rivers for swimming, fishing, and kayaking.
If you're looking for some culture, you can check out the many museums and art galleries in town. And of course, don't forget about the University of Florida sports teams. They're always a big hit with locals and visitors alike.
With FSU and UF both in north Florida and the University of Georgia right up the road, there are plenty of friendly rivalries. From football to baseball to volleyball, always great games to watch. You may be lucky and be in town when the Gators are playing at Ben Hill Griffin Stadium.
Nearby Attractions
Gainesville in north central Florida is located off I-75 and the perfect place to easily get to several nearby attractions. In addition to theme parks, such as Walt Disney World or Universal Studios in Orlando or Busch Gardens in Tampa, there is so much to explore.
The Ocala National Forest is roughly 75 minutes to the south but Paynes Prairie Preserve State Park is located in Gainesville. Many times, I have biked the Hawthorne Trail that runs along the perimeter of the prairie.
There are several overlook points where you may see the wild horses or bison that call the prairie home. If you choose to hike in the prairie, check to see if it is flooded. The last few times I have visited the LaChua Trail, the portion to the overlook was closed.
You will still be able to see the alligators and other wildlife that calls the prairie home but not as close. Don't let you stop you though. There are several hiking trails you will still be able to access.
A little west, finds you near the Suwannee River and the many crystal clear springs. Ginnie Springs is a favorite as is Silver Springs and both are not far from the downtown area of the city of Gainesville.
Itchetucknee Springs is another must visit. Like Ginnie Springs, you can tube the beautiful clear water and possibly catch a glimpse of a manatee or two.
Yes. There are alligators in the rivers and springs. Any body of water in Florida may have an alligator in it.
There are also several historic buildings and other venues on the National Register of Historic Places. A few of my favorites are the Haile Homestead, Marjorie Kinnan Rawlings Historic State Park, and the Thomas Center.
Also be sure to visit one of the oldest towns in Florida, Micanopy. This town has many historic buildings as well as some of the best antique shops in the state of Florida and is a fun day trip for the whole family.
Love museums? You will definitely need to visit the Florida Museum of Natural History. It is located right on the UF campus and is free to visit.
Gainesville Florida Beaches
Let's chat about beaches! If you are looking for a beach getaway near Gainesville, Florida, look no further!
I have compiled a list of the best beaches near Gainesville. From St. Augustine to Daytona Beach to Cedar Key and the closest of them all, Crescent Beach. There is a beach for everyone.
Below is a list of the best nearby Gainesville Florida Beaches:
Beach number one on our list is Gainesville's very own Lake Wauburg South Beach. This beach is perfect for swimming, sunbathing, and picnicking, and is only a short drive from downtown Gainesville and the University of Florida
Crescent Beach is a great option if you're looking for the nearest beach with plenty of activities. I recently visited this beach and it is gorgeous! There's something for everyone at Crescent Beach, from swimming and sunbathing to fishing and kayaking. Here is the info from my last trip: 18 Best Things To Do In Crescent Beach, Florida
Flagler Beach is a great option if you're looking for a laid-back beach town vibe. The beach itself is beautiful, with golden sand and clear blue water. And there's plenty to do in the town, from shopping and dining to fishing and surfing. We ate lunch at the Funky Pelican right on the fishing pier.
Cocoa Beach is another great choice if you're looking for some waves to surf or bodyboard. The beach here is known for its good conditions and is a popular spot for surfing competitions. Even if you're not a surfer, it's still a great place to relax on the sand or take a dip in the waves. Be sure to check out the surf shops when you visit.
Daytona Beach is a beautiful beach with sand and clear water. It also has a fun boardwalk area with shops, restaurants, and entertainment. And if you're feeling adventurous, you can even try your hand at parasailing or jet skiing.
St. Augustine Beach is a great choice for those looking for a fun beach with a bit of history. St. Augustine is the oldest city in the United States. Its beach has been a popular spot for centuries. In addition to soaking up the sun, explore the fort, take a trolley ride and see the whole city, or some of the landmarks such as the lighthouse.
Jacksonville Beach is one of the most popular beaches near Gainesville. You will find easy parking, restrooms, and showers. Plenty of restaurants, bars, live music, shops and more.
Amelia Island is the place for you if you're looking for a more laid-back beach experience. This small barrier island is located just off the coast of Florida, and it's known for its quiet beaches. Visitors can enjoy plenty of activities, including swimming, sunbathing, fishing, and more. Amelia Island is also home to a number of historic sites you will want to explore. Fort Clinch State Park is definitely one of those places as it offers visitors a chance to learn about the island's history while enjoying its beautiful views.
Cedar Key is a small city located on an island of the same name, off the Gulf coast of Florida. The island is known for its quiet beaches and natural beauty. Cedar Key is also home to a number of historic sites. One of my favorites is Atsena Key which is an island off Cedar Key you can kayak over to or take a boat. There is a hiking trail on the island with an old cemetery.
Sanibel Island is a small island south of Gainesville located on Florida's Gulf Coast. This pretty island along with Captiva Island are home to some of the best shelling in Florida, so be sure to bring your bucket and shovel!
If you have time for a longer drive, head over to the Fort Walton Beach on the Florida Panhandle. This beach as well as Panama City Beach and Pensacola Beach are known for crystal clear turquoise water and soft sugar white sand. It has been rated as one of the top beaches in the United States!
So what are you waiting for? Gainesville is the perfect place to escape for a weekend and enjoy everything that the Sunshine State has to offer.
With beautiful beaches just a short drive away, there's no need to look any further for your next vacation spot. Book your trip today!
Upcoming Trip?
I like to use Booking for booking not only my hotels, but my tickets and rental cars as well. Makes life so much easier with only having to log into one location for my information.
Be sure to grab my travel tips to save you time and money. You'll also be entered into the weekly drawings.
Register here: Get 100 Travel Tips EVERY traveler should know PLUS entered into the weekly drawing.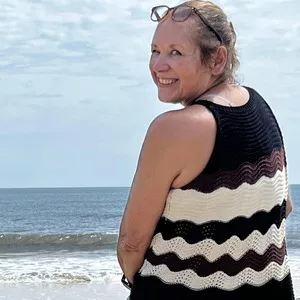 About Denise
Denise Sanger lives a life split between her love for fitness and her passion for travel particularly to the BEACH. Denise also has a love of marketing and lives in beautiful Suwannee County, Florida. You can find out more about Denise here: About Denise