Is Miami Safe For Travel? What You Need To Know To Travel Safely This Year.
This article may contain affiliate links. Whenever you buy something through one of these links, I may earn a small commission without any cost to you. I really appreciate it as it supports this site and my family. Thank you!
Wondering how safe it is to travel to Miami? We did some research to give you everything you need to know if you are asking is Miami safe for travel this year. We break it down below for you as well as additional links for more information at the bottom of the article.
Ready? Let's dig in!
Is Miami Safe for Travel? Essential Tips and Insights
My old stomping grounds! I love Miami and all of South Florida.
This Sunshine State destination is a vibrant city known for its stunning beaches, lively nightlife, and cultural diversity, continues to be a popular travel destination for tourists from all around the world. It is one of my favorite cities to visit.
Thank you for reading this post. Don't forget to subscribe! This way you never miss an update, travel deals, discounts and more!! Subscribe to the right------>
With such a reputation, one question that I am often asked is about this South Florida gem is: Is Miami safe for travel? As travelers ourselves, we've taken the time to evaluate the safety of visiting Miami based on various factors.
To be honest? When it comes to personal safety, Miami is similar to any other large metropolitan area. It's always important to be aware of your surroundings and use common sense while exploring the city.
This means taking necessary precautions, such as remaining aware of our surroundings, keeping belongings secure, and avoiding poorly lit areas during nighttime.
Yes there are some neighborhoods that are best avoided, but the majority of tourist areas in Miami are safe for visitors.
Because of this, tourism has continued to flourish in Miami, so local authorities and various establishments have incorporated measures to make sure visitors are safe.
From well-monitored streets to hotel security measures, the city of Miami works hard to maintain a sense of security for those who come to experience its many charms.
Is Miami A Safe City To Vacation At?
Is Miami Safe At Night?
While no city is without its dangers, we believe that Miami is generally safe at night. But keep in mind, this depends on the areas you visit, and the activities plan to enjoy.
We recommend sticking to well-lit and busy streets in popular areas, such as South Beach, Brickell, and Coconut Grove. It's important to remain aware of your surroundings and always trust your instincts.
Safest Places To Visit In Miami
To enjoy your vacation safely, here are a few areas we suggest you visit in Miami:
South Beach: Often touted as the main tourist hub, this area offers plenty of activities, attractions, shopping, and dining options. Definitely a must-visit.
Brickell: Located close to Downtown Miami, this upscale neighborhood gives you access to shopping centers, as well as excellent dining and nightlife opportunities.
Coconut Grove: This charming community is perfect for exploring lush parks, historical buildings, and outdoor cafés.
Places You Should Avoid In Miami
To stay safe during your Miami vacation, we suggest avoiding the following neighborhood:
Overtown
Little Havana (some parts at night unless you are with a local that knows the area.)
Allapattah
Liberty City
Tips For Staying Safe In Miami On Vacation
Here are some useful tips to help you stay safe and make the most of your Miami vacation:
Do not leave your belongings unattended at the beach.
Lock your car and do not leave any valuables in plain sight.
Walk in groups, especially at night.
Only use licensed taxis or reputable ride-share services.
Avoid discussing your travel plans or revealing your accommodations to strangers.
Keep a copy of your identification documents and medical insurance, both physical and digital.
How Safe Is It To Live In Miami?
If you are considering moving to Miami, you have to take a look at the good AND the bad. A vibrant city known for its distinct neighborhoods, beautiful beaches, and diverse culture, Miami also experiences some crime.
In terms of property crime, Miami ranks higher than the national average. These are crimes such as burglary, theft, and motor vehicle theft. Take precautions by investing in strong locks and security systems. Also, never leave valuables in our vehicles, and always being mindful of our surroundings.
On the other hand, violent crime rates, including assault and robbery, are only slightly above the national average. Remember, it's up to you to stay alert and aware of your surroundings at all times, particularly at night or in unfamiliar areas of the city.
It is also crucial to recognize that safety can vary significantly from one neighborhood to another. Some neighborhoods in Miami boast very low crime rates and may feel very safe, while others may have higher crime rates and may pose a greater risk.
Researching specific neighborhoods and utilizing online resources such as Crime Reports can give us insight into which areas experience higher crime rates.
Is Miami A Good Place To Live?
Miami is a wonderful place to live. I thoroughly enjoyed living in South Florida. Why did I leave? It simply became too crowded for me.
When exploring Miami as a potential place to live, consider things like weather, amenities, safety, and more. Miami offers a vibrant lifestyle, diverse culture, and beautiful scenery.
Miami has a tropical climate, meaning we enjoy warm weather year-round. It allows us to take advantage of the numerous outdoor activities like beaches, natural parks, and water sports.
Additionally, the city boasts a thriving arts and culture scene, with events like Art Basel and Miami Beach's Art Deco Weekend.
One aspect many find attractive about living in Miami is the diverse food and dining options. With an array of international cuisines, there is something for everyone to enjoy.
From classic Cuban dishes to a variety of Asian, European, and Latin American cuisines, the culinary scene is diverse and exciting.
Safety does remain a concern for some people considering moving to Miami. Like any large city, it has its share of crime.
We must be mindful of our surroundings and take precautions, such as not walking alone at night in unfamiliar areas. It is crucial to research neighborhoods and their safety records before choosing a place to live.
Lastly, housing and living expenses can be higher in Miami compared to other cities in the United States. Despite the higher costs, many people find the amenities, weather, and lifestyle well worth it.
How Friendly Are The People In Miami?
We found that Miami locals, or "Miamians", are generally friendly and open towards tourists. There is a diverse mix of cultures, languages, and personalities in the city.
The prominence of Spanish-speaking residents adds a unique flavor to Miami, and we've experienced warm and friendly interactions with both English and Spanish speakers.
In tourist areas, like South Beach and Downtown, people are used to encountering visitors from all over the world. They're generally helpful when asked for directions or recommendations.
Don't be shy about striking up conversations with locals at cafés, bars, or other public spaces, as they may have valuable insights about hidden gems in the city.
That said, we also encountered some instances of impatience or frustration, particularly during peak tourist season – which is common in any major city.
It's important to be respectful and aware of local customs and etiquette. For example, tipping is customary in Miami, with 20% being the standard at restaurants and bars.
Which Is Better For A Vacation? Miami Or Fort Lauderdale?
When it comes to choosing between Miami and Fort Lauderdale for a vacation, both cities offer unique experiences and attractions. In Miami, we have the bustling nightlife, vibrant culture, and beautiful beaches.
There is always something happening in Miami, and it is truly a city that never sleeps. We can spend hours shopping at the high-end boutiques, dine in world-class restaurants, and enjoy arts and entertainment.
On the other hand, Fort Lauderdale offers a more relaxed and laid-back atmosphere, with its extensive canal systems and beautiful waterfront scenery.
We can enjoy water-based activities such as boating, fishing, and jet skiing. The beaches in Fort Lauderdale are less crowded, allowing for a more tranquil beach experience.
In terms of accommodations, both cities have a wide range of options, from budget-friendly hostels to luxurious hotels. However, prices in Miami are generally higher than in Fort Lauderdale, making the latter a more budget-friendly option.
Parking can also be expensive and challenging to find in Miami, whereas Fort Lauderdale tends to have more affordable and accessible parking options.
As for the dining scene, while Miami has more high-end and diverse dining options, Fort Lauderdale also offers a great selection of local gems, from seafood shacks to farm-to-table eateries.
You won't be disappointed with the food choices in both cities!
What you need to do to make the best decision for you on whether to visit Miami or Fort Lauderdale for a vacation depends on what you want to see and do. If you want a bustling nightlife, lively atmosphere, and high-end shopping, Miami is the city for us.
But if you prefer a more relaxed getaway with a focus on water-based activities, Fort Lauderdale may be a better choice. Regardless of which city you choose, you are sure to have a fantastic time exploring and enjoying all that South Florida has to offer!
Helpful Miami Vacation Links
Upcoming Trip?
I like to use Booking for booking not only my hotels, but my tickets and rental cars as well. Makes life so much easier with only having to log into one location for my information.
Be sure to grab my travel tips to save you time and money. You'll also be entered into the weekly drawings.
Register here: Get 100 Travel Tips EVERY traveler should know PLUS entered into the weekly drawing.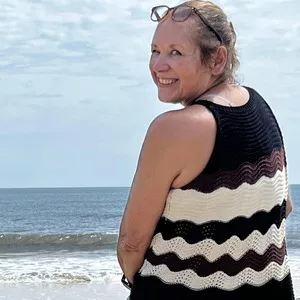 About Denise
Denise Sanger lives a life split between her love for fitness and her passion for travel particularly to the BEACH. Denise also has a love of marketing and lives in beautiful Suwannee County, Florida. You can find out more about Denise here: About Denise