Exercise Takes A Village Some Days
This article may contain affiliate links. Whenever you buy something through one of these links, I may earn a small commission without any cost to you. I really appreciate it as it supports this site and my family. Thank you!
Exercise Takes A Village Some Days
I'll be honest.  This morning I felt older than Moses as I was running/power walking to finish my 8th half marathon – my 2nd Tallahassee half marathon – with my Jasper friend Toni Greenberg. I actually love this marathon route although we heard quite a few grumblings and rumblings about the hills. For me the hills are an advantage because I can walk/hike up them and then enjoy the run downhill and I'll take ANY advantage I can get! For those trying to qualify for one of the national races like Boston or New York, the hills may hurt more than help them.




When you do any type of event, at least for me, there are times when you feel like giving up and calling it a day. Why didn't I do that?  Because I had my running buddy with me along with the volunteers,police, fire, and medical personnel along the route encouraging us to keep going. Without them, I may have given up.
The funny thing is that the volunteers and other supporters along the route probably don't even realize how important they are to those of us in the race.  They give their support – no questions asked. As you make your way along the route, just seeing these amazing groups of people with their funny support signs is all it takes to keep moving. Some of the signs held along the route are hilarious such "This is the worst parade ever!" to "Last hill – promise!"  Great way to take your mind off any aches and pains as you head to the finish line.
We don't all run at the same speed – some run super fast while others of us (me) woggle which is walking, jogging and maybe a waddle 🙂  Doesn't matter how we get to that finish line – we just need to cross it and it's a successful finish.
It's the same thing with our exercise and our fitness friends. In my case, my fitness family. If the amazing group of people at the gym every day weren't there, it would probably be more difficult for me to drive in to town and exercise. After all, there are million other things that need to be completed in a day.
Thank you for reading this post. Don't forget to subscribe! This way you never miss an update, travel deals, discounts and more!! Subscribe to the right------>
For the most part, I'm a half-full glass kind of girl but there are days that I struggle just like everyone else.  We all have those days.  If you find yourself struggling to make exercise a part of your week, find a fitness buddy or search for people to train and workout with you. When you know someone is waiting for you, you are less likely to cancel at the last minute.
Having a fitness support system in place will help you be successful in reaching your fitness goals.  You GOT this!
To your health,
Denise
Upcoming Trip?
I like to use Booking for booking not only my hotels, but my tickets and rental cars as well. Makes life so much easier with only having to log into one location for my information.
Be sure to grab my travel tips to save you time and money. You'll also be entered into the weekly drawings.
Register here: Get 100 Travel Tips EVERY traveler should know PLUS entered into the weekly drawing.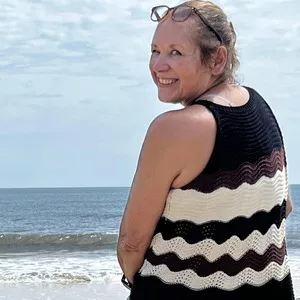 About Denise
Denise Sanger lives a life split between her love for fitness and her passion for travel particularly to the BEACH. Denise also has a love of marketing and lives in beautiful Suwannee County, Florida. You can find out more about Denise here: About Denise