Best Places to swim with dolphins in Florida.
This article may contain affiliate links. Whenever you buy something through one of these links, I may earn a small commission without any cost to you. I really appreciate it as it supports this site and my family. Thank you!
Make Lasting Memories: Discover the Best Places To Swim with Dolphins Florida As Well As Safely Interact with All Marine Animals.
This is not the easiest article for me to write. I'll be honest. I'm not a fan of circuses, many animal parks and other "entertainment" using animals. Also, not fond of swim with dolphins Florida offers.
But I am a travel blogger with expertise in Florida, so I wanted to provide you with a complete picture. This will allow you to make the best choice for your family.
I have been asked so many times, where to swim with dolphins in Florida. So when I was asked again recently, I decided to write this article and provide with the best information I can to help you find a responsible place to swim with these incredible animals.
If you are a dolphin lover like I am, or an animal lover again like I am, you probably understand my hesitation. Taking it a step farther as a travel blogger, I have witnessed animals being worked to death all for being a source of entertainment for humans.
Thank you for reading this post. Don't forget to subscribe! This way you never miss an update, travel deals, discounts and more!! Subscribe to the right------>
In all fairness, I will not be listing all the locations you can swim with the bottlenose dolphins here in the state. I will list the locations that treat these animals well and care for them properly.
All about Dolphins
Dolphins are not only beautiful, they are smart as well. That's why it is important to take extra precautions when swimming with them. When they look at you, it appears they are smiling. Happy right? Depends.
If you truly want to swim with the dolphins, it's very important that you work with a reputable tour company or organization.
These organizations will provide you with the guidance and safety measures needed for a safe and successful dolphin encounter not only for you, but for the dolphins as well.
Wild dolphins are not swimming with humans in their environments. That is not normal behavior. So it is important to be aware of regulations and recommendations that respect the dolphin's space.
Dolphins live together in what are called pods. That means there are usually lots of dolphins together. These dolphins swim for miles in the wild. That is not possible in captivity.
Are dolphins happy? When looking at them, they may look like friendly dolphins, but think about it. Dolphins are used to swimming freely in their natural habitat.
In many of these swim with the dolphin environments, they are contained to tanks that are miniscule compared to their natural environments. The result, unhappy dolphins that may be dangerous.
When looking for a tour or place to observe these majestic animals, ask about their educational programs and practices for interaction. This is more important than you may think.
Although rare, there have been reports of dolphins attacking humans including a child during a dolphin experience or when swimming with dolphins in contained environments.
That is exactly why they have you sign a waiver or release before you get near the location where you will swim with the dolphins.
The best companies will have guidelines in place that respect the dolphin's habitat and behavior, while still allowing you and your family to SAFELY interact with them. Ask for specifics. Look at their track record. Read past visitor's reviews.
Best Place To Swim With Dolphins Florida
Now that we have gone through the history and specifics from more of a dolphin's experience, there are places in Florida that allow you to SAFELY interact with these magnificent creatures. I have listed those below.
Dolphin Research Center.
The Dolphin Research Center is located in the Florida Keys, This organization is a non-profit research center offers educational encounters with trained professionals. It is also my number one pick for best places to swim with dolphins in Florida.
Also home to sea lions, manatees, sea turtles as well as the family of dolphins that call the center home. These dolphins were either brought to the center for rehab or rescue or were born at the center and have a permanent home there as they cannot be released back into the wild.
The research center will not put any dolphin or other animal in their care at risk. Their mission statement speaks loud and clear to this:
Our Mission – Through education, research and rescue, Dolphin Research Center promotes peaceful coexistence, cooperation and communication between marine mammals, humans and the environment we share with the well being of DRC's animals taking precedence.
Located on Grassy Key, the research center is roughly 2 hours from Miami and a bit over an hour from Key West. Get admission and price information here: Dolphin Research Center
The Dolphin Research Center is my number one pick for swimming with the dolphins in the sunshine state.
Theater of the Sea
South of Key Largo, North of Key West also located in the Florida Keys on Islamorada is Theater of the Sea. For me, I prefer the DRC because it is more research/educational. Theater of the Sea also treats the dolphins very well and has been in operation since the 1940s.
In addition to the dolphins, you will find sea turtles, sea lions, alligators, exotic birds and other animals. Their main priority is taking care of the animals. (Pic from Tripadvisor).
There are several packages to choose from including shallow water dolphin encounter with the dolphin in water 3 to 4 feet. Deep water swimming in depths up to 20 feet, and you must be able to tread water without a life jacket wearing flippers.
Get admission and pricing information here: Theater of the Sea
Gulfarium Marine Adventure Park Swim with Dolphins Florida
This marine park is located in Fort Walton Beach. This marine park opened in the 1950s and is focused on educating as well as entertaining visitors. This is why I have put this on the list of best places to swim with dolphins in Florida.
General admission allows you to dolphin watch and presentation, enjoy the dolphin show, chats. I know you have several opportunities to interact with the dolphins and animals, but I'm not sure at this time if you can swim with the dolphins.
I wanted to mention Gulfarium though because they offer a wonderful care program for rescue and rehabilitation as well as education for those that visit. Get admission information here: Gulfarium Marine Adventure Park Swim with Dolphins Florida
Gulf World Marine Park
Gulf World Marine Park is located in my favorite beach town, Panama City Beach on the Gulf of Mexico. I have not personally been inside this park in several years, although I see it every year while in PCB.
I visited when my daughters were younger, and we had a wonderful time enjoying both the dolphin and sea lion shows. There are both bottlenose dolphins and rough-toothed dolphins in this facility.
The facility also has wonderful interactive programs where you can meet and greet not only the dolphins, but sea lions, penguins, stingrays, tropical fish, birds and parrot shows.
Included in both the bottle nose encounter and the rough-toothed dolphin encounter are dorsal fin ride or dorsal pull, belly ride, handshake and other fun activities that provide an unforgettable experience for the whole family.
If your kids are truly fascinated with dolphins and other marine life, Gulf World has a wonderful educational program and is also a great place for kids to spend time in one of the day programs such as dolphin day camp in a controlled environment safe for kids.
One more note, this park also has programs for special needs for kids with developmental issues. Speech Pathologist Dr. Janet Flowers began using dolphins in her speech therapy program for about 15 years now. Get information on admission and hours here: Gulf World Marine Park
Other Parks
WRITER NOTE: There are other marine parks, many out of them outside the USA. You may have heard of the Signature Dolphin Swim Experience or Dolphin Discovery.
Please do your research. These parks outside the USA often do not take proper care of the dolphins. For example, The Dolphin Discovery Program at the National Aquarium is located in Baltimore MD and is very conservation focused. Information here: Dolphin Discovery Program National Aquarium.They are not like the Dolphin Discovery you may see outside the USA.
Marineland Dolphin Adventure
On the Atlantic Ocean side of the state in St. Augustine, you will find Marineland Dolphin Adventure. This is a great option for those that will be on the east side of the state.
This park first opened in the late 1930s and has been the backdrop of many movies. It is also the world's first oceanarium.
I like this spot for the incredible experience it provides to those wanting to interact with the dolphins and other animals that call it home.
They are humane certified American Humane, the first national humane organization in America and the world's largest certifier of the welfare and humane treatment of animals in working and other environments. Additional information and ticket information here: Marineland Dolphin Adventure
Dolphin encounter program, dolphin swim adventure, field trips, and more.
There is also nearby Dolphin and Wildlife Adventure of St. Augustine where you have the opportunity to see dolphins in their native habitat. Tour information here: Dolphin & Wildlife Adventure of St. Augustine
Clearwater Marine Aquarium
Last for the visit list is Clearwater Marine Aquarium. You may have heard of this aquarium with Winter, the star of the Dolphin Tale.
This beautiful dolphin lost its tail and was fitted with a prosthetic tail. She lived at the Clearwater Marine Aquarium from 2005 to 2021 when she died. Truly the perfect place for her as she would not have survived in the wild without her tail.
This aquarium is dedicated to conservation and education. Meet rescued animals including dolphins, sea turtles, otters, pelicans, sharks and more (pic from Tripadvisor).
While you can get close to the dolphins and other animals, you may not swim with them here. Information and ticket prices here: Clearwater Marine Aquarium
Other Locations
Yes there are other locations where you can swim with dolphins in Florida as well as the United States.
I am not a fan however of most of these companies and will not write about them here. The dolphin habitats are small, and these locations are overpriced.
My recommendation is to choose one of the above for an experience of a lifetime you will be proud to talk about.
I cannot write about Discovery Cove in Orlando as I have not personally visited. You can get additional information and price information here: Discovery Cove
You may just have a new friend after interacting with these animals. There is nothing quite like a dolphin's personality to put a smile on your face.
It is important to not the State of Florida does not allow you to feed or harass dolphins, manatees, and other sea animals.
Very important to keep in mind when on a family vacation that may take you into the Atlantic or Gulf of Mexico to view dolphins.
Upcoming Trip?
I like to use Booking for booking not only my hotels, but my tickets and rental cars as well. Makes life so much easier with only having to log into one location for my information.
Be sure to grab my travel tips to save you time and money. You'll also be entered into the weekly drawings.
Register here: Get 100 Travel Tips EVERY traveler should know PLUS entered into the weekly drawing.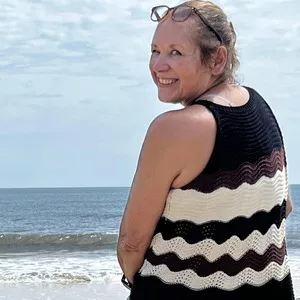 About Denise
Denise Sanger lives a life split between her love for fitness and her passion for travel particularly to the BEACH. Denise also has a love of marketing and lives in beautiful Suwannee County, Florida. You can find out more about Denise here: About Denise