Discover the Best Places to Visit in Florida in December
This article may contain affiliate links. Whenever you buy something through one of these links, I may earn a small commission without any cost to you. I really appreciate it as it supports this site and my family. Thank you!
One of the best things about Florida boasts is the beautiful beaches. I may be biased, but I believe they are the best beaches in the United States. Truly the perfect place for a winter getaway when you have cabin fever and are craving warm weather.
Not much into beaches? We have you covered with exciting theme parks, and vibrant cities in the country, making it the perfect winter getaway destination. But with so many options, it can be overwhelming to decide which places to visit.
That's where we come in to help you with this guide. Below we highlight the best places to visit in Florida in December, so you can leave the winter blues behind.
From the vibrant nightlife of Miami in South Florida to the laid-back charm of Key West and the Florida Keys to the history of St. Augustine, we've got you covered.
Thank you for reading this post. Don't forget to subscribe! This way you never miss an update, travel deals, discounts and more!! Subscribe to the right------>
And you really don't need to worry about the weather as hurricane season ended November 30th and will not be in force again until June 1st
So pack your bags, grab your sunscreen, and let's dive into the top destinations to escape the winter chill in Florida.
Why & Where Are The Best Places to Visit in Florida in December
Florida is a popular tourist destination throughout the year, but the state really shines in December. The weather is fantastic during this time of year with the average high temperature ranging from 64 to 75 degrees Fahrenheit.
The more north you are in the state, the average highs will be lower than in southern Florida. The average temperature of the water in the Atlantic Ocean in Fort Lauderdale is generally around 75 degrees making it one of the warmest beaches during winter.
Florida's warm climate means you can enjoy the beach, outdoor activities and water sports, and also you can really enjoy the sunshine without the heat and humidity of the summer months.
There are fewer crowds during December, which means shorter lines, better hotel rates, and more availability at top attractions such as Disney World, Universal Studios, and Busch Gardens.
Nature lovers too find this the perfect time to snorkel the beautiful coral reefs as the water has warm temperatures all year long, kayak the many rivers, and hike in Florida State Parks and Forests.
And we can't forget the holidays! December is a festive time in Florida, with many holiday-themed events, Christmas lights and parades plus decorations in most cities that ramp up even the Grinch's holiday spirit.
Whether you are thinking about a romantic getaway, a girl's trip, or a family vacation, Florida has what you are looking for.
Best Places to Visit in Florida in December
Orlando: The Theme Park Capital of the World
Starting with the center of the state, Orlando is a city that needs no introduction. Known as the theme park capital of the world, it is a popular destination not only for families but thrill-seekers alike.
Visiting Orlando in December is a great time because the theme parks are less crowded, and the holiday season makes for a magical experience.
Walt Disney World Resort and Magic Kingdom are must-visit destinations, with their iconic attractions, holiday-themed parades, and fireworks shows.
Universal Studios Orlando Resort is another great option, with its thrilling rides, Harry Potter-themed attractions, and festive decor. Also, nearby is Sea World with attractions and rides to keep the whole family happy.
Visitors can also indulge in Orlando's excellent dining scene, shopping, and entertainment options all within the city and a short drive from the theme parks or airports.
Best Places To Stay In Orlando: Top 10 Orlando Hotels
​Key Largo: Top of the Florida Keys Chain of Islands
Key Largo is such a cool little small town and one you must make time to visit if you are heading all the way down to Key West. The warm waters of the Florida Keys average 75 – 80 degrees. The daily high temperatures range from 75 to 80 degrees.
Palm trees wave and sea turtles swim offshore in this beautiful chain of islands. Before heading south, be sure to get yourself a slice of Key Lime Pie!
Tip: Before you head toward the Florida Keys, make time to visit Everglades National Park. There is an entrance located in Homestead, just south of Miami.
The List Of The Best Places to Visit in Florida in December absolutely must include the Everglades. The beginning of the dry season for the Everglades is in December.
The natural habitat of the swamps teaming with wildlife including alligators, and the elusive Florida Panther as well as migratory birds is truly some to experience.
Best places to stay Key Largo: Top 10 Key Largo Hotels
Key West: The Southernmost Point of the Continental US
Key West is a laid-back island paradise located at the southernmost point of the continental US.
Known for its crystal-clear waters, stunning sunsets, and charming architecture, Key West is a great place if not the BEST place to escape the winter chill.
How can you not be in a good mood as you walk around this fun town with its many restaurants and bars just begging you to have a good time?
In December, Key West hosts several events, such as the Key West Lighted Boat Parade, a festive parade of decorated boats, and the Conch Republic Independence Celebration, a fun-filled event celebrating Key West's unique culture and history.
Be sure to also explore the island's many attractions, such as the Ernest Hemingway Home and Museum with the 6-toed cats, the Key West Butterfly and Nature Conservatory.
Snorkel the crystal clear waters around the Dry Tortugas National Park. You will need to take a ferry or fly over to the National Park, but it's a great spot for water activities.
Best places to stay Key West: Top 10 Key West Hotels
Best places To Visit In Florida Miami: The Ultimate Winter Destination
Miami is a city that needs no introduction. Known for its beautiful beaches, trendy nightlife, and luxurious hotels, Miami is the ultimate winter destination.
In December, Miami is a great place to escape the cold and enjoy some fun in the sun. South Beach is a must-visit destination, with its iconic Art Deco architecture, white-sand beaches, and turquoise waters.
Visitors can also explore the city's vibrant neighborhoods, such as Little Havana and Wynwood, and indulge in Miami's famous food scene.
In addition to that, Miami hosts several events in December, such as Art Basel, a world-renowned art fair, and the Miami Beach Polo World Cup, an equestrian event.
Definitely the perfect destination for those that like city life and enjoy the fun nightlife.
Best Miami Places To Stay: Top 10 Miami Hotels
Fort Lauderdale: Shopping, beaches, and foodie heaven.
Fort Lauderdale is one of the best places to take a vacation during a cold winter month like December. It's also a favorite spot of mine and nearby Hollywood Beach which is also a beautiful beach but more low-key than Fort Lauderdale.
Shopping? Yes! Explore Las Olas Boulevard or nearby Sawgrass Mills Shopping Center.
Venice Capital of the United States! Fort Lauderdale with its many canals hosts a holiday boat parade of boats lit up for the holidays you can see from Las Olas Boulevard and many other spots along the Intracoastal Waterway.
Best places to stay Fort Lauderdale: Top 10 Fort Lauderdale Hotels
Best places To Visit In Florida InDecember West Palm Beach: Golf, shopping & more
While much of the country is experiencing cold temperatures and snow in December, West Palm Beach invites you to visit with warm temps and plenty of things to do. If you are in the city during the holidays, you are in luck.
West Palm Beach is known for its holiday events, including the annual Holiday Boat Parade, the Sandi Tree lighting ceremony, and the Winter in Paradise celebration.
And of course the beaches! WPB has some of the most beautiful beaches in the world. Even better? They're warm in December. Finally, all the fun things to do outside including water sports, golf courses, tennis, and more. And don't forget shopping!
Want to hit the beach? I recommend nearby Delray Beach. Average water temps and daily highs are around 75. Sunny days are the rule and there is plenty to do and see in this area of the state.
Best places to stay: Top 10 Hotels West Palm Beach
St. Augustine: A City Rich in History and Culture
St. Augustine is a charming historical city located on the northeast coast of Florida south of Jacksonville. It is also the oldest city in the country.
This beautiful town is known not only for its rich history and culture, but it is also a great place to explore the state's roots.
In December, the city hosts the Nights of Lights, a magical event where millions of lights shine brightly throughout the city's historic district. It is truly a wonderful experience.
Explore the city's many attractions, such as the Castillo de San Marcos, a historic fort, and the St. Augustine Lighthouse and Maritime Museum.
Tip: The St. Augustine Lighthouse is said to be haunted. You can also visit several other haunted houses and hotels that dot the historical city streets. One of the best ways to really see everything this city offers is to take a guided tour.
Finally, St. Augustine's dining scene is not to be missed. Enjoy fresh seafood, farm-to-table restaurants, and craft breweries.
You can also hop on I-95 North to visit Jacksonville and nearby Amelia Island. Or hop on I-95 and head south to Daytona Beach and Cocoa Beach for surfing and other water sports.
This area is not as warm as southeast or southwest Florida, but the day temps are comfortable and there is plenty to do at this time of the year.
Where to stay: Top 10 Hotels St. Augustine
Vero Beach, Fort Pierce, Jensen Beach, and Blowing Rocks Preserve. A Few Of The Best Places To Visit in Florida In December On The Treasure Coast
Farther south brings us to the Treasure Coast. This area enjoys its name from the many treasures recovered from ships that sank off the Atlantic Coastline. And the beaches are spectacular!
One you really need to be sure to visit is Blowing Rocks Preserve. As the waves smash into the rocks, it creates geysers and more that you have to see for yourself. There are no lifeguards on this beach and the surf in this area can be quite strong.
If you are a nature lover like me, you will also want to visit Hobe Sound National Wildlife Refuge. 3.5 miles of beach in a 967 acre park known for sea turtle nests. On the mainland, there are nature trails to explore as well.
Where to stay: Top 10 Treasure Coast Hotels
Fort Myers, Marco Island, Sanibel Island, Captiva Island
This brings us over to the Gulf side of the state. I have put these four beautiful Florida destinations together as not only are they near each other, you really cannot go wrong if you pick any of these for your winter getaway.
Sanibel and Captiva Island are known for the many seashells you will be able to find on the beautiful beaches. Also keep an eye outs for sand dollars.
Where to stay: Best Hotels Fort Myers Area
Sarasota: A Paradise for Beach Lovers And One Of The Best places To Visit In Florida In December
Sarasota is a beautiful city located on the Gulf Coast of Florida. Known for its pristine white sand beaches, emerald-green waters, and vibrant arts scene, Sarasota is a great place to relax and soak up the sun during a fun beach vacation.
In December, visitors can enjoy the city's many outdoor activities, such as kayaking, fishing, and beachcombing.
Sarasota is also home to several cultural attractions, such as the Ringling Museum of Art, a world-renowned museum with an impressive art collection, and the Sarasota Opera, a vibrant cultural institution.
Visitors can also indulge in the city's dining scene, which features fresh seafood, farm-to-table restaurants, and trendy cafés.
Before we leave Sarasota, be sure to make time to visit the barrier island Siesta Key. Roughly a 15-minute drive to one of the most highly recommended beaches in the world.
Here you will find white sandy beaches and water temperature warm enough to swim in the Gulf of Mexico.
To the north of Sarasota, be sure to visit Anna Maria Island. It is not as warm as its southern counterparts, but it is very beautiful.
Where to stay: Top 10 Hotels Sarasota Area
Clearwater Beach, Tampa, and St. Petersburg
Moving toward the west-central part of the Sunshine State brings us to Clearwater Beach, Tampa, St, Petersburg, and Treasure Island. There are so many fun things to do in this part of Florida.
In Tampa, you have not only Tampa Bay and several sports teams, but you also have the amusement park Busch Gardens.
Tampa is roughly an hour west of Orlando on I-4 making it an easy hop to take in a few more amusement parks if that is what you want to do.
Clearwater Beach is absolutely gorgeous. When visiting this area, be sure to visit the Clearwater Marine Aquarium. You may be familiar with the Clearwater Marine Aquarium as it was the center that rescued and rehabbed Winter the dolphin with a prosthetic tail.
The downtown area of both Tampa and St. Petersburg offers outstanding restaurants, craft breweries, and more for foodies to live their best lives on vacation.
Nearby in Dunedin is another one of the most beautiful state parks in Florida. Be sure to make time to visit Caladesi Island State Park if you can.
It is important to note that the only way to get to this island is by boat, but it is one of the few remaining untouched islands in the country.
To the west, you will find Crystal River as well as Three Sisters Springs Refuge for manatees. This is one of the few places you can swim with manatees.
I am not a fan as I have watched over and over people not listening to the guides and harassing the manatees.
These animals are endangered and should be protected and not subject to the whim of a tourist trying to hug or touch them. Please be respectful.
Where to go: Manatee Tours
Where to stay: Top Hotels Clearwater Beach
​Best Places to Visit in Florida in December: Florida Panhandle
As we round the bend up through the Florida Panhandle, we have many more fabulous places for a December getaway. This area is cooler than the rest of the state but if you ask me, there is never a bad time for a beach vacation.
Enjoy walking the sandy beaches and the pier of Panama City Beach. Enjoy shopping or golfing in Destin. Or head farther west toward the Alabama border and check out Fort Walton Beach and Pensacola Beach.
Where to stay: Top 10 Hotels Panama City Beach
Activities to Do in Florida in December
In addition to the top destinations mentioned above, there are many other activities to do in Florida in December. And most you cannot do elsewhere in the country during winter.
Outdoor enthusiast? You will want to definitely explore Florida's many state parks that offer hiking, camping, and wildlife viewing opportunities.
Fishing and boating are also popular activities, with many charter companies offering guided tours.
Kayaking the many rivers including camping along the banks of the Suwannee River which begins in Georgia before dumping into the Gulf of Mexico or the Peace River with its many artifacts you can search for are also great activities for those that love to be on the water.
Where to go: Top Florida Kayak Trips
For those interested in culture and history, Florida is home to many museums, art galleries, and historic sites.
And of course, no trip to Florida is complete without indulging in the state's fantastic food and bar scene. Enjoy fresh seafood, world-class cuisine, gastropubs, craft breweries, wineries and trendy cafés.
How to Plan Your Trip to Florida in December
To make the most of your trip to Florida in December, plan ahead. I really recommend getting my travel planner to help you. You can get it here: Ultimate Travel Planner
First research the top destinations you are considering to make sure they have the activities that interest you. Book your accommodations and activities in advance.
Consider renting a car to explore the state at your leisure. Finally, check the weather forecast before you go and pack accordingly.
Get information: Car Rental Deals Florida
Florida is an excellent destination for those looking to escape the winter blues and enjoy some fun in the sun. It is why I now call the Sunshine State home after living in Ohio until my 30s. I live my life outdoors for 12 months of the year.
With its beautiful beaches, exciting theme parks, and vibrant cities, Florida has something for everyone in December. Whether you're looking to relax on the beach, explore the state's culture and history, or indulge in its fantastic dining scene, Florida is sure to delight.
Pack your bags, grab your sunscreen, and head to Florida to discover the best places to visit in December. The links below will help you plan the perfect December getaway vacation!
Below are additional articles to help you plan your Florida December Getaway:
Upcoming Trip?
I like to use Booking for booking not only my hotels, but my tickets and rental cars as well. Makes life so much easier with only having to log into one location for my information.
Be sure to grab my travel tips to save you time and money. You'll also be entered into the weekly drawings.
Register here: Get 100 Travel Tips EVERY traveler should know PLUS entered into the weekly drawing.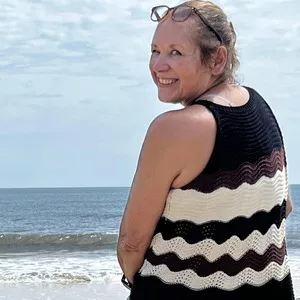 About Denise
Denise Sanger lives a life split between her love for fitness and her passion for travel particularly to the BEACH. Denise also has a love of marketing and lives in beautiful Suwannee County, Florida. You can find out more about Denise here: About Denise