Best Florida Beaches To Visit In December
This article may contain affiliate links. Whenver you buy something through one of these links, I may earn a small commission without any cost to you. Thank you!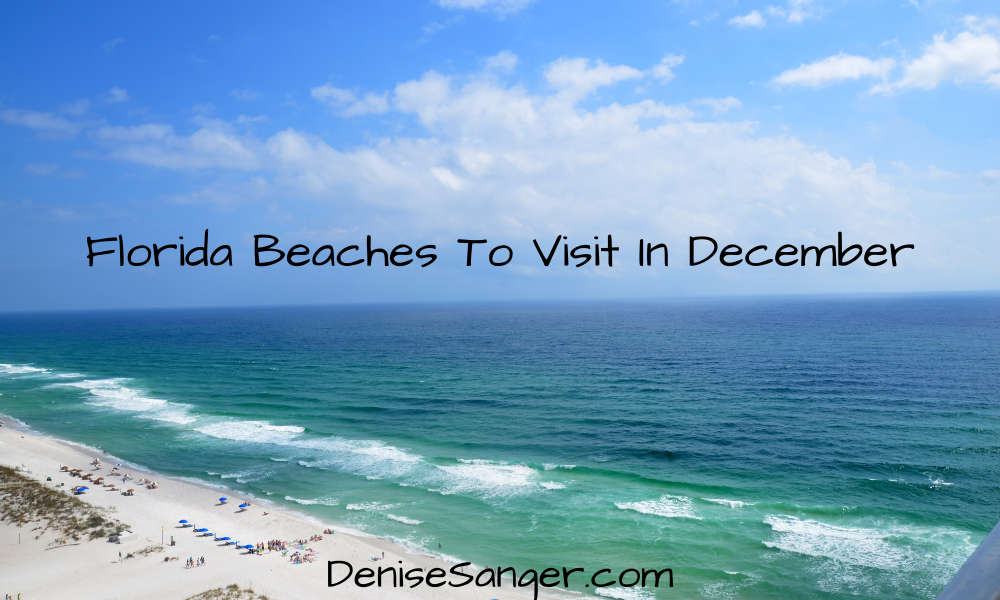 If you're looking for a place to escape the cold this winter, look no further than these best of the best Florida beaches to visit in December!
I remember the first year in Florida after we moved here from Cleveland. We lived roughly 20 minutes from Hollywood Beach and spent quite a few days during "winter months" exploring the beach and boardwalk.
My neighbors thought we were crazy for swimming not only in the ocean but our pool as well. They're looking at us crazy, and we are looking back at them the same way.
After all, it was mid-70s which was warm at the time for us Cleveland transplants. In South Florida, if the temps dipped below 50, folks brought out the parkas! For us that was a heat wave.
Fast-forward a few decades, and I am now more Floridian than Ohian when it comes to temperatures. But average highs in the 70s throughout most of the state of Florida makes this one of the best places to vacation during winter.
Water temperatures are usually 60 to 70 degrees depending on where you are in the state. From beautiful beaches to theme parks to hiking and paddle trails for nature lovers to state and national parks and treasures, the Sunshine State is the perfect destination for a December vacay.
Breaking the state down in to sections, below are the Best Florida Beaches To Visit In December.
Best Florida Beaches To Visit In December: Northeast Florida
From St. Augustine to Jacksonville up through the barrier islands including Amelia Island, you may find yourself pleasantly surprised when you vacation in this area. Not as warm as beaches farther south but quite comfortable year round
Starting with St. Augustine. This is truly one of the best places to visit any time of year including December and the winter months.
The beach is always beautiful but the holiday decorations in historic St. Augustine are out of this world. Visit the fort and sight see during the day then head back down to the historic area to see the Christmas lights.
Moving a bit farther up finds you in Jacksonville. Jacksonville Beaches have become some of my favorites.
Crowds are much less even during the busy spring break and summer months. From Riverwalk to the state parks in the area like Boneyard Beach on Big Talbot Island to the many entertainment and dining options, this is a fantastic place to visit in December.
Over to Amelia Island, which is located northeast of Jacksonville, you will find an Old Florida vibe. Fernandina Beach to Fort Clinch State Park to the beautiful Atlantic Ocean. Plenty of options for a wonderful winter break.
Best Florida Beaches To Visit In December: Southeast Florida
I absolutely love Southeast Florida. What I don't love? The crowds. This area of Florida is popular all year round and crowds are much less in the winter but still pretty busy overall.
My number one destination pick is the Florida Keys. There are over 800 islands that make up the Florida Keys. You only need to pick one and go.
Key West is the farthest island south and about 90 miles from Cuba. This little island packs a big party punch.
Bars, live entertainment, plenty of dining options and beautiful beaches makes this island a premier destination all year long. Be sure to explore the other islands including Islamorada, Key Largo with the many coral reefs you can explore in Camp Pennekamp, and the other keys along the way to Key West.
Moving up to Miami finds you in beautiful South Florida. Miami Beach is one of the most well known beaches in the United States. Celebrity destination as well with many private islands you can only get to by ferry.
Palm trees sway in the wind off the ocean. South Beach is one of the most popular destinations known for many nightclubs and dining options.
Don't let that stop you from heading farther north to Fort Lauderdale. Average highs for this area in December are around 78 rarely falling below the upper 60s.
Sunny days and plenty of activities makes Fort Lauderdale perfect for water activities that you would not want to do farther north on the Atlantic Coast. Boating, kayaking, swimming and more await you.
A short drive north from Fort Lauderdale lands you in Palm Beach County. Some of the state's best beaches are between Miami Beach and West Palm Beach.
Love to golf? You will find quite a few golf courses in this area as well.
But plan your vacation well in advance if Palm Beach is where you want to go. It tends to be very busy in December.
Best Florida Beaches To Visit In December: Southwest Florida
Clear water and warm temperatures makes Southwest Florida a popular destination in the fall. From Everglades National Park up to Tampa, you will find some of the most beautiful white sand beaches in the United States.
My favorites on this part of the Gulf of Mexico are Sanibel Island, Captiva Island, Fort Myers Beach, Marco Island, Anna Maria Island, Siesta Key, Clearwater Beach and Tampa Bay.
My first excursion to this area was after I first moved to Florida, and it was to Bonita Springs which is near Fort Myers Beach. I was instantly in love with the Gulf Coast. After all, the white sand beaches are pretty amazing.
Near to Fort Myers and Naples, is Marco Island, one of the prettiest islands in the United States. Unspoiled land and natural habitat for animals makes this one of the best islands for nature lovers. You will also find some of the warmest beaches in this area for the month of December.
Sea turtles, dolphins, rays and more entertain as you watch them play in the beautiful Gulf of Mexico. Be sure to take time to visit Ten Thousand Islands National Wildlife Refuge that may be reached by kayak or canoe.
Before we go too far north, Sanibel Island and Captiva Island are both must visit locations. Both islands but more specific Sanibel Island is very well known for the beautiful seashells. A collector's paradise.
Moving up the Gulf to Siesta Key, lands you at one of the most popular beaches in the world. Siesta Key has been named the number one beach many times in travel magazines. For good reason too.
Beautiful white sand beaches, turquoise waters, tennis courts, golf course and amazing restaurants all await you on this piece of paradise. Siesta Key is south of Anna Maria Island near Sarasota.
Best time to visit the barrier island Anna Maria Island? December and January through March. The temps are cooler and not nearly as crowded. But you may not want to visit this area between Christmas and New Year as that is a popular time on this part of the Gulf Coast.
Midway up the coast, are Clearwater Beach, Treasure Island, St. Petersburg Beach and Tampa Bay. No matter what type of beach you prefer, you will find it here.
Clearwater Beach was voted number one beach in 2019. But don't forget about St. Pete Beach. It was named number one is 2021.
This area of Florida is popular due to the miles of beautiful coastline, water sports, dining and shopping. Tampa Bay is also a good bet in December. From September through December, hotels offer bargain rates to offset the vacancies of this time of year.
Central Florida
Before we go farther north into the Florida Panhandle, we have to talk about Central Florida and the many theme parks. Not only Walt Disney World and Universal Studios but Busch Gardens as well.
Whether you have kids or not, you will enjoy exploring the theme parks in December as they show off their holiday decorations.
Early December is better than closer to the holidays as there are fewer crowds. If your heart is set on any of the theme parks including Magic Kingdom, plan your vacation early in the month.
Best Florida Beaches To Visit In December: Florida Panhandle
Many folks overlook the Panhandle in December. It is cooler and the water temps not as warm, but it is still an absolutely beautiful location to visit during winter. Be sure to read this post too: Least Crowded Beaches In Florida Panhandle Area
Several years back, I was in Panama City Beach in December and there was little wait for anything including attractions and dining. The weather was beautiful. Sunny and in the 70s the whole week we were there.
A short drive along the coastline, takes you to many of the most popular beaches in the world. From the bottom of the panhandle near St. George Island and Tallahassee over to the state line near Pensacola, you will find calm waters and white sand beaches.
Whether you like to scuba dive, snorkel, hike nature trails or simply enjoy walking on the beach, you will find December the perfect time to visit the Florida Panhandle beaches. Temps may be cooler on the Panhandle than Miami but don't let that stop you.
Plenty of warm sunshiny days and walking distance to many attractions makes December a good time to visit. And because many folks will opt for South Florida, you will have these Florida beach towns to yourself.
My favorite is the Panhandle.
You will find some of the best Florida beaches to visit in December in this part of the state.
Of course my favorite is PCB but Fort Walton, Miramar Beach, Mexico Beach and Destin are all absolutely gorgeous. They are also close enough that no matter which town you choose for your holiday, you will have a short drive to visit the others.
Upcoming Trip?
I like to use TripAdvisor for booking not only my hotels, but my tickets and rental cars as well. Makes life so much easier with only having to log into one location for my information.
Be sure to grab my travel tips to save you time and money. You'll also be entered into the weekly drawings.
Register here: Get 100 Travel Tips EVERY traveler should know PLUS entered into the weekly drawing.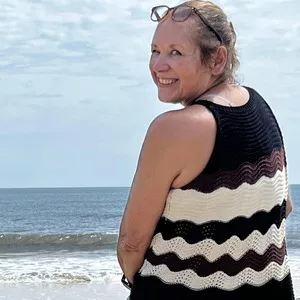 About Denise
Denise Sanger lives a life split between her love for fitness and her passion for travel particularly to the BEACH. Denise also has a love of marketing and lives in beautiful Suwannee County, Florida. You can find out more about Denise here: About Denise