This article may contain affiliate links. Whenever you buy something through one of these links, I may earn a small commission without any cost to you. I really appreciate it as it supports this site and my family. Thank you!
"An empty lantern provides no light. Self-care is the fuel that allows your light to shine brightly." – Unknown
Lately, my get up and go seems to have got up and went. Can't find it anywhere either.  Have you ever felt like this?  Where if you have one more thing added to the LONG list of things you have to get done in a day, you're going to explode?




Have you ever noticed that what you need to know shows up in your life at the exact time you need to know it? This past week, while listening to my morning podcasts on the way to and from the gym, what do you think the  topic is in both of them?  Making the time to take care of ourselves and self-care is not selfish.  Hmm. Think someone was trying to give me a message? Possibly this message is for you too.
Women especially tend to put self-care to the bottom of the list.  We are nurturers.  We want our families to be happy. We want our friends to be happy.  We want work to be happy.  We want everyone to be happy but neglect ourselves.  It's time to fix this.
Self-care is as important as taking the kids to dance class.  It's as important as making sure the spouse and kids are happy and healthy.  So why do we feel selfish when we take a few moments to take care of ourselves?
Thank you for reading this post. Don't forget to subscribe! This way you never miss an update, travel deals, discounts and more!! Subscribe to the right------>
The definition of selfish is:
 Lacking consideration for others; concerned chiefly with one's own personal profit or pleasure.
The definition of self-care is:
Broad term that encompasses just about anything you to do be good to yourself.
Self-care is ANYTHING you do to be good to yourself. For most of though, self-care is an afterthought until we are completely burned out, stressed and exhausted. When you reach that point, there is a good chance you will become ill or choose other methods of self-medicating to get through the day – neither of which are good.
So why is it so hard to take time a few days each week to take care of ourselves when we know how much it will benefit not only ourselves but our families?  The most common answer? Lack of time.
There is a TV commercial I recently watched where a woman ran out of contact lenses and couldn't find the time to replace them. After all according to her planner, her dog needed to go to the doggie masseuse at 4:30 (or whatever time she said). She couldn't possibly cancel that appointment could she?
And right there is the answer to the problem.  We are so over-scheduled from the moment we open our eyes to the time we collapse in bed each night.   Yet, the benefits to self-care include better productivity and having more to give.  Do you see the big picture now? Taking care of ourselves allows us to take better care of everyone we love.
It's time to sit down and take a good long look at the schedule you are not only holding yourself to, but your family as well.  Ask the kids if they want to be involved in three activities or would they like to focus on one?  Ask your spouse where they can help you so that you can squeeze in a 30 minute walk.  Ask your your mom or friend to watch the kids once a week so you can do something for yourself.
Some things you will never take off your schedule like church, work and school. But I guarantee there are at least three things you can remove from your weekly schedule that will give you three 30 minute blocks of time to take care of yourself.
Also don't forget that 2 letter word – no.  While working on blocking out time for yourself, don't agree to take on anything else.  Your family will thank you. Trust me on this. Have a great week!
To your health,
Denise
Upcoming Trip?
I like to use Booking for booking not only my hotels, but my tickets and rental cars as well. Makes life so much easier with only having to log into one location for my information.
Be sure to grab my travel tips to save you time and money. You'll also be entered into the weekly drawings.
Register here: Get 100 Travel Tips EVERY traveler should know PLUS entered into the weekly drawing.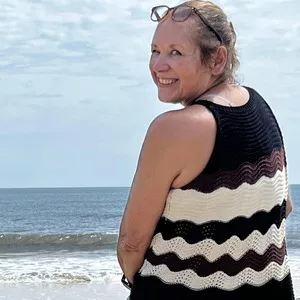 About Denise
Denise Sanger lives a life split between her love for fitness and her passion for travel particularly to the BEACH. Denise also has a love of marketing and lives in beautiful Suwannee County, Florida. You can find out more about Denise here: About Denise