This article may contain affiliate links. Whenever you buy something through one of these links, I may earn a small commission without any cost to you. I really appreciate it as it supports this site and my family. Thank you!
Believe in yourself. Yes you CAN!
The hubby and I were out-of-town last weekend celebrating our 34th anniversary at Panama City Beach. It STILL boggles my mind that I've been married for 34 years. Mornings were spent on the beach and in the water and the evenings found us enjoying the local restaurants and activities.




Sunday morning I was watching families having fun remembering family vacations we spent at the beach. My next thought was where in the world did the time go? My oldest daughter will be 30 this year while the youngest just turned 26. Now even more than I did then, I make sure to enjoy every moment of much-needed down time with my family.
Panama City Beach is one of the friendliest places I have ever visited which is why we make it an annual vacation for our anniversary. Not only are there folks from Florida, many visitors are from Tennessee, Georgia and of course Alabama with their beach accessories proudly displaying Roll Tide. As a proud Buckeye and now Seminole since my daughter is a FSU alumni (sorry Gators), you know I had something to say about "Roll Tide."
Folks are more relaxed while on vacation and you find yourself chatting and getting to know people throughout the day. When folks find out I'm 56 and a fitness instructor, the first thing they say is I could never do that. I can't even make myself exercise. And right there is where I would stop them and say take the word can't out of your vocabulary.
Thank you for reading this post. Don't forget to subscribe! This way you never miss an update, travel deals, discounts and more!! Subscribe to the right------>
It amazes me the amount of people who will talk themselves out of doing something without even giving it a try. How do you know you are not able to do something unless you give it a shot? When you get down to it, it's not that you can't. It's that you WON'T. What you need to understand is without your health, you have nothing. You can work your butt off scratching and clawing your way to move up the ladder at work, but if you're being unhealthy while you do it, how much of that money will you be able to enjoy if you become ill? Taking that a step further, how helpful will you be to your family if you are in the hospital? Important reasons to give it a try and make a few healthy lifestyle changes.
If you still find yourself saying "I can't do this" or "I can't do that", it's time to remove that word from your vocabulary once and for all. When you remove the word can't from your vocabulary, you stop being your own worst enemy. You no longer allow negative thoughts caused by the word can't to take root. Then one day the word can't that you used to use will have disappeared.
Today is the day to make this simple change and remove the word can't. You CAN do it! Have a wonderful week.
To your health,
Denise
Upcoming Trip?
I like to use Booking for booking not only my hotels, but my tickets and rental cars as well. Makes life so much easier with only having to log into one location for my information.
Be sure to grab my travel tips to save you time and money. You'll also be entered into the weekly drawings.
Register here: Get 100 Travel Tips EVERY traveler should know PLUS entered into the weekly drawing.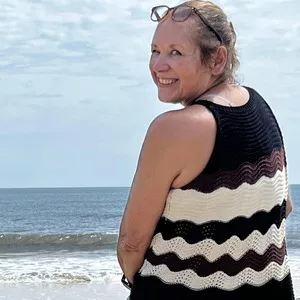 About Denise
Denise Sanger lives a life split between her love for fitness and her passion for travel particularly to the BEACH. Denise also has a love of marketing and lives in beautiful Suwannee County, Florida. You can find out more about Denise here: About Denise