Boredom and Mindless Eating
This article may contain affiliate links. Whenever you buy something through one of these links, I may earn a small commission without any cost to you. I really appreciate it as it supports this site and my family. Thank you!
Hurricane Irma makes for mindless eating.
Hope this finds my Suwannee County and Florida friends safe and well. I am actually writing this Sunday afternoon while keeping an eye on the news. Preparations have been completed including for our many critters and as I write this I can hear the rain on the metal roof of my office. If it wasn't for the fact that the rain precedes a super strong hurricane coming our way, it would actually be a very relaxing day. The rain and storms always relax me but not so sure how relaxed we can be while waiting for the hurricane to barrel through. But as a bonus, it is cooler.
Unfortunately, having to stay in my house is not one of my favorite things to do. I am an outdoor girl all the way and there is nothing as enjoyable as kayaking down the river or biking the many trails we have nearby. Since we are hunkered down waiting, my house has been cleaned, everything outside has been put inside, laundry is done and put away so there is not much left to do but wait.
With all this time on my hands, what do I decide to do? I decide to bake a cake. What is it about emergencies that put us into nesting mode? If you know me at all, you know that I do not cook or bake – at all. What possessed me to bake during a hurricane we may never know. But there it is. A chocolate cake sitting on my counter. Hubby is happy but now I have to use willpower to not eat that cake – or at least not MUCH of that cake for the next couple of days.
Thank you for reading this post. Don't forget to subscribe! This way you never miss an update, travel deals, discounts and more!! Subscribe to the right------>
One of the hardest things for me personally to deal with when it comes to staying on track with my nutrition is boredom. I'm like a little kid that has been told to sit in time out. Can't stop twitching and moving. So when forced to stay indoors, boredom sets in and I start looking around for things to munch on. Snacking is definitely NOT a good idea for this girl as I'm already struggling with menopausal weight gain.
Yes I struggle. Anyone that tells you they don't struggle with one thing or another in their life is full of it. For me exercise is no problem. I'm the first one out the door heading to bike or over to the gym. But when it comes to my nutrition, it seems so easy for me to get out of whack. The good thing is that we can all get right back on track by choosing to do so. For me to get back on track with my nutrition, it needs to be with my next meal. I don't wait for a certain day like Monday to start because my snacking will continue until that specified day arrives.
If you are like me when it comes to overeating when bored, don't worry. Eating out of boredom is actually a habit that can be broken like any other bad habit. Next time the urge to snack hits you, get up and do something. I've been doing a lot of walking around my house. Oh and my closet is nice and clean too.
Have a great week.
To your health,
Denise
Upcoming Trip?
I like to use Booking for booking not only my hotels, but my tickets and rental cars as well. Makes life so much easier with only having to log into one location for my information.
Be sure to grab my travel tips to save you time and money. You'll also be entered into the weekly drawings.
Register here: Get 100 Travel Tips EVERY traveler should know PLUS entered into the weekly drawing.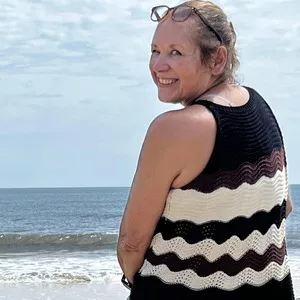 About Denise
Denise Sanger lives a life split between her love for fitness and her passion for travel particularly to the BEACH. Denise also has a love of marketing and lives in beautiful Suwannee County, Florida. You can find out more about Denise here: About Denise