Healthy Living: Why you need to love yourself today.
This article may contain affiliate links. Whenever you buy something through one of these links, I may earn a small commission without any cost to you. I really appreciate it as it supports this site and my family. Thank you!
"Yesterday is history, tomorrow is a mystery, today is a gift of God, which is why we call it the present."  Bill Keane
Bucket list.  What a funny name for something that many of us keep.  I have not"officially" written down things I want to do but I have one.  The list is in my head and I've actually ticked a few items off that list.



Do you have a bucket list?  Have you ticked a few items off that list?  If not, why not? What is stopping you?  If you have not ticked things off that list due to how you feel about yourself or your body, this article is for you.
It breaks my heart when I hear people say, I won't go to the beach because I won't wear a swimsuit or I don't want people looking at my _______________ (fill in the blank)  Or I don't like meeting new people because they will think _______ (fill in the blank) about me.
What I want to tell you is to love yourself today.  In the big scheme of things, it really doesn't matter what anyone thinks about you. What matters is what you think about you.
Those things you are afraid of happening to you when you step outside of your comfort zone probably won't happen. Most people are so focused on themselves and their busy lives, that those thoughts never cross their minds.
Thank you for reading this post. Don't forget to subscribe! This way you never miss an update, travel deals, discounts and more!! Subscribe to the right------>
Yes there are jerks in the world and all you need to do is walk away. NEVER let anyone make you feel bad about yourself.  You are designed EXACTLY the way you were meant to be and that is beautiful.
When you spend time focusing on what could happen or how you think you feel instead of getting up and doing, you are the one that loses.  You lose all the experiences life has to offer.  Only you can change that.
If getting healthy is one of the items on your bucket list, this week try to exercise and eat clean at least three days.   Did you know that if you only get 15 minutes of exercise each day, you are likely to have more birthdays – and who doesn't want more birthdays?
Next try to sleep at least seven to eight hours each night. Folks that get a good night's rest feel more energetic, productive and better about themselves.
These few things sound simple right? They actually are. To recap, strive to exercise 15 minutes, eat clean (no processed foods) and sleep seven to eight hours each night.  Soon you'll be ticking off EVERY item on that bucket list – go you!
Quick shout out to the gentleman near Royal Springs. LOVED your voice message. I'm sorry but I didn't hear your name.  I love the voice mails and emails I receive weekly telling me what you liked and sometimes what you DIDN'T like about that week's article.  Keep them coming.
Have a wonderful week!
To your health,
Denise
Upcoming Trip?
I like to use Booking for booking not only my hotels, but my tickets and rental cars as well. Makes life so much easier with only having to log into one location for my information.
Be sure to grab my travel tips to save you time and money. You'll also be entered into the weekly drawings.
Register here: Get 100 Travel Tips EVERY traveler should know PLUS entered into the weekly drawing.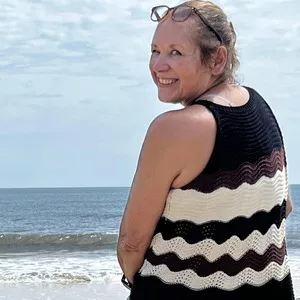 About Denise
Denise Sanger lives a life split between her love for fitness and her passion for travel particularly to the BEACH. Denise also has a love of marketing and lives in beautiful Suwannee County, Florida. You can find out more about Denise here: About Denise