Healthy Living: Spring Cleaning For A Healthy You
This article may contain affiliate links. Whenever you buy something through one of these links, I may earn a small commission without any cost to you. I really appreciate it as it supports this site and my family. Thank you!
Spring Cleaning For A Healthy Summer
You may remember me  reminding you in last week's article, that summer IS literally right around the corner.   YIKES!  What do many of us think of at this time of year? Spring cleaning of course.  Here's the thing – spring cleaning does not need to be limited to the house and yard. This year let's look at it from a different point of view – let's spring clean into a healthier you.
It's easy to get off track during the winter months.  I get it trust me. If it was not for the fact that I attend and teach fitness classes at the gym, it would be very easy for me to skip exercise. After all during winter, it is dark in the morning when we are going to work. Then to make matters worse, it's often dark or gets dark fairly quick when we get home from work in the evening. Who wants to go back out to the gym after you get home when it's dark?
Then add in all those "comfort" foods you have been indulging in during the short days of winter. It's human nature to turn to foods that make us feel better when we're feeling down or blue. Unfortunately, even if those foods are on the healthy side, we tend to overindulge. Why? They make us feel better – simple as that.
Thank you for reading this post. Don't forget to subscribe! This way you never miss an update, travel deals, discounts and more!! Subscribe to the right------>
As we are at the beginning of April, it's a great time to spring clean our health. The tips to follow will get you moving toward a healthy summer this year:
The junk and processed foods in your pantry that may have made their way into your house during winter? You know what I'm talking about. The chips you have in the house for movie night or the cupcakes and cookies that would never tempt you except when it's winter and you're watching TV with the family.  Get rid of them.
Take a look at your beverages. Those high calorie coffee drinks, sodas and hot chocolate mixes? Those need to go too. Donate them to a center that will make good use of them.
Pull out all those cans and boxes in your pantry and check the use by dates. I was surprised when my mom pulled out a can of soup that was dated 2015. Where was it? In the back of my pantry covered in dust. It's easy to overlook those items after all out of sight out of mind is never more true than in this scenario.  
Hit your local farmer's market or grocery and pick up the seasonal vegetables and fruit hitting the produce section. Personally I could not get enough of our local strawberries this year – they were delicious!
Pull those sneakers out of the closet and take a walk. Take a moment and enjoy the wonderful spring scents of blooming flowers and the sweet smell of newly cut grass. List to the birds singing their songs for you as you take a nice stroll down the road. Say hi to neighbors you may not have chatted with in a few months.
Not one to walk or hike? Still put those sneakers on and head outdoors. Maybe garden or rake up old leaves. Just being out side in the sun is guaranteed to put you in a good mood.
Just dance. Spring is the time of rebirth. Enjoy being you. After all you are pretty amazing. Not feeling it? Shake that booty and smile. Dancing and smiling has a way of making us feel like kids again.
While you're shaking off winter and celebrating spring, try not to take yourself to seriously. Life is meant to be enjoyed.
To your health,
Denise
Upcoming Trip?
I like to use Booking for booking not only my hotels, but my tickets and rental cars as well. Makes life so much easier with only having to log into one location for my information.
Be sure to grab my travel tips to save you time and money. You'll also be entered into the weekly drawings.
Register here: Get 100 Travel Tips EVERY traveler should know PLUS entered into the weekly drawing.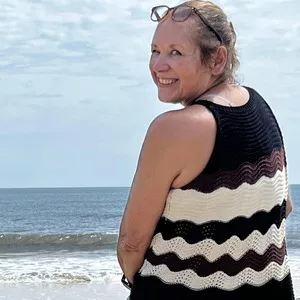 About Denise
Denise Sanger lives a life split between her love for fitness and her passion for travel particularly to the BEACH. Denise also has a love of marketing and lives in beautiful Suwannee County, Florida. You can find out more about Denise here: About Denise