Healthy Living: Do you REALLY need a reason to get healthy?
This article may contain affiliate links. Whenever you buy something through one of these links, I may earn a small commission without any cost to you. I really appreciate it as it supports this site and my family. Thank you!
Ask yourself this question: Do you really need a reason to get healthy?
It's amazing what you find out when you chat with people.  Not sure if I have the type of face that makes people want to share but I have learned so many things while standing in line in the grocery store. Now to be fair, some of those things have made me blush but for the most part, these conversations are very interesting.
Usually I head to the grocery store after morning fitness classes and I'm in my workout gear. That usually triggers conversations about exercise.   Most of the time, I invite folks to come try a class at the gym but more often than not, the response I receive is "I can't because…."




I have heard probably every excuse invented and some I do personally understand such as time constraints because that is one I have battled myself.  I always ask one question back.  If you can't find a reason to take the first step towards a healthier you, who will?
It reminds me of the joke about the blonde praying to God to win the lottery.  Every day she prays to win the lottery and every evening she's upset when she doesn't win.  One night when she's praying to please win the lottery, God answers her with you first need to buy a lottery ticket.
Same thing applies to getting healthy. You can pray all you want but if you don't do what YOU need to do, how far do you think you'll get?
Thank you for reading this post. Don't forget to subscribe! This way you never miss an update, travel deals, discounts and more!! Subscribe to the right------>
So this week, I thought I'd help you find really good reasons to take care of your health:
Besides wanting to look good in a swimsuit, there are many reasons why you need to include cardio exercise in your routine.  Simply walking, biking, hiking or taking a fitness class plus strength training three to four days per week may lower your blood pressure, lower your risk of type II diabetes, lower your risk of stroke and heart diseases, and may decrease your risk of cancer. These are VERY good reasons to get up and get moving don't you think?
Folks that regularly exercise sleep better and are more productive during the day.
People that exercise regularly live longer.  Wouldn't you like to celebrate more birthdays with your family?
Exercise has been proven to strengthen our bones which is even more important as we age.
Regular exercise boosts the immune system which means you are less likely to get sick. That's another win in my book!
And the BEST reason ever? Folks that take care of themselves and exercise daily are happier overall. Why? Because they feel pretty darn good.
Still not enough reasons?  Here are a few more. How about that special person in your life? How about your children?  What about experiencing things with your grandchildren? What's more special than seeing their wide-eyed looks of wonder at a furry caterpillar? Or how about your furbabies? Who's going to take care of them the way you do?
You opened your eyes today.  Now it's up to you to take care of your body. It's the only one you will ever have.  Have a wonderful week!
To your health,
Denise




Upcoming Trip?
I like to use Booking for booking not only my hotels, but my tickets and rental cars as well. Makes life so much easier with only having to log into one location for my information.
Be sure to grab my travel tips to save you time and money. You'll also be entered into the weekly drawings.
Register here: Get 100 Travel Tips EVERY traveler should know PLUS entered into the weekly drawing.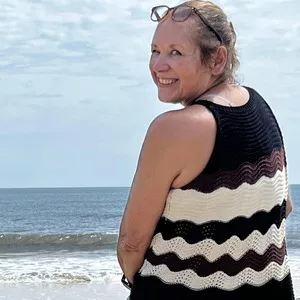 About Denise
Denise Sanger lives a life split between her love for fitness and her passion for travel particularly to the BEACH. Denise also has a love of marketing and lives in beautiful Suwannee County, Florida. You can find out more about Denise here: About Denise