This article may contain affiliate links. Whenever you buy something through one of these links, I may earn a small commission without any cost to you. I really appreciate it as it supports this site and my family. Thank you!
It's Tuesday morning and I just got back from a walk with one of my rescue dogs, Scotchie. Scotchie is a pit mix of some type and probably the most protective dog I have ever owned. Problem at home is that she doesn't get along with my other dogs so she is an outside dog.  But when we're walking, she definitely is the dog to have with you.




Today about 1/2 mile into our walk, 2 dogs started coming at us in a stalking way.  Scotchie instantly goes into protective mode – fur up on the back of her neck and spine and shows her teeth. ​ Luckily between Scotchie's I'm not playing with you 2 dogs today and me yelling "No" loudly the dogs stayed far enough back for us to get off the road. 
At the corner, I called my husband to tell him we won't be able to walk back down our street and that he'll need to come pick us up.  He says he'll come right then. I told him no. Let me finish walking Scotchie because she earned her walk this morning.  I could have easily called it a day and quit and let him pick us up after 3/4 of a mile but because Scotchie was with me, I was able to push through.
Have you ever felt like giving up?  Calling it quits? Me too and I'm a fitness instructor.  It's not easy but sometimes you need to pull from deep within and take one more step.  
​Another way to stay on track is to have a fitness buddy.  Today my fitness buddy is cute, furry and has four legs but she helped me push through.​
Thank you for reading this post. Don't forget to subscribe! This way you never miss an update, travel deals, discounts and more!! Subscribe to the right------>
​Remember some days will be easier than others but you CAN push through.  Believe in yourself. YOU GOT THIS!  
To your health,
Denise
Upcoming Trip?
I like to use Booking for booking not only my hotels, but my tickets and rental cars as well. Makes life so much easier with only having to log into one location for my information.
Be sure to grab my travel tips to save you time and money. You'll also be entered into the weekly drawings.
Register here: Get 100 Travel Tips EVERY traveler should know PLUS entered into the weekly drawing.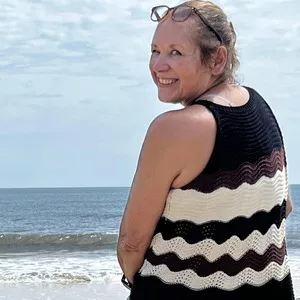 About Denise
Denise Sanger lives a life split between her love for fitness and her passion for travel particularly to the BEACH. Denise also has a love of marketing and lives in beautiful Suwannee County, Florida. You can find out more about Denise here: About Denise