10 Best Christmas Vacations In Florida to Spark Your Holiday Cheer
This article may contain affiliate links. Whenever you buy something through one of these links, I may earn a small commission without any cost to you. I really appreciate it as it supports this site and my family. Thank you!
Sleigh bells ring. Are you listening? Well you may not be able to enjoy a sleigh ride, but you can enjoy one of the top 10 Christmas Vacations in Florida this year listed here.
When it comes to Christmas, no Florida does not have snow, but it sure knows how to make the season bright. Swap snowflakes for white sandy beaches, sunshine and more to create lasting holiday memories with a Christmas vacation in the Sunshine State.
Choose from festive beachfront celebrations to enchanting theme park holiday displays, Florida offers a unique yuletide experience.
Are you ready to say "Ho, ho, ho-liday in Florida?" Let's dig in and unwrap the top 10 Christmas vacations in Florida, ensuring your holiday season is merry and bright.
Thank you for reading this post. Don't forget to subscribe! This way you never miss an update, travel deals, discounts and more!! Subscribe to the right------>
Best Christmas Vacations In Florida Atlantic Ocean Side Of The Sunshine State
I always break these fun lists down by coastline. Starting with the Atlantic/East Coast side, followed by the Gulf of Mexico side.
Miami 2 Christmas Events To enjoy
For a Christmas vacation with a tropical twist, head to Miami. For many years, Santa's Enchanted Forest has been an annual trip for many families, including mine.
It is still in operation today, but not in the original location. This holiday-themed amusement park boasts millions of twinkling lights, thrilling rides, and festive performances.
Also in Miami, you will find Christmas Wonderland at the location Santa's Enchanted Forest has previously been located. That is Tropical Park, located at 7900 SW 40th Street.
For Santa's Enchanted Forest, you can enjoy it at its current location at 7400 NW 87th Ave. in Medley. Two fun annual events.
Check current rates and availability for Miami Christmas Vacations here: Best Miami Hotels
Fort Lauderdale Winterfest Boat Parade
Before we leave South Florida, I have to mention Fort Lauderdale. Known as the "Greatest Show on H2O," Fort Lauderdale's Winterfest Boat Parade is a Christmas spectacle like no other.
Experience the magic as elaborately decorated boats parade along the Intracoastal Waterway, accompanied by music, entertainment, and fireworks. It's a dazzling display of holiday spirit on the water.
This boat parade is hosted by the Seminole Hard Rock Hotel & Casino. Check current rates and availability here: Seminole Hard Rock Hotel & Casino
Key West Boat Parade
The Florida Keys are a great getaway destination, anytime of the year, including during the holidays. Celebrate Christmas with a maritime flair in Key West.
The annual Lighted Boat Parade illuminates the waters with festively decorated boats, creating a mesmerizing display against the backdrop of the island's charming architecture.
Enjoy the spectacle from the shore or join a boat tour for a front-row seat.
Check current rates and availability here: Best Key West Hotels
St. Augustine, Bright Nights of Lights
Experience the holiday magic in the nation's oldest city, St. Augustine. This oldest city in the United States really jazzes it up for the holidays.
The historic district transforms into a dazzling display during the Nights of Lights celebration, featuring millions of twinkling lights adorning the buildings, streets, and even the palm trees.
Take a festive stroll through the cobblestone streets or embark on a romantic horse-drawn carriage ride.
Check current rates and availability here: Best St. Augustine Hotels
Jacksonville Deck the Chairs
Jacksonville's Deck the Chairs is a unique and artistic Christmas celebration and so much fun. It's on the beach! It's also a hop, skip and a jump from St. Augustine.
The iconic lifeguard chairs along the shoreline are transformed into stunning works of art, illuminated with colorful lights. Take a stroll along the beach and admire the creative displays, all while enjoying the mild Florida winter weather.
Jacksonville has quite a few fantastic holiday lights displays as well as the Light Boat Parade.
Check current rates and availability here: Best Jacksonville Hotels
Best Christmas Vacations In Florida Gulf of Mexico Side Of The Sunshine State
Moving over to the beautiful Gulf Coast, the following Florida towns are perfect for a Christmas vacation.
Naples Christmas on Third Street South
Another destination that is perfect all year round. For a sophisticated Christmas vacation, head to Naples and indulge in the annual Christmas on Third Street South celebration.
This upscale event features beautifully decorated streets, live music, and gourmet dining. Explore boutique shops and art galleries while enjoying the festive ambiance.
Check current rates and availability here: Best Naples Hotels
Sarasota Holiday Boat Parade of Lights
Next on the list? Sarasota.
Sarasota's Holiday Boat Parade of Lights adds a maritime touch to Christmas celebrations. Watch as boats adorned with twinkling lights cruise along the waterfront, creating a picturesque and festive scene.
Join the locals along the shore and be part of the fun procession.
Check current rates and availability here: Best Sarasota Hotels
Clearwater Beach Sunsets at Pier 60 Holiday Festival
Fun Clearwater Beach! Combine stunning Gulf Coast sunsets with holiday festivities at Clearwater Beach.
The Sunsets at Pier 60 Holiday Festival features nightly celebrations with carolers, holiday music, and a festive market. Enjoy the beautiful beach setting while experiencing the warmth of a Florida Christmas.
Before you leave, be sure to make a stop at the Clearwater Marine Aquarium, especially if you are traveling with kids.
Check current rates and availability here: Best Clearwater Beach Hotels
Pensacola Winterfest
Moving up along the Florida Panhandle brings us to Pensacola, where the Winterfest transports visitors to a magical Christmas scene that operates for a full month.
Enjoy a trolley tour through the historic district, featuring performances, lights, and encounters with beloved holiday characters. The Polar Express-themed event is a particular highlight for families.
Check current rates and availability here: Best Pensacola Hotels
Best Christmas Vacations In Florida Central Sunshine State
Rounding out our list? Orlando!
Orlando Walt Disney World Resort
I generally do not write too much about Walt Disney World, but when it comes to the holidays, this park goes all out!
Step into a winter wonderland at the happiest place on Earth. Walt Disney World Resort transforms into a magical holiday spectacle, with Cinderella's Castle adorned in twinkling lights, festive parades, and appearances by Santa himself.
Experience the joy of the season surrounded by beloved Disney characters and enchanting decorations.
Check current rates and availability here: Best Hotels Near Walt Disney World
Ready to plan your Christmas vacation? The information below will help you Plan The Perfect Getaway
Upcoming Trip?
I like to use Booking for booking not only my hotels, but my tickets and rental cars as well. Makes life so much easier with only having to log into one location for my information.
Be sure to grab my travel tips to save you time and money. You'll also be entered into the weekly drawings.
Register here: Get 100 Travel Tips EVERY traveler should know PLUS entered into the weekly drawing.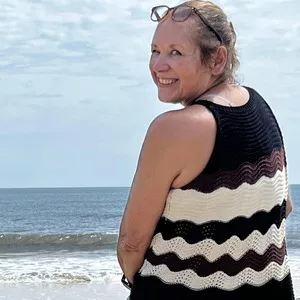 About Denise
Denise Sanger lives a life split between her love for fitness and her passion for travel particularly to the BEACH. Denise also has a love of marketing and lives in beautiful Suwannee County, Florida. You can find out more about Denise here: About Denise