Jacksonville Beach Festivals List Including Music Festivals
This article may contain affiliate links. Whenever you buy something through one of these links, I may earn a small commission without any cost to you. I really appreciate it as it supports this site and my family. Thank you!
Jacksonville, the city of bridges, also has great festivals you will want to enjoy no matter what time of year you visit. Below is the list as I have it of Jacksonville Beach festivals.
There are so many Jax Beach festivals, that you can find one to attend no matter what time of year you are in the city. For music fans, there is live music.
For fall, you will find Florida's largest annual Oktoberfest. And the list goes on.
Below, by the time of year, are the Jacksonville festivals that are showing on the schedule. There are a few, however, that have not posted a schedule for the next year for the event.
Thank you for reading this post. Don't forget to subscribe! This way you never miss an update, travel deals, discounts and more!! Subscribe to the right------>
At the bottom of the article is information to help you plan a fun Jacksonville Beach getaway.
No time to read the article now? Check current rates and availability here: Best Jacksonville Beach Hotels
Jacksonville Beach Festivals
January through March
Jacksonville Beach Festivals, February 24-25 
This year, it is a wonderful 2 day festival you will want to attend. According to the site, countries participating in the World of Nations Celebration this year include The Bahamas, the People's Republic of China, Colombia, Costa Rica, Cuba, the Dominican Republic, Haiti, Honduras, India, Indonesia, Israel, Italy, Jamaica, Japan, Mexico, Palestine, Peru, Philippines, Puerto Rico, Spain, Trinidad and Tobago, Turkey, U.S.A., U.S. Virgin Islands and Venezuela.
The festival is held at 225 Talleyrand Ave., Jacksonville, Florida 32202. You can purchase tickets in advance for $5 or day of the event for $8.
Community First Seawalk Music Festival, February 24-25
Held the same day as the World of Nations Celebration, the Community First Seawalk Music Festival a free family friendly festival that boasts two days of music by national performing acts, food trucks, art tents, and more to enjoy.
VIP tickets are also available for those that include stage-front seating with armchairs, a VIP private bar, private air-conditioned restrooms, and more.
Located oceanfront in the heart of North Florida beach town at Seawalk Pavilion, 100 1st Ave N, Jacksonville Beach, FL 32250
Be sure to allow time to ride the Ft Ferris Wheel! It is showing that it will be available according to the website.
April through June
Jax Beach Springing the Blues Festival 2024, April 5-7
This blues music event is held at Seawalk Pavilion in downtown Jacksonville Beach.
Literally located right on the beach. VIP passes may be purchased in advance and include chairs, private servers, meal ticket for food as well as a private bathroom trailer.
One of several special events held at the Jacksonville Beach Sea Walk Pavilion.
Jacksonville Jazz Festival, May 23-26
The Jacksonville Jazz Festival is one of the largest free festivals in the United States. In 2023, the festival hosted 75,000 plus people over the four-day weekend.
It is showing being moved to a different location for 2024, but as of this writing, I am not able to determine where this event will be held. I will update this post as soon as I receive updated information.
Goodwill Festival, June 1-2
Also, a free, family-friendly event held at the Seawalk Pavilion, this festival is Jacksonville's Military & Veterans Festival.
On their site, it is posted as a "day of celebration and an expression of gratitude from our military/veterans to our community." Music, food, and more. 
July through September
Florida Fin Fest
Florida Fin Fest is also held at Jacksonville Beach's Seawalk Pavilion and is scheduled for September 13-14 this year.
It is a free event, 2-day Ocean Conservation, Education, and Music Festival, but there are also VIP tickets available that include private air-conditioned restrooms, private bar, cooled lounge, and more.
October through December
Beaches Oktoberfest, October 6-7
This fun, friendly festival boasts a weekend of music, great company, and unbeatable brews.
Located also at the Seawalk Pavilion you are able to enjoy a large variety of German beer, out of this world by the many food trucks on-site and the event is free to the public.
Unscheduled Festivals
There are a few festivals I have not been able to locate information on for 2024. First is the Great Atlantic Southern Rock Revival Festival. At this time, nothing has been posted, but I am still searching and waiting for information from the hosting site.
The other is the Orange Crush Festival. In 2023, it was held at Tybee Island, Jacksonville as well as Daytona Beach. Again, I have not located information for 2024. The Orange Crush Festival is like a big old happy hour party for college students.
Finally, I want to mention JimmyFest which is to be a celebration of all things Jimmy Buffett. I will keep watching for a date and will update.
The following will help you plan a fun Jacksonville Beach Getaway:
Upcoming Trip?
I like to use Booking for booking not only my hotels, but my tickets and rental cars as well. Makes life so much easier with only having to log into one location for my information.
Be sure to grab my travel tips to save you time and money. You'll also be entered into the weekly drawings.
Register here: Get 100 Travel Tips EVERY traveler should know PLUS entered into the weekly drawing.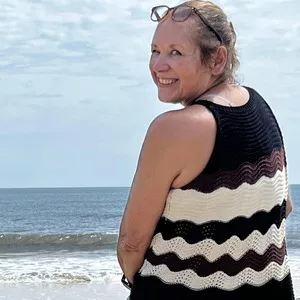 About Denise
Denise Sanger lives a life split between her love for fitness and her passion for travel particularly to the BEACH. Denise also has a love of marketing and lives in beautiful Suwannee County, Florida. You can find out more about Denise here: About Denise