This Florida City In The News And Yes It's Florida City
This article may contain affiliate links. Whenever you buy something through one of these links, I may earn a small commission without any cost to you. I really appreciate it as it supports this site and my family. Thank you!
Yes, you read that right. Florida City is in the news today. People say what Florida City? The name of the city is Florida City.
Honestly, surprised me when scanning the news to see this small town on the edge of the Florida Keys pull up in the news. After all, nothing really happens in that area except for vacationers going back and forth into the Florida Keys from the Turnpike.
Why was this town in the news? Unfortunately a fatality where a police chase ended up with the driver, a teen, driving into a house.
Generally, however, this area is fairly quiet. Yes you will have incidents here and there like any city, but nothing to really be concerned about.
Thank you for reading this post. Don't forget to subscribe! This way you never miss an update, travel deals, discounts and more!! Subscribe to the right------>
And that is why I am writing about Florida City today. As a gateway to not only the Florida Keys, but Everglades National Park as well, it is important for those visiting to feel safe.
What You Need To Know About Florida City
Now that we have that cleared up, here is what you need to know about Florida City. It is the Southernmost City in the United States, NOT on an island.
It is also your last stop on the mainland before you enter the Florida Keys. It's quite a busy area as it is small and there is quite a bit of traffic coming in and going out of the Keys.
The Florida Turnpike ends right onto US 1. You will find several gas stations, quite a few restaurants including a Cracker Barrel as well as your standard fast food joints.
Top Attractions
Yes, the Florida Keys are a pretty huge attraction, but there are more you must visit when in Florida City. They are:
Everglades National Park
I have to say I love all national parks but this one is so unique, and you will not see another like it throughout the USA.
This park is so large, 1.5 million acres of wetland, that there are three entrances. My last trip as we were heading to Key West as well as another magnificent national park, Dry Tortugas, I was surprised by the amount of land that was on either side of the Overseas Highway that was part of the Everglades park.
Hike, bike, kayak, camp and more in this natural resource we have available to us. Wildlife ranges from migrant birds to shore birds to the Florida panther and of course alligators!
Biscayne National Park
What is better than one National Park? Two! And Biscayne National Park is 18 miles from Everglades National Park.
Fun fact about Biscayne National Park. It is mainly underwater. When you first arrive all you will see is the Visitor Center and a boat ramp.
Don't let that stop you though. You can snorkel, scuba dive, kayak and more to see the marine life that is unique to this area.
You can also camp in Biscayne National Park on one of two islands which can be reached only by boat.
Biscayne Bay though is busy with boat traffic and Elliott Key is 7 miles offshore and not sightable. Kayaking over must be done with care, and you will need a compass to reach the island.
A Weekend In Florida City
Can you visit both parks in one weekend? You absolutely can and possibly sneak in a quick dinner in Key Largo.
If you are flying into the area, the nearest large airport is Miami International. You will need to rent a car.
Most rental cars in Florida do have the sunpass but double check before you leave the car rental agency. Also be sure to get a map, so you are very clear where you are going.
There are a few hotels in Florida City convenient to both locations. I recommend either Travelodge by Wyndham Florida City/Homestead/Everglades or Fairway Inn Florida City. Both are within a short drive of both National Parks.
Check current rates and availability here: Florida City Hotels
Before you leave the area, be sure to sneak into Key Largo as I mentioned above. At least to try the delicious Key Lime Pie.
The links below will help you plan your Florida City Vacation
Upcoming Trip?
I like to use Booking for booking not only my hotels, but my tickets and rental cars as well. Makes life so much easier with only having to log into one location for my information.
Be sure to grab my travel tips to save you time and money. You'll also be entered into the weekly drawings.
Register here: Get 100 Travel Tips EVERY traveler should know PLUS entered into the weekly drawing.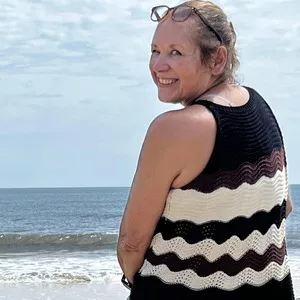 About Denise
Denise Sanger lives a life split between her love for fitness and her passion for travel particularly to the BEACH. Denise also has a love of marketing and lives in beautiful Suwannee County, Florida. You can find out more about Denise here: About Denise