Enjoy The Sun And Sand On These Amazing Florida East Coast Beaches
This article may contain affiliate links. Whenever you buy something through one of these links, I may earn a small commission without any cost to you. I really appreciate it as it supports this site and my family. Thank you!
Enjoy The Sun And Sand On These Amazing Florida East Coast Beaches
One of the best places in the world is a beach and Florida is a great place to find one when you escape to the sun-drenched paradise of Florida's East Coast beaches.
Florida's beaches, whether the East Coast or the Gulf Coast are all breathtaking.
Yes, Panama City Beach is my number one always. But there are some gorgeous white-sand beaches on the East Coast as well.
Today, we are going to focus on the amazing Florida East Coast Beaches below that await your visit.
Thank you for reading this post. Don't forget to subscribe! This way you never miss an update, travel deals, discounts and more!! Subscribe to the right------>
To follow in the next few days, will be the same for the Gulf of Mexico coast of the Sunshine State.
From white sand beautiful beaches to a barrier island, escape to a sun-soaked paradise when you hit these must-visit beaches along the East Coast of Florida.
Explore these amazing beach destinations for family trips, romantic getaways and unforgettable memories.
Whether you are searching for a secluded island or prefer a hopping, bustling hotspot, discover some of the best beaches along Florida's East Coast.
Absolutely amazing beach destinations for family trips, spring break and romantic getaways!
Florida Keys Atlantic Ocean Beaches
While the most popular beaches along Florida's East Coast are located a bit farther north along the Atlantic Coast, visitors can explore a more secluded spot down south with a visit to the breathtaking Atlantic beaches of the Florida Keys.
From Bahia Honda State Park to Sombrero Beach in Marathon, you can enjoy everything from kayaking, snorkeling, scuba diving to fishing off one of the bridges that lead you from Key Largo to Key West.
Prefer a more relaxing day? This area of Florida is a great spot to do just that. Swim or relax on pristine white sandy beaches. Later in the day enjoy easy access to local restaurants and bars many with live music.
There really is nothing like the Florida Keys elsewhere in the United States. My favorites? Key Largo, Marathon and Key West.
Find your perfect Florida Key island here: Fun List Of Florida Keys With Map
Miami Beach, Hollywood Beach and Delray Beach
Moving up the coastline to South Florida, my old stomping ground. Here you will find Miami with Miami Beach and South Beach, Hollywood Beach near Fort Lauderdale Beach followed next by Delray Beach.
Hollywood Beach is my favorite of them all. From the time we moved to South Florida from Cleveland, we were on this beach several times a week. It is the perfect place to end a busy day with calm waters, picnic areas and boardwalk.
One of the best things about this part of Florida is not only the many outdoor activities you can do, but easy access to food near the beach.
Miami Beach is one of the best Florida beaches known for its vibrant nightlife, extensive collection of art deco architecture and array of beachside attractions.
Very popular place for young adults, beach volleyball or dancing all night anyone? It offers many popular attractions for older adults and families. Great tennis courts and golf courses also in this area.
Water activities here including boating, jet skiing, snorkeling, paddleboarding, kayaking and more.
Nearby Key Biscayne is one of the best places in this area to do it all. Bring a lunch. Picnic tables are nearby to relax and enjoy.
Up farther north in Broward County, is Delray Beach. This quiet beach is great for a family beach vacation. It offers an idyllic mix of palm trees, powder-soft sand and clear blue waters.
This town was once named the most fun small town in America, and it's easy to see why. Shopping, main street, rich history that dates back centuries to explore or simply working on your tan. Always something fun to do.
Cocoa Beach, Vero Beach and Cape Canaveral
Vero Beach, Cocoa Beach and Cape Canaveral are fantastic beaches for any visitor to east central Florida.
Vero Beach is part of Florida's Treasure Coast and probably the most perfect area for nature lovers. Enjoy botanical gardens, Vero Beach Museum of Art as well as Pelican Island National Wildlife Refuge.
This refuge is the nation's most historic and a great option for bird viewing as well as outdoor activities like hiking the nature trails, kayaking and photography. Keep an eye out for sea turtles and dolphins.
Cocoa Beach's waves make it an ideal spot for swimming, surfing and parasailing. You can also enjoy the Cocoa Beach Pier, which has a waterfront view, restaurants, bars, and shop
Nearby Cape Canaveral and the Canaveral National Seashore also provides an array of sightseeing opportunities. Explore Kennedy Space Center then take a day trip via boat or airboat.
Enjoy the calm water, scenic views, and unforgettable sunsets at the end of your day.
Daytona Beach, New Smyrna Beach and Ormond Beach
Daytona Beach is known for its world-famous ocean side boardwalk, drive-on beaches and rich racing history and nearby shopping mall.
The Daytona 500 Speedway is a must-see for those with a need for speed then drive right onto the sand and enjoy a day sunning and swimming.
To the south, New Smyrna Beach is a picture-perfect beach with wide stretches of shoreline suitable for long strolls by the sea as well as plenty of family-friendly activities. This is one of my favorites on the East side of the state.
You can literally walk all over the place. Park your car and don't get back in it until you're ready to leave. Walk to dinner then stop for an ice cream cone on the way back. Truly one of the best Florida East Coast beaches for a vacation.
Further up the coast, Ormond Beach is a hidden gem popular with locals due to its seclusion and uncrowded atmosphere.
Ormond Beach is clean, and you can also drive right on the beach. Beautiful golden color sand and crystal-clear water to enjoy. Great shells here too.
All three beaches offer plenty of opportunities to relax and enjoy the sun while also catering to water sports enthusiasts. Whether you are looking for a family vacation or a romantic escape, there's something for everyone in this stunning stretch of coastline.
St. Augustine Beach, Jacksonville Beach and Amelia Island
For a true escape, head down to St. Augustine Beach, Jacksonville Beach or Amelia Island. These are truly great beaches that deserve recognition.
St. Augustine is a popular spot for history buffs as well as beach and fishing enthusiasts who enjoy sweeping ocean views.
From the public parking lot, you can explore the Fort, shopping and restaurants on St. George Street as well as the Lightner Museum. To cover more ground, hop on a trolley.
Before we jump to Jacksonville, Ponte Vedra Beach is a definite stop for those that love beautiful beaches. You may even spot and endangered North Atlantic White Whale off the coast from this beach.
The best way to see this beach is to park in a nearby lot, cross A1A over the boardwalk onto the beach.
About an hour north of St. Augustine, Jacksonville Beach provides miles of beachfront access perfect for sunbathing, swimming or simply admiring the region's beautiful coastline.
I always have a great time in Jacksonville and Jacksonville Beach. One of my favorite things to do is visit a different craft brewery each time I go.
Amelia Island has its own charm offering quiet beaches with plenty of wildlife watching opportunities. Fernandina Beach is an old world Florida beach town. Be sure to visit both Fort Clinch and Boneyard Beach when you are in this area.
Sand dunes? Amelia Island has one of the largest dunes on the East Coast. It is even named "Nana" and is the tallest in the state of Florida, located in historic American Beach
Gulf Coast beaches? You will not be sad on the Gulf Coast of Florida.
Siesta Key, Clearwater Beach, Fort Myers, Sanibel Island as it recovers and all the beautiful white sand beaches and turquoise waters of Panama City Beach on the Panhandle are also waiting for your visit.
Be sure to bookmark this page for updates.
Upcoming Trip?
I like to use Booking for booking not only my hotels, but my tickets and rental cars as well. Makes life so much easier with only having to log into one location for my information.
Be sure to grab my travel tips to save you time and money. You'll also be entered into the weekly drawings.
Register here: Get 100 Travel Tips EVERY traveler should know PLUS entered into the weekly drawing.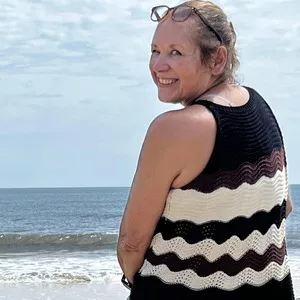 About Denise
Denise Sanger lives a life split between her love for fitness and her passion for travel particularly to the BEACH. Denise also has a love of marketing and lives in beautiful Suwannee County, Florida. You can find out more about Denise here: About Denise