Beach Inspired Dinners For When You're Not At The Beach
This article may contain affiliate links. Whenever you buy something through one of these links, I may earn a small commission without any cost to you. I really appreciate it as it supports this site and my family. Thank you!
Ah. The beach. I'm always ready to travel at a moments notice. My bag is always about 75% packed. But my beach vacations are definitely my most relaxing trips – whether I'm with family and friends or by myself. There's just something about that beach vibe. Don't you agree?
Everything seems to slow down a bit. We take walks along the shore. We stop and pick up shells to add to our collections. We even try new foods and drinks. Thinking back to my recent beach camping trip, I got to thinking why don't we embrace this laid back style when we're not at the beach. An easy way to start is with beach inspired dinners.
I don't know about you but I have so many favorite foods when I'm at the beach. Matter of fact, I have so many that I may need to extend my beach vacations a few days. One of the best things about meals at the beach? They're generally easy but delicious.
This week, why not include a few of your favorites for dinnertime. If you need a few ideas, these are my favorites. Mangia! Eat up!
Thank you for reading this post. Don't forget to subscribe! This way you never miss an update, travel deals, discounts and more!! Subscribe to the right------>
Beach Inspired Dinners
Anything shrimp. That's my personal opinion and I'm sticking by it. Anything shrimp screams the beach to me. My favorites? Blackened shrimp and coconut shrimp. Delish!
Fish. There are so many local, fresh fish to try when you're at the beach. Take a trip to Whole Foods – by far the BEST grocery for fresh anything including fish – and create a light, delicious dinner your family will beg for more.
Fresh fruit screams beach. Eat fresh fruit such as pineapple, bananas, strawberries and any other fruit that reminds you of the beach as a light dessert.
Burgers. Actually burgers are good anytime but I know for me, most of the time I do order a burger at the bar & grills that sit right on the beach. And they're fantastic!
Chicken & veggie or fish & veggie skewers made with fresh veggies and fruit.
Salads. Any salad really. Fresh veggies is what it's all about. Add a light berry vinaigrette dressing.
Tacos. Whether you choose chicken, tuna or shrimp, you'll definitely feel like you're at the beach with a fresh taco dinner. Add a freshly made margarita or low carb Sex On The Beach Cocktail if you're watching your carb intake.
And my favorite thing to do? A hodge podge. Mix and match everything and anything that reminds you of the beach and have a fiesta at home.
Keep those beach inspired memories alive while you're waiting for your next beach vacation. Ocean breeze sets you free.
Upcoming Trip?
I like to use Booking for booking not only my hotels, but my tickets and rental cars as well. Makes life so much easier with only having to log into one location for my information.
Be sure to grab my travel tips to save you time and money. You'll also be entered into the weekly drawings.
Register here: Get 100 Travel Tips EVERY traveler should know PLUS entered into the weekly drawing.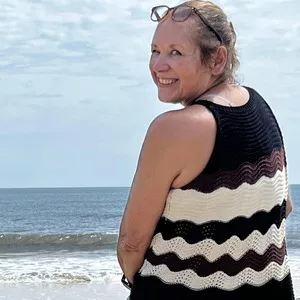 About Denise
Denise Sanger lives a life split between her love for fitness and her passion for travel particularly to the BEACH. Denise also has a love of marketing and lives in beautiful Suwannee County, Florida. You can find out more about Denise here: About Denise